| | |
| --- | --- |
| | Nanuet: Do You Remember...? |
Nanuet: The flawed jewel of the Hudson lowlands
Hi locals! My NANUET pages are doing exactly what I hoped they would do; I have gotten some wonderful emails from people who have generously shared their own memories of our humble hamlet. I've also been contacted by some long lost old friends. Please feel free to share your memories with me. Anything about Nanuet before 1976 (my Bar Mitzvah year) is welcome, pictures too. I won't upload a single word without your permission, and if you wish to remain anonymous, that's fine too.
IF YOU WRITE, PLEASE TELL ME IF IT'S OK TO POST YOUR COMMENTS. IF YOU WOULD LIKE ME TO LINK TO YOUR EMAIL ADDRESS, ALSO, PLEASE LET ME KNOW. Thanks!
-Dan
Nanuet: Do you remember...
The Red Rail: Bar on Middletown. There were rumors (only rumors, it turns out) that there was a brothel upstairs. Our neighbors Janice and Marty Goldfarb sometimes jokingly said to my parents, "see you at the Red Rail!"
Hutton-Johnson: The mill next to the Red Rail.
The rail station and the old lady who tried to sell "antiques". They spruced up the facade with colorful painted flowers and birds before it burned down in 1991.
Nanuet National Bank: Hopperesque building at Prospect and Main, NE corner. Now an auto parts store.
Boggiano's: Prospect and Main, SW corner; now Martio's. My dad once went in for some light bulbs, and Mr. Boggiano told him he thought he might have some up on that top shelf over there, and expected my father to go climbing up there himself.
The old library: Upstairs between Boggiano's and Phil's, with Miss Meyers and her crazy nail polish; now an apartment. Nanuet's first public library was housed in Highview.
Phil's Barber Shop: A few of his red waiting chairs are still in Martio's.
Johnson's: Stationary on Main, next door to Phil's. Robert Kirby, Mike Goldfarb, Jamie Overmeyer, and I used to look at the magazines, located in an alcove in the back.
Shoe Repair: My mom used to take our shoes here. Yes, once upon a time people actually repaired their shoes.
Jocar Pizza: SE corner of Orchard and Main, now All State. Never compared to Rex, at least according to my brothers.
Charlie's Meat Market: Involved in some sort of numbers racket in the late 70s.
Om: Nanuet's first (and only) head shop. Later Stacy Gelbman's day care center.
Elliot's: Little candy store/grill on Church across from the Highview playground. The Overmeyers bought it in the 70s, and I told them they should call it "The Glass Onion". Even though they didn't, I insisted on referring to it by this name.
Hobbies: Market at the Golden Triangle.
The Pub: now called "The Crossroads". It was owned by Donna Padilla for a while.
L.H. Martin: In Pearl River. Not to be confused with C.H. Martin, way up in Samsondale, past the mothball fleet.
Durland Boats: In the Grand Way parking lot.
Buy-Rite: The brick toy store at the corner of 59 and Middletown, with its series of arched windows.
Grand Way: On 59.
Don-Len's Diner: Originally the Hialeah, now the Nanuet, it'll always be Don-Len's to me, Kenny Braziller, Cheryl Kantor, and so many others.
W.T. Grant and Company:"Grants" next to Grand Way, with its big orange-lettered sign. I remember a little "ride" they had there with a red plastic bucket seat, it went round in vertical circles. William T. Grant had over a thousand stores in the USA until the 70s, when they slowly faded away. His philanthropic foundation is a high-profile supporter of NPR.
Rex Pizza: On 59. We assumed they were Italian, but actually they were Albanian.
Hong Luck: Old style "chow mein" restaurant on 59.
Electronics 59: My dad used to take me with him to "test his tubes" on the machines in the front window.

Miniature Golf:

Located where the Nanuet Theater-Go-Round was, right by the tracks on 59. I went there several times as a little boy. I remember once I went with Janice Lowenstein and her mom. Now a fundamentalist Christian Church.
Mapleways Bowling Alley: Just up from Grant's and Don-Len's When it closed, Nova Lighting took its place, along with Gaylin's, where my mom said you could find any houseware item you could ever imagine.
Shoppers' Paradise: Monstrous and depressing market up Pipetown in Spring Valley.
The Peace Vigil: SE corner of 59 and Middletown. My dad was there every Saturday morning, protesting the Vietnam War (sometimes being spat upon by other Nanuetters), while my mom was a few steps away at Saturday services. I bounded back and forth between the two.
Nedick's: Coffee shop in the Korvette's parking lot changed to "Dickens" when Nedick's went under; a simple rearrangement of the letters. A Nedick's later re-opened across from Penn Station: "Back after 25 years!"
E.J Korvette: Home to a great record department. I bought scads of LPs there back in high school, waiting with bated breath for their big sales that would be advertised in the Sunday Times.

Hills:

Supermarket next to Korvette's.

Tiedemann's: Grocery store across from the Hebrew Center.
Kiddie Land: On 59 in West Nyack. When Rye Playland or Palisades Park was too much of a shlep, we might just go down the road to Kiddie Land. Built on a swamp.

The Knolls Day Camp:

100 Convent Road, just around the corner from my house The Paikins ran this day camp. Their big old house has now been levelled, and now there is serious talk of building 4-storey housing for seniors on the grounds. Is nothing sacred?

Eagle Day Camp:

Down Hutton Avenue, off 59. Rose Kiesler's day camp. Tina Dellacroce also lived on Hutton.

White Birch Inn:

Club at the corner of Birchwood and Pascack It had several names over the years, and I only remember this one! It catered primarily to Spring Valley's black community. Birchwood itself was the only black section of town; technically Spring Valley, but part of our school district. I once went with my friend Joanie to buy some pot at a boarding house in Birchwood. This guy lifted the mattress of his bed, and there was an enormous stash of weed--bricks and bricks of the shit.
Mrs. Wooldridge's Nursery School, Higgins Funeral Home, the Hebrew Center, Doris Stark's home: Buildings on the east side of Main, starting at 59.
Nichols' Hill: A fantastic sledding hill from Grandview down to Lexow. I imagine every Nanuetter has a tale to tell--both great stories and "agonies of defeat" about our beloved Nichols' Hill.
Cultural Note One: The writer Michael Rumaker briefly lived in the little house on Doris Stark 's property, just next to the Hebrew Center, in the late 50s. The address was 52 Main Street, Nanuet. In his book "The Butterfly" he writes about his girlfriend "Eiko" who is really Yoko Ono. He met her when she had car trouble driving along Middletown Road from upstate. Sy Lowenstein was Rumaker's psychologist at Rockland State ("Dr. Sylvan" in the book). A visit by the protagonist ("Jim") to the Lowensteins' house is described in the book, with a toddler Bruce Lowenstein briefly mentioned. Beyond the Lowenstein's backyard, "Warm windows shone in the darkness. " This could very possibly be describing our house. On Nanuet: "The town was not very big. There was the main street on which he was walking now. On either side there was a church, several grocery stores and bars, a shoe repair shop [... ] a luncheonette. "
Cultural Note Two: Rupert Holmes (David Goldstein) grew up at 59 Prospect Street, at Fremont. He then moved to Demarest, just across the street from the Grace Baptist Church, second house from the southwest corner at Orchard, right next door to where my old friend Jamie Overmeyer's grandparents lived. Several of his songs wax nostalgically for his life in Nanuet, among them "Terminal" and "Town Square".
Cultural Note Three: Elephant's Memory, John Lennon's backing band for the "Some Time in New York City" record, lived in a house on Pascack. It burned down, probably arson, at some point during their stay there.
Tapeville, USA: On 59 near the mall, it moved to the Mall South, then across the street to the "Grand Way" center. I bought so many albums here, the very first being ELO's "New World Record". They were caught up in a scandal, re-sealing "cut-out" records and selling them full price, but they survived. In the British music press, Coheed and Cambria reported that that this was their favorite record store from back in the day.
Zipz: "Make your own sundae, eat it all up!". Next to the Ear Drum on 59 near Smith.
Hogans Diner: On 59 in West Nyack. How many of us ended up at Hogan's after a beer binge? Now in Nyack, Haverstraw, and Orangeburg.
Monterey Swim Club: Ice cold pool on 304 towards New City.
Compiled with help from the Edsall Avenue Jew Crew: Mike Goldfarb (now Goldmann), David and Victor Eisenberg, my brothers Ethan and Jerry Silverman, and honorary member Barry Schein.
---
Anita, July 2019:
I don't see that anyone has mentioned the teen music hangout in the late 60's called "The Hullabaloo" that was located down the street from St. Anthony's Church on Route 59A/West Nyack Road. I lived near there but at around 16 years of age was prohibited by family from attending. I still live in Nanuet after these many years and enjoy reminiscing about what was but also like some of the changes. Hey we're getting an Aldi's in the old Pathmark (EJ Korvettes) Shopping Center shortly!

---
Joe Farsetta, March 2019:
My grandfather, Angelo Farsetta, used to own the shoe repair shop (the original one) next to Charlies Meat Market. For many years it was the Flower Peddler and recently closed. My grandfather, and his helper Mike, were older gentlemen who both spoke broken English. They did all sorts of shoe repair work. Neither were devout Christians nor did either try and convert anyone to Christianity. Neither walked with a limp, so I am unsure where either characteristic came from. Nevertheless, the original shop was there for many years. Originally, my grandfather worked for St. Dominick's home, also as a shoemaker for the children and nuns. I remember the barber shop and Perrino's had a deli/convenience/candy store on the corner of the building. The Perrino family moved the deli to West Nyack a few years later when they opened Elmwood Market. I believe the Boggiano's also owned the building which housed his store.
---
Anonymous, December 2018:
Hi Dan. I saw the movie Green Book last evening and felt compelled to write about the racism that appeared even in the north and yes in New York State in 1964. During the summer of 1964, Requa Lake had a sign posted at the entrance that said "no dogs or Jews allowed". The sign was removed by the next summer. I would like to remain anonymous but feel free to share this information so that our memories are not glorified but accurately depict the history as regrettable as it was. A reminder for today sadly.
---
Cal Schupner, December 2017:
I graduated from Nanuet Grammar School in 1949. Nanuet didn't have a high school back then; we had a choice of Spring Valley, Nyack, or Pearl River. I chose Spring Valley because my buddy, Eugene Dworkin, chose Spring Valley.
He was Jewish and SVHS was the only school in the county that was closed for the Jewish holidays. I wasn't Jewish, but I certainly didn't mind the extra time off.
I was on the Spring Valley High bowling team that won the Section 9 championship in 1952.
I lived with my parents at 13 Kemmer Lane from 1942 to 1958 when Madalan and I got married. (Still happily married, by the way, with 2 adult children, 3 adult grandchildren and 3 great grandchildren). I drove truck for Faist & Westervelt Lumber in Spring Valley and ended up as an accounting clerk in Lederle. Attended night classes at RCC, then transferred to Pace where I earned my BBA. Got my MBA at Nova University and my CPA in Florida.
While working at Lederle I drove part-time for Billie's Taxi (Ray Roth) in Nanuet, picking up handicapped kids in Tuxedo and Sloatsburg and driving them to Camp Jawonio in New City.
Hung out with Gene Dworking, Duane VanderBogart, Phil Stevens, Fred Williams and Walter Saunders. Did a lot of bike riding and ping ponging.
---
Gillian Brown, December, 2017:
Hello Daniel,
My family live in Nanuet on Pacific Avenue from 1962-1972 when we moved to the Washington D.C. area for my fathers work. My family have kept in touch with two longtime Nanuet friends to this day. I was wondering if anyone in the group would remember Mary Eberling of Pacific Avenue who lived with her mother Joan, brother John and Aunt Betty for a while before moving to another Nanuet location. Our family also kept in touch with Bob & Cookie Lyle, Mr. Shawstack, Mrs. Grushkin of Pacific Avenue. And behind us Bill Sarmiento and the Slater Family especially to remain friends to this day along with the Rooney family in the area. My memories of Nanuet were up till age 7. I remember attending Highview school, having very nice teachers, air raid (bomb) practices in the hallways, the playground across the street.
Attending Knolls Day Camp. I was a Brownie at a local troop (very nice leader) and my mother was involved with a few community ladies organizations. My father worked in Manhattan before we went to Washington. I was born in Sufferin NY but my parents are Canadian. Happy memories of Nanuet! Thanks for all your work on the site Daniel! Kind regards, Gillian Brown
---
Chris Yee, December 2017:
Does anyone remember the name of the garden nursery on the westbound side of Middletown Rd, East of 59, West of Cropsey Farm?
---
Billy Feyen, October 2017:
Hi, moved to nanuet in 1960 from the Bronx, wow what a culture change. Graduated in 1968. My classmates do you remember SLOPE senior lauching of pumpkin and eggs, black bull pub, OD'S triangle pub. I remember bring some things my dad from the bronx to our house in Nanuet and my dad saying dont blink son you will miss main st. How about ice skating on schwins pond,playing sports behind highview school. EJ KORVETTE of course, does anyone out there know what EJ KORVETTE stands for? i do if you would like to know let me know!
---
Rob Vlosky, October 2017:
Haha - I'm a Pearl River native and my friend Joe Contrino from Nanuet sent me your link, which I think is wonderful. All the places you list are familiar to me, especially Om, where we used to pick bits of pot off the carpet in the black-light poster room. Was I the only one who did that?
I was out there on the corner of Rt. 59 and Middletown Road with my grandmother Lena Vlosky. She was there EVERY week for many years - I was very proud of her.
---
Zoey, August 2017:
Hi Dan - Great site with lots of memories! I know this is probably a long shot but I am looking for anyone who may have worked at the NYS Thruway toll booth in Spring Valley during the Fall of 1967. If so please email me! @ zoeymop2@gmail.com.
Thanks !
---
Meg Holden, July 2017:
Hi! I found your site while doing some ancestry research for my mom. Her mother (my grandmother)'s cousin was married to Swiss Trudy! We really don't know much about that cousin, and nothing really about her either. I have seen the postcards online. Do you have any stories or a description of Swiss Trudy's Alpine Village? I saw the picture of the building.
I know her name was Gertrude Drittenbass Rust Sampson and she was born in Switzerland. My grandmother was a Rust.
We are just curious!!
Thanks!
---
Peter Jeuck, June 2017:
My wife and I have lived in Hewitt NJ for 18 years now on Greenwood Lake. I found this site some time ago and reminisced about what it was like back in the 60s when I was growing up. I was born in Nyack Hospital in April 1955, and my recollection of Nanuet in those days is very sketchy.
My family lived on Blauvelt Rd. across the street from Lauren Court. Our driveway was on Elks Drive behind our house, and the old rail spur that ran to Camp Shanks ran practically through my backyard.
My two younger brothers and I used to run out every time the train came by because the engineer would toss out packages of candy to us as we waved when the train crossed Elks Drive. Our family moved to Monroe NY right after I graduated Nanuet Senior High in 1973, but I worked at the Sear Automotive Center from 1972-1978. I wasn't a stellar student, and my guidance counselor said I wasn't college material. I proved him wrong. After I met the stunningly beautiful girl from Virginia who became my wife, I decided to go to school and graduated Rutgers with High Honors and was inducted into Phi Beta Kappa. i got my Masters of Science in Environmental Engineering and have been working as an Environmental Engineer for a major Pharmaceutical Company for many years. Getting close to retirement. I'm sure I'm not the only one in that boat from the class of 73.
I can't remember when they removed the rails, but those tracks provided a pathway to town, and to the homes of my friends Mickey Baer and Craig Stockdale who lived on Viola Dr. Some 15 years ago I took my wife for a walk down the rail bed of the tracks. There used to be a trestle over Narashaun Brook deep back in the woods past Middletown Rd heading towards 40 foot hole. The trestle was mostly removed except the cerement supports. On the other side was a large golf course where there used to be woods. The rails went over the Palisades Parkway, over an old stone arch bridge that went over Sickletown Rd. and another bridge that went over the Hackensack River at 40 foot hole. At one time I understand that spur was used to provide supplies to Camp Shanks to the men stationed there just before being mustered to Europe during WWII. Now its impossible to walk down the old rail bed segments in Nanuet and Pearl River. But when I was real young, back in the late 50s, 58 or 59 I can remember steam engines before they switched over to diesel. They must have been among the last steam engines ever used.
The trains that used that rail line were never long. Typically no more than
5 or 6 cars including a caboose. I have no idea why they would keep those trains running into the 1970s. They ran by twice a day, once to Orangetown and once back.
Back in the 1950s I think there was a television show that was filmed in Pearl River...just looked it up, the show was called Norby. My mother told me about the show. I never saw it.
The Nauraushaun also passed immediately back behind my home. There used to be a stone arched bridge over the creek right behind my house. Then in the early 70s they built homes in the field that was behind my house so we couldn't directly access the brook anymore.
My brothers and I caught all kinds of critters in that brook, leopard frogs, crayfish, painted turtles, wood turtles etc. There were even muskrats back there. My father fly fished for trout. Today I don't think you could catch anything but a disease in that brook.
Well, I see its been a few years since I last posted on this blog. Last October I suffered a heart attack in Texas. My wife and I were supposed to be attending my nephew's wedding and my wife got very sick with double pneumonia. We decided to drive home since she still wasn't well by the time we were to leave. Docs said it wasn't a good idea for her to fly, so I rented an SUV and we were going to drive home. Got the SUV at San Antonio and we drove as far as Houston when I started getting bad chest pains. I pulled off the highway to an ER that was right at the next exit, and they told me I was suffering a heart attack. They then rushed me to a Regional Hospital and they immediately put two stents in. The doc made sure I understood how lucky I was to be alive. He told me four separate times, three during the operation.
So I'm getting nostalgic. I've been to cardiac rehab, did pretty well. My wife and I walk four or five days a week for a couple of hours a day, but I simply don't have the energy I had before the attack. They did say I did well in my cardiac rehab, and I luckily haven't had much in the way of chest pain since. But I nearly checked out. Puts a different perspective on life.
Even at the ripe young age of 62.
Well, I think I'll check in more frequently before checking out.
Pete Jeuck
---
Joseph Komonchak, February 2017:
In reply to Janet's query about the house on the north-west corner of Rte. 304 and Route 59A. It was indeed the residence of John and Bertha Maier and of their son, Robert J. Maier. They were the proprietors of Johnny's Gas Station located across the street, that is, on the northeast corner of the same intersection. The Maiers bought the business in 1929. My family lived practically across the street from the gas station, so we were quite familiar with it.
A large sign facing Rte. 59 proclaimed: "Johnny's Gas Station." Besides selling gas, Johnny's Gas Station also included a building that had a bar on the left side and on the right a refreshment stand where they sold snacks, candies, etc. The Maiers were very friendly and helpful. My brother Andy remembers bringing his bike over and Mr. Maier helping him with it. When my family moved from West Nyack to Nanuet, our old dog Butch liked to sleep in the store and eventually he abandoned our house for their building.
It was also the bus stop for the Red and Tan Lines bus that ran from Nyack to Suffern. For a while the house served as the Nanuet police station.
Unfortunately for the Maiers, when Rte 304 was widened and re-alligned, it was made to run right through the middle of their property, and the gas station went into decline. I have a memory that some part of the service bay was donated to the Smithsonian museum in Washington.
Bobby Maier lived for a long while in the now abandoned house. He died in Florida, June 14, 1995. Mrs. Maier died in 1949.
---
During the last year of the Korean War (1953-1954), my father, Joseph B. Komonchak, edited a newsletter for members of the Nanuet Fire Department and other citizens of the hamlet who were serving in the military to keep them informed about doings in the Fire Department and elsewhere in Nanuet and indeed all over Rockland County, N.Y. I have copied and scanned the issues of the newsletter, which provide a series of snapshots of local history in the early 1950's. Most of them are easily legible, but some issues were mimeographed on colored paper and are more difficult to read.
I realize that most of the people who have sent in memories of Nanuet will not remember how things were back in the 1950s, but I suspect that there are some who do. In any case, many familiar names and places appear in these pages. I hope you enjoy them, and would love to hear from you if you do. You can find them at my blog:
https://jakomonchak.wordpress.com/2013/05/13/nanuet-fire-siren-1953-1954/#more-1082
---
Fran (Siegel) Marcus, January 2017:
Sure hope you don't still have the "Letter People"!

I love reading the postings of your website, although I am far from done.
The site itself is wonderful. (Besides, I love seeing my name.)
Daniel Silverman, you do me proud and I simply had to tell you.
Your first grade teacher,
Fran (Siegel) Marcus
---
Jim Drumm, January 2017:
Hello Nanuet friends, lots of very kindly thoughts posted here. I grew up by the "big woods" on Steep Hill and Briar Rd. We actually all had rifles and and we shot up beer cans and things. Bruce Palmenberg actually got shot in the hand by Bobby Stumpf but he went on to survive. The biggest thing I remember about the Steep Hill/ Briar Rd. woods was the "skunk tree".
It was at least 4' in diameter and was long dead even in the 60"s but hung and stayed there like a legacy. Many a girl had her first kiss there.
---
Steven, December 2016:
My brother and I (spring valley 1966-87) came upon your site after googling in search of the name of the record store we used to go to (it was tapeville USA). Many great memories! I saw that you have book recommendations so here's one more: "foreskins lament" by shalom auslander.
He grew up in an ultra-orthodox community in Monsey and wrote about that experience (one memorable passage was about a visit to rickel's home center where I recall going with my dad). It's a great read.
---
Michael Gillespie, November 2016:
Would anyone have any information or photo's of Miss.Wight's School that was located across from Highview Elementary School? I belive it closed just before the turn of the century.
---
Sue M., October 2016:
I loved seeing so much of Nanuet that was there in the 1950 & 60s . I know the "If you knew Highview" song. Can still sing it. But no one put in the High School Song... "Come raise a song to Nanuet...Nanuet High, alma mater, we now sing our praise to thee...to thee whose name will live forever..."
---
Laura, October 2016:
Hey Dr. Dan,
i recently discovered your website, and as time permits I've been enjoying memories of Nanuet - Thank you! I grew up in New City and spent lots of time in Nanuet :) Can you tell me what the address of the OM was? There is a Chiropractic & Podiatry office that is relocating from Pomona to 259 So. Middletown Rd, Nanuet. I beleive that this building was once the OM. My girlfriends and I loved hanging out at he OM (and Bamburgers) when we were 15 or 16 !
Best regards,
Laura
---
Jason Baisley, June 2016:
Hello there. I'm trying to find a family in nanuet or a family name. I recently just found out my grandfather was not my mothers birth father. She has since died and I'm sort of looking on my own. I only know the name jack morrow or marrow. He was married to my grandma Jean slapp.
Just didn't know if I could get that out there and see if anyone knew anything of a family in that area.
Thank you
My email is Jasonalan3@yahoo.com
---
Janet, May 2016:
hi,
i am a nanuet resident. i wanted to ask if you know anything about the house (which is now abandoned) that is near the Honda car dealership? I heard that the man who lived there was Bob Mayor or John Mayor. If you any information about them or the house please tell me, I am very interested in learning more about it. Also I live near St.Agatha and I really want to know what used to be there and just more about it in general. I remember when I was younger passing by St.Agatha and seeing a church-looking building and what my parents said was a orphanage. These building got torn down as the years passed by and now its a park that has barns. My friend and I went near the barns and saw these large flat stones that looked like gravestones on the ground. They were really in the ground and hard to move. I wanted to ask if you would know what they are. Please email me back if you know any information about any of these topics. Thank you
---
Bob Wells, March 2016:
My best friend and I went to the White Birch Inn in 67 on a dare.
We may have been the only white boys in the place. The music was fantastic and everyone was friendly. Went back a couple more times in 68 before moving west. Fond memories.
---
Emma, February 2016:
This is for Robin Bassett who posted in May, 2015 that she would like to speak to anyone who remembers Club 59. I also worked there in 1968 and have wonderful memories. At the time, I lived in Hackensack. If you are still interested, please contact me through my email.
---
Ted Stephens, November 2015:
Back in 1975 - 1976 I worked on a old construction "Site" where the construction company used to store their equipment and steel beams. Company I worked for was hired to remove all the metal from yard and sell it in Hunts Point scrap metal yard. Rumors had it the old building on site were from civil war period but when I look at Historic aerial topographic maps it looks like that area was not developed back then. The main building there was old...had tree trunks as beams and doors had counterweights to open an close. It is now what is the Versailles condos. I would send you an aerial shot I have from years ago but don't see a way to attach it here. Would you happen to know anything about this property? Looks like condos were built approx 2001
---
Dan, November 2015:
Do you remember what the name of the BBQ restaurant that was on Rte 59 in Spring Valley across from the BMW dealer.
Thanks
Dan
---
Ian Ackroyd-Kelly, October 2015:
Although I have followed your site for a while, I just took the opportunity to look at the pictures for the first time the other evening. You have a picture there that is of "The Pines" with a comment that you weren't sure where or what it was. I could be mistaken, but my memory - now much dulled by the passage of time -- tells me that the wall in the picture lay along the south side of Convent Road, east of St. Agatha's and across from Caravella lane and Grandview Avenue. Later on it became known as Knolls.
Beyond that wall was at one time what appeared to be a track for horses.
Over the years, the area grew in with trees and brush. I think they also kept cattle on the property as occasionally they would get loose and wander up onto out property on Duryea Lane, and my parents would call them up to come and repatriate them.
Again, I cannot be absolutely certain of the above, but I believe it to be true
---
Charles Laggan, October 2015
Hutton & Johnson, Nanuet, NY
Doing some historical research on the Hutton & Johnson Company in Nanuet, NY and came upon your site with all those remembering Nanuet years ago. Some great memories there.
I grew up in northern NJ in the 1950's and 1960's and made many trips thru the Nanuet area and love that part of our country.
I'm wondering if any of your folks can fill me in on any of the history of Hutton & Johnson Co (i.e. what their business was, how large did it get, are any portions remaining today, etc.).
---
Rich Hogan, September 2015:
My family lived at 15 Fenner Lane in the late Fifties. We used to walk through the woods to the gas station at the corner of Middletown Road and the highway. From there, if my big brother or my parents were with me, we could cross Middletown Road and walk to Saint Anthony's school, or we could cross the highway and visit the hotel/Italian Restaurant or the bakery.
Other than those businesses, and the Higgins funeral parlor--Danny went to Saint Anthony's and was in my class through fourth grade, I don't remember much.
I did visit Nanuet again in 1982-4, when I was a postdoc at Rutgers, and I have been using maps and other materials that I can find online in my Community Organization class.
It would be nice to have access to a local history and a blog that I could in class with my students, to show how people can study their home towns--even when they are far from home.
---
Gary, July 2015:
Do You Remember Nanuet?
Sure, I remember. I remember the great pizza at the Nanuet Restaurant and the summer day camp at Requa Lake where I learned to swim and hit the bull's eye in archery. There were several different Day Camp groups there. They had names like Penguins, Turtles, Porcupines and Otters.
I wonder why I remember that without remembering the name of my own group.
Although we lived in Rockland County, most of the other kids there lived in the city. I'd ask where someone lived and expect to hear something like "Haverstraw," but get replies like "7th and 45th." I played Little League baseball and went camping in the Ramapo Mountains. I rode my bike to Airmont School. I fished in the Mahwah River.
My parents owned the Dairy Queen in Monsey from 1956 to 1969 where the Kosher Castle is now, next door to the long closed Rockland Drive-In. I'm glad the screen and sign survived the one-two punch of HBO and video rentals. Even if the Drive In had survived those two it never would have survived Netflix. Are there any Drive-ins left in America? We saw several movies there while it was still in operation - the Music Man, Exodus, and Barefoot in the Park and probably more. I remember wondering if "It's a Mad, Mad, Mad, Mad World" would have been just as mad if they had called it "It's a Mad, Mad, Mad World."
I remember buying car models and baseball cards at EJ Korvette's, Bazooka Bubble Gum at the Hi-Health and getting haircuts at the shop across the street. My mother collected S&H Green stamps from the Grand Union. I was watching from the parking lot as Shopper's Paradise burned down for the last time and was at Shea Stadium the day Pete Rose attacked Ken Harrelson.
He wouldn't have gotten my vote for inclusion at Cooperstown even before the new evidence was revealed.
We had a wall of photos of famous people who lived in the area and had bought ice cream from us beside the "walk-in box" refrigerator. Among others there was Burgess Meredith and Wally Cox whom I'd recognize as Batman's "Penguin" and Mr. Peepers, respectively. There was also an actor that I didn't recognize from the screen but remembered from his many visits to the store. Many years later I'd recognize (on the screen) the girl and boy he'd frequently send to the window to pick up his order - the ones I'd come to know as Ellen and Jim. The "kids" were now appearing on Cagney and Lacey and Wings and acting under their middle names - Tyne and Tim – actor James Daly's daughter and son.
I remember the time I got new skates and crashed through the thin ice in a pond at Bon-Aire Park and being pulled out by Jerry Johnson. I remember delivering newspapers (even though The Record thought I was too young for my own route) as a substitute for Jonah Shacknai – someone who would also find time in the public's eye -though I'm sure we both wish he hadn't.
It has been many years since then. A family move to Florida in 1969, a stint in the Army, college, a successful marriage and career and 14 different addresses in 3 different states with lots of foreign travel have all intervened. Now as I write this approaching retirement, despite all I've recalled, I'm trying to recall where all the time went.
These things I remember were only yesterday, weren't they?
---
Steve Cuppek , July 2015:
Hey Dan
I lived in Hastings-on-Hudson during the 50's & 60's. Our Recreation Dept. use to have several trips each summer to Requa. We had some great times there! I remember the pool behind the diving boards. The water was like 10 degrees colder than the main lake. I kept going back through my late teens and into my 20's. We continued in the 70's with my kids.It was a great place for families. BTW, I saw the Bee Gees in (late 60's early 70's) in Theatre In the Round. The lead in group for them at the time was Hall & Oates (no one had ever heard of them).
---
Irene Kittrell, June 2015:
Hello, I'm enjoying the memories shared on your blog. I grew up in N.J. and when I was about five, my parents made me to go to "Camp Penguin" in Monsey, N.Y." It was located at Lake Requa, supposedly surrounded by the 300 acre Monsey Country Club. The camp director was George J. Koch. I wonder if you ever were a "Penguin" or if you knew anyone who was. Strange not to find anything about the lake on the Internet other than your blog. Does it still exist? Thanks in advance for any information you may be able to share!
---
Robin Bassett, May 2015:
Club 59 Nanuet 1969
I have been actively searching for the name of this bar for over 2 years and waiting for 27 years! I would very much if possible like to speak to ANYONE that has memories of CLUB 59 in Nanuet. My mother worked at the club and met my father there back in 1969. He was a police officer that worked security at the door off duty. My father lived in Pearl River and resided off of Middletown Road at that time. I was born in Ridgewood, N.J. In 1970 and lived in the town of Waldwick. I moved to Arizona when I was 5 with my family and have been here ever since. I very much appreciate anyone's memories and assistance.
---
Reid Holloway, May 2015:
Dan,
What I think your site captures is the "New Yorkness" of New York. And you can't explain that to somebody who doesn't already understand it; you can only exchange notes with someone who does.  I grew up and went to school upstate.  Then I lived in Europe.  Then I moved to the city and spent the better part of three decades there that I loved prior to moving to Connecticut up in the Northwest Corner not too far from the Massachusetts border.  These are all living experiences that together provide a kind of parallax to what the New York experience is and means over a lifetime of experience and growth.  As a kid, the railroads were still a major part of the upstate region in people transport which they are not today.  The Thruway was as "space age" an idea as the iPhone is now.  The Erie Canal was a visual and striking presence that provoked curiosity as to its roots and what it meant about New York history and the connection between the upstate and downstate regions.  My dad did business in the city and either took the train from upstate overnight in a sleeper car, arising in the morning to a shower and breakfast passing through places like Nanuet and getting ready for his meetings in Midtown.  If you drove to the city you passed by Nanuet coming over the absolutely amazing engineering marvel of the Tappan Zee bridge.  These things were mind boggling in an era when a dial phone was cutting edge because you could dial direct on what was once known as a long distance call.  New York has a feel to it that is absolutely unique, in its appearance, its geography, its economy, its people--and all these things are connected in a uniquely New York way.  New Yorkers are conscious that their history--as with New England's--is nearly as lengthy prior to the formation of the United States, as colonies, as our history as part of the United States.  There is historical and temporal depth here that is not observable out West.  The epitome of that New York feel is the Hudson Valley, from its junction with the Erie Canal up in Albany, down to and through Sleepy Hollow, and then down into the city and the upper and lower harbor.  The way that you have captured this look and feel in your photos is massively evocative.  Almost all the places you have depicted photographically are not only places I've visited, but done so on foot or by bicycle or both--and that includes your Catskill shots (like The Apple Restaurant), your Bear Mountain area shots, and even the snow in Cobble Hill.  I do not believe it is an exaggeration to say that when somebody my age looks at what the once impressive "Borscht Belt" resorts have become, he is having a "New York version" of appreciation for the history of civilization that is in microcosm what looking at the ruins of the Coliseum in Rome is in macrocosm.  Water--the lakes, ponds, rivers, especially the Hudson itself--are such a huge element of this feel and your Hudson Valley shots are excellent.  Dan, you are a New Yorker through and through and you know your environment and your love of it and your family experience comes through.  It is very much a "flesh and blood" thing.  Sharing it with you is a pleasure and so aesthetically informative and pleasing.  Thank you so much.
...
Did you ever read any Jack Finney, such as "Time and Again?"  Very clever stuff he has done, but embedded in it some very thought-provoking ideas about time and how we conceive of and represent time with mechanical devices such as clocks and with concepts such as history.  I am not at all surprised that Finney chooses New York as a setting for some of his best stuff.  Finney indirectly contends (as I read him, anyhow) that time is misconceived when it is viewed as simply an accumulation of age and the accretion of revolutions of hands on the clock, so to speak; that we miss the significance of what time is when we see it in this literal and linear fashion.  I first read some of Finney's stuff when I was in college, and I took his assertions with a large grain of salt.  But then I also recalled from a course called "The Philosophy of History" that it is very different to make sense of many things by telling the story of actual events in the same sequence as they occurred.  Many times the meaning and the context only fall into sensible and perceivable place when actual sequence is altered in order to provide context and decipherability.  So my views about time have matured and changed "over time."  Heh-heh.
Now let's put that little tidbit about Finney back in the file folder and come back to your photos and what we have been talking about.  I remember many times playing a little game with myself when I lived in Manhattan, and sometimes I still play this game up in Connecticut too.  I would take my fingers and hands and cover my eyes in such a way--let's say while looking southwest from the Hudson shoreline at the 79th Street Boat Basin--so that no building was visible on either the Jersey or New York sides, no trace of anything man-made or "modern" was in my field of view.  And then I would say to myself, "Here I am, standing in the midst of one of the largest and most concentrated urban populations on planet earth, and I have constructed an edited view that is virtually if not literally the same as it was "before time began."  Note that phrase, before time began, and what its use in this construct, in this little nutty exercise, demonstrates about time, and you can see for yourself that it has nothing to do with the way in which we usually conceive of time as an elapsing of units of existence.  Time in this context is synonymous with the activities of human beings, or lack thereof, over an era or eras.
Now if you conducted this little exercise, say, in the backwoods of Arkansas--especially with a New Yorker's sarcastic and condescending attitude--you might walk away muttering "What's the difference?  Of course it looks the same as it did 2,000 years ago.  Nothing has ever happened in this part of Arkansas.  It is as though time has stood still."  Now there is an interesting phrase.  Is it time standing still, or is it human progress (or absence of same)?  And what exactly do we mean by progress when we're looking at the toll time has taken on a place like Hackensack (as one example)?
Now come back to your photos, especially the ones of the ponds, the lakes, the water--and you can readily see that some of these have that quality.  Had they been taken 200 years ago they would have looked much the same.  And yet they are things observable right in the general proximity of one of the greater concentrations of activity in the course of human history.  That's noteworthy, as far as I am concerned.  It is a huge component of the experience of looking at a photo like that and what it means.  To wit, you are not just looking at a pond per se.  it is far more than that.  You are looking at a very interesting phenomenon about time, and in New York the phenomenon resides at the extreme end of that phenomenon's scale of noteworthiness.
This I think is what Finney means when he says time is more of a "mountain range" than a mere chalking up of moments.  And it is a phenomenon in bas-relief in New York.  It is perhaps the most esoteric yet simultaneously the most dramatic aspect of the "New Yorkness" of New York.  You stand in front of Federal Hall, for example, and you are at one and the same "time" seeing where George Washington was sworn in as president.  You are looking at what was once a neighborhood with farms in the vicinity.  You are in the middle of throngs of financiers texting messages to far-away places like Hong Kong and can be thinking about how during Revolutionary times and, say, the battle for Long Island, it might have taken most of a day for a messenger to move communications back and forth between Washington and his collaborators.
Reid.
---
Robert C. Alfieri, May 2015:
Was looking in your Nanuet Books section, and I noticed one not there. If you can, look up "Born Again Irish" by Fred Caruso, which is on the cover as "O'Caruso". In the early chapters, he mentions growing up in Spring Valley and Nanuet.
I know this because he is my mother's brother. He lived for a time at 79 Blauvelt Road before moving west. In your letters section, I remember someone mentioning being cautioned because "Mr. Caruso" was sleeping, because he worked nights at Lederle Labs. My grandfather. *smiles* Someone I can blame my night owl tendencies on.
Wonderful site. Wish I was back there. Thank you for your efforts.
---
Richard Colwell, February 2015:
Being a life long resident of Nanuet (1946-present) I have seen many changes over the years. We live at 211 Main Street, across from Keyrouce's Pharmacy where the Nanuet Restaurant now stands, my grandmother sold the property to the restauant and we moved up to Demarest Avenue near the Overmeyers & Goldsteins. I was a member of the first class to go though the entire Nanuet School system from K (Miss Buckman)-12 (Ms Meyer) graduating in 1965, in the past many students had attend another school for 7th and 8th grades. I remember ice staking on Starks pond and sled riding between Charlies butcher shop or on the hill above Demarest Avenue. The wonder time spent at Summer Playground with a weekly trip to Davies Lake or Memorial Day parade which ended by the base of Church Street. I had wonderful close friends as the Campbell's and the Krentz's. After my time in the service I lived in Arizona for a short time, then returned to Nanuet. I joined the Nanuet Vol. Fire Department in 1984. I still reside at my current address on Demarest Avenue.
---
Alan Moskowitz, January 2015:
Enjoyed the "Nanuet Milk Farm" postcards. Who knew?
My Dad's Uncle Harry at one time owned Eagle Day Camp, and lived in a big white house at the far end of the block where it dead-ended against the Thruway Property. His grounds and landscaping were always beautiful, and now I guess they were remnants of the milk farm. I spent a lot of time there as a kid, and went to "Eagle" early 70's as one of two non-orthodox kids (interesting), after my Uncle Harry sold the camp to a Rabbi from Brooklyn.
Very Cool.
---
Ian Ackroyd-Kelly, November 2014:
Dr. Silverman,
I am responding to the inquiry from Dolores Fitzsimons concerning her ancestor who was a nun at St. Agatha's in the early part of the last century.
My family lived on the top of Duryea Lane in the property that adjoined St. Agatha's Cemetery until my parents sold part of our lands to the Diltz family in the mid-1950's. I used to play in, and around, the cemetery quite often as a child and used to observe the occasional interments there.
There is a list on the internet of Rockland County cemeteries, by township and, then, by town (hamlet). Under that there is a further listing for St. Agatha's and searching that I came across a reference to the burial of a Mary Mark Fitzsimmons who died on 21 May 1947, (no birth date is given for any of the nuns.) This might be the person for whom Ms. Fitzsimons is seeking information.
I enjoy reading your site; especially the reader responses. I lived in Nanuet from birth until I went off to college, and my family lived there from 1909 until 1990.
---
Dolores Fitzsimons, November 2014:
Hi, Firstly congratulations on the wonderful site which I came across while searching for St. Agatha's home, I really enjoyed the old pictures.
I live in Dublin Ireland and believe my Grand Aunt was a religious sister in St Agatha's in the early 1900's. Her name was Bridget Fitzsimons born in Virginia, Co.Cavan, Ireland and she is in the 1940 census aged 60 in St.Agatha's Nantucket. I have very little information about her but think her religious name was Sister Thomas I don't know which order she was in.
Could you advise me about where to search for further information, perhaps you know of a website or if you know which order of nuns ran the home are they still in Nanuet. I would appreciate very much any information you can give me.
Yours sincerely,
Dolores Fitzsimons
---
Brian Kearsey, November 2014:
I lived in Stony Point but went to Albertus and had friends in Nanuet. In the early 70's there was a small "head shop" on Middletown Road just south of Route 59 where you could buy rolling papers, etc. I can still hear the Led Zepplin playing...
---
Janine Rose Curry, August 2014:
Your site is some of the best nostalgia I've had the pleasure to read.
I grew up on my grandfather Charles Rose's farm known as Linley Farm on Scotland Hill near Pascack Road, which he bought from David Herring in 1893. I was Born in Good Samaritan Hospital delivered by Dr. Henry J. Kaplan.
Attended Nanuet grammar in the early 1950s on Highview where my grandmother had taught in the 1920s Nanuet was such a beautiful area. All the stores and businesses mentioned by your responders are so familiar to me.
My uncle Charles worked at the Nanuet Dairy, my uncle Morgan worked at Lederle. My dad Ernest worked at Camp Shanks after the war.
We used to sleigh ride down Scotland hill with the nuns from St. Agatha's convent in the winter.
Thank you for the opportunity to contribute.
---
Gus Umlauf, May 2014:
Dan,
I love coming to your site. I always end my visit with pangs of nostalgia. The most recent posts about Requa Lake raise a number of memories. While a resident of Lakeside School in the early 50's, I managed to land a summer job at Driscoll Cherolet (Hwy 59) and arranged to live with the wonderful Dennis family at the corner of Saddle River Rd. and Old Nyack Tnpke. I worked six days each week and I looked forward to sneaking the back way through the woods to Requa which was less than two miles distant. It rained nine of the ten Sundays I lived there and swam only once as chronicled in my just released memoir "Ouda' Brooklyn." The 400+ page hard cover can be obtained only through me at a cost of 25. It continues the chronicle of my nine years in foster care and the years subsequent as I sought the Brass Ring.
Gus Umlauf
---
Jay Sclar, April 2014:
While searching the Internet for information about a restaurant my family had gone to when I was a kid, I found Lee J. Lloyd's question on the same place posted here in October 2013. I now live in Bergen County, and a week ago I went up to New City, where I remembered Jerry Carnegie's had been. I knew it wasn't still there, but hoped that some landmark, like the church visible in the postcard image would give me a clue, but to no avail. I contacted members of the Historical Society of Rockland County, and they knew the answer. Jerry Carnegie's had been at the SW corner of Congers Road and American Legion Way where a modern building housing attorneys Neimark and Neimark now is located. The church I had looked for was St. Augustine's Catholic Church which is now the County Animal Hospital. I also remembered the aviation memorabilia in the restaurant, and found a reference on the Internet that Jerry had been a pilot during WWI. The Historical Society people also mentioned that after Jerry's passing, the restaurant had been renamed Ye Olde Tavern, and later Adie's, before it burned down.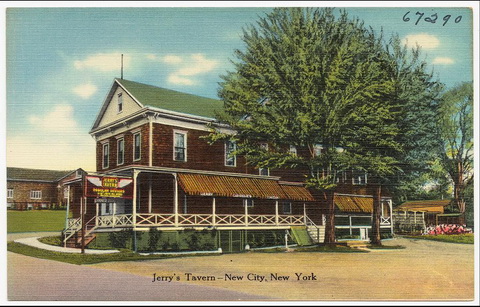 ---
Don Erskine, April 2014:
Sometimes you find a jewel just stumbling around the internet. I was looking at Google Earth and spotted Nanuet. I worked at a day camp there in 1963. Also looked around Monsey for Requa Lake. My family used to go there EVERY Sunday in the early 50's. I was about 10 or 12. Thanks for the old photos.
---
Emma Anderson, March 2014:
Club 59 in Nanuet.
Hi Dan. Came upon your site today and saw an old post from "Kathy" dated January 2012. She asked if anyone remembered the Club 59. I certainly do remember, Kathy. I was a dancer there on weekends (1968-1969). Before that, I danced at the Hi Ho in Nyack. There were a lot of great bands at the Club 59. It was a lot of fun and I have great memories. Was so sorry when I learned it had burnt down. I also am from NJ, but spent lots of time "upstate" during the 60's.
---
Donna Martemucci, March 2014:
I have been searching for info on Requa Lake for years. We went with family and friends many time during the 50's and 60's.
I am oldest of 5 from Jersey City. I am now 61 Requa Lake has for me some of my best memories of summer. I remember there was a certain way my parents and friends gained entry...some secret word or something...really. We would leave at the crack of dawn...travel up 17N...then some road I don't remember but the homes were unbelievable and very few...the picture showing the snack area burning made me sad but I figured it was gone long before 1990...Thanks for photos
---
Rich Mauro, February 2014:
I was thinking aloud to my wife today of the most wonderful memories I had from visiting Requa as a boy and later through my wife's and I dating back in the seventies. I decided to search the internet to see if there were any like-minded souls in search out there in the void. The few pictures you have posted on the Nanuet site brought those memories rushing back. I believe that we still have a few photos ourselves tucked away. We were shocked to find housing developments in place after having missed a few years and returning. Your picture of the Rec hall fire is a tragic revelation.
Here's something you may or may not know or recall: there was another swimming pool out beyond the lake and picnic area which I'd found while following the creek back out into the forests.
Oh, those were such beautiful times. Once we passed the Heller Post up on the hill and saw the Wooden sign and the big hill it was a day of bliss ahead for us.
BTW, I'm sixty three years old, originally from Jersey City. There were times when we could find half our city block up there in Monsey, all guests of the same fictional member of the association.
What supreme joy!!
Thank you so much...
---
Cindy Costello, December 2013:
My sons went to a sleep away camp in Nanuet 1967-1969. My older son has been trying to locate the site for many years. I believe it was through a church on Third Avenue in the Bronx. Possibly through the catholic charities. All he remembers is trees, cabins, and a lake. I would appreciate any information you could give me. I spoke to a nun that I knew and she believed it was around St.Anthony's church.
---
Pamela Ann Martin, December 2013:
I just came upon your website by chance! This is terrific. When I have more time I will read all of the posts. I was born a Good Samaritan Hospital in 1951. We moved from Pearl River to 6 Terrace Avenue in 1956. The school division went right through my bedroom and I ended up going to Bardonia Elementary and Clarkstown schools! I remember the Nanuet Diner, the old bowling alley, W.T. Grant (on the corner of Middletown Road and Rt. 59).
Robert Vaughn (Solo on "The Man From U.N.C.L.E.) and the Cowsills were I remember along Middletown Road there was a victorian-looking house - rumor was that a woman was killed there. When I would walk to town, I would run past that house!

I worked at the original Nanuet Mall when it was first built (Bamberger's!).

About 33 years ago I lived in Miami. I went to a women's business club luncheon and started up a conversation with the woman seated next to me. She asked where I was from. When I said it was a little town she probably never heard from, and then said Nanuet, she pressed me me for the street name. I said Terrace Avenue. She asked what number. I said 6. She had lived down the hill on Terrace Avenue. What were the chances?

I remember a girl named Nancy Taylor. Did anyone know her? I used to walk all the way to her house!

Does anyone remember the Weiher family? Or Wein?
---
Brian Henkel, November 2013:
My guess is Kiddie Land closed in about 1972 latest. I Believe I went there three times. Although I always wanted to go, (before and during kindergarten), I used to have nightmares about the place. I remember vividly what the park looked like. More than half the rides would be broken. Different rides would be working or not working everytime you'd go there. There was a big ferris wheel that was usually not running and a very small ferris wheel for small children that would be running, but would smoke and have a puddle of oil leaking from it. Many horses on the merry-go-round had the tails broken off and they would have peoples initials carved into them. The little boat ride would be one of maybe three rides working that day and was scary because of how old it was and how dirty the water was. Just recently I saw an episode of "The MONKEES" and it looked like they were posing an goofing around infront of the entrance to it during one of the music segments of the show. All that stands there now is West Nyack Dump. I heard they left one ride standing, but I doubt its true. I never went that deep into the dump to investigate it.
I recently moved to Tuxedo NY. It is about 15 minutes from where Jungle Habitat used to operate. Deep in the woods that surround Greenwood Lake Airport, in West Milford NJ, It's still there. I spent 2 hours walking around in it. Took some pictures, but couldnt figure how to display them on this site. It closed in 1976.
Here's a few pics I took that day. I lost a great one of what looked like could have been a small souveneir shop. It was literally just the frame made of branches and has probably crumbled since that day. The first is the main entrance, the 2nd is what looks like they may have kept some type of reptiles or something and the 3rd is the track the little zebra painted jeeps used to run on ! Sorry it took so long for me to get back to you with the pictures.
For those of you who used to go to The Catskill Game Farm, which closed on Columbus Day 2006 after 73 years of buisness, the entire piece of land spans over 900 acres. 206 acres used for the main game farm and surrunding woods.The rest of the land was used for the animals to run free and breed. It turns out a young married couple bought the 206 acres and are turning 80% of it into a camping area for people with campers or big RV'S. The remaining 20% is the original entrance of the game farm which will have a Catskill Game Farm Museum and the petting zoo where you can feed small animals that run free, with crackers and baby bottles will re-open!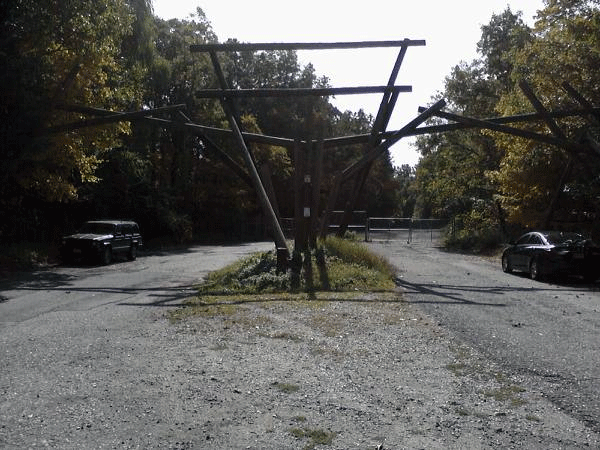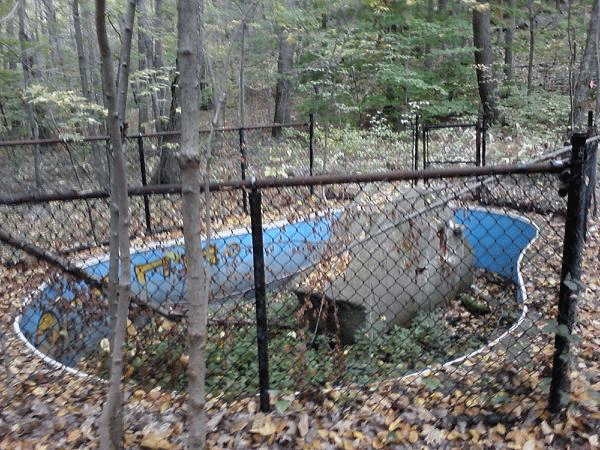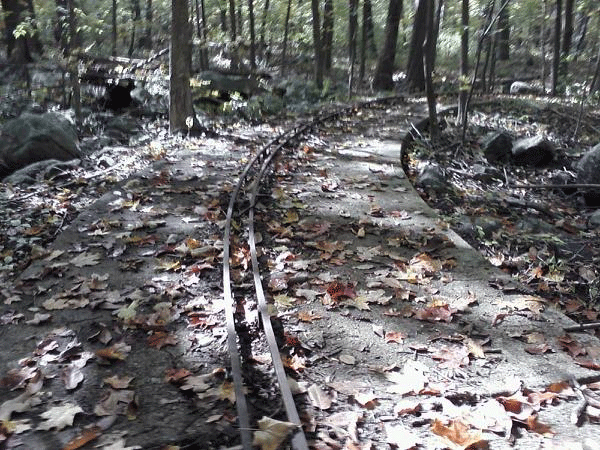 ---
Lee J. Lloyd, October, 2013:
Does anyone you remember or have any information about a Restaurant/Bar called Jerry's. My family went there in the mid 1950's on Sundays. It had a very large fireplace and many artifacts from the crash of the Hindenburg in Lakewood, NJ. The owner, Jerry, would walk around the bar and talk about the crash. He had collected many items from the crash and displayed them throughout the restaurant.

It was in Nanuet, or Spring Valley or Nyack ... not sure. I was born in 1946.

Any info you might share would be appreciated!

Lee J. Lloyd
Grew up in Oradell, NJ
---
Peter Jeuck, September 2013:
I'd like to ask a question. My younger brother George (now deceased) had a second or third grade teacher Mrs Cross who taught at George Miller Elementary School. I remebered him saying that as a child she was one of the Our Gang Rascals. She used to tap dance for her class. She had two sons who went to Nanuet, one was Jeff Cross. I looked online for the cast of Our Gang but couldn't find her listed/mentioned. Does anyone know more definitively whether Mrs Cross was indeed a child actor with Our Gang...Little Rascals?
Someone mentioned the rock at Lederle. I heard a completely different story about the rock. All myths I think. But adds to the mystique of an area whose development dates back to Dutch colonization. The story I heard was that two children were lost in the woods and climbed to the top of the rock for protection from wolves. The story had them die on the rock before being saved. Their ghosts supposedly haunted the rock.
Then another story I heard related to an Indian Princess who also died on the rock. Maybe this story was mixed up with Spook Rock in the Tallman area. Supposedly her ghost haunted the rock. Whatever the case there are stories a out that rock. My girlfriend Holly Gleason lived in apartments across Middletown Rd. just a couple hundred ft from the rock. We sat on the rock many times during the five years I dated her.
Lederle was an institution in Pearl River and Nanuet. My neighbor Mr Caruso worked graveyard shift there. My mother always told my brothers and me to play quietly so we wouldn't disturb Mr Caruso who slept during the day. When I was very young my mother worked on a packaging line at Lederle. In 1992 I got a job with Lederle as an environmental engineer. I saw many old schoolmates who worked there for many years... Especially Louis Mazzucca who went to George Miller school with me from Kindergarden (1960) through to Middle School. Debra Roth also worked there when I did. I left Lederle in 1994 when I took a job at Hoffmann LaRoche in Nutley. Both Lederle and Roche have closed. I'm involved in the remediation work at Roche now. Roche plans to sell the plant site in 2015. I don't know what happened with the Lederle site. If it is being sold or what. I do know they have some old landfills that date back to the beginning of operations there in 1906. Old apothecary bottles used to wash out of the landfills every so often when it rained hard. Some of those old bottles were types used in the 19th century and would have some historic value if not also having monetary value. I would imagine many if not all the buildings at Lederle will be razed and the property sold for housing developments in the not too distant future. That's what is happening to many old manufacturing sites. Change... Nothing stays the same. That's why web sites like this are important. To keep the memory alive.
---
Bob Fullem, September 2013:
Thanks for your blog about Nanuet. I lived at 53 Church St. from the late '40's until October of 1961 when we move to Strawtown Rd in West Nyack, and I transferred from the new Nanuet H.S. to Clarkstown H.S. I recall many of the names that others have mentioned in your blog, the stores and teachers and families. Edgar Milford's post reminds me of some times we spent together at my home and his. The long-gone pond next to our house was a constant fascination and Lake Nanuet a summer joy. The main shopping, though, was in Nyack, with Lulich's Bakery a big hit, especially those fresh crumbuns. The only correction I have to your posting is that the Nanuet public library started in a Main St. storefront.
---
Geoff Knafou, August 2013:
I remember the Memorial Day parade, I would play taps on the trumpet on the high school roof. Also, Chicken Unlimited where me and Alan Kostetsky ate them out of business. Sadly, Alan was murdered by one of his employees (who was stealing) when only in his twenties. Lederle Rock where Chief Nanuet was supposedly buried. Jocar, Rex, Nanuet Pizza, Fordham best pizzerias in Nanuet and Jimmies in Spring Valley.Nyack and Good Samaritan hospitals---spent lots of time there to my parents delight. Seems like any high spot in Rockland when the leaves were off the trees you could see the NYC skyline...Incredible. I worked at Marshalls as a stock boy, wonder if it is still there----Geoff Knafou, class of 76 grk003@att.net
---
Bob Renino (Bobby), August 2013:
Hi Dan- I came across your website by accident yesterday. Wow, talk about nostalgia! Great job, and I wish I had something to add but everything I could think of was in there. Your brother Ethan and I would often go to Rex's pizza on our bikes after school (slices were 30 cents) and I would "ruin" my dinner at home by eating too much pizza in the afternoon.
I smoked my first cigarette in one of those "woods" off of Edsall Ave. (and gagged like mad). I remember how I felt when I saw those Steep Hill woods razed in the 90's (my sister and her husband bought one of those houses, they have since moved). There were displaced animals running around all over the neighborhood- fox, deer, muskrats, etc. Nanuet is practically unrecognizable to me now. It looks like Paramus NJ.
---
Paula Royak, July 2013:
Just finished watching a doc about photographer Bob Gruen who is known for working with rock & roll stars. He talked about Elephants Memory; Lennon's back up band from NY. Am I dreaming or is it possible that I saw them play when I was in Rockland County using my fake ID at a bar? It was somewhere in between 1969-71. Nanuet is where I see on your site they lived for a short time so does anyone else remember or was it just a dream?
---
Mary McCarthy, April 2013:
Is there anyone out there old enough to remember the Reservoir in Congers, when it was homes, and a creek we used to swim in? Remember when West Nyack was a swamp, and there were signs everywhere, FREE DUMPING, and now there are million dollar homes there, and that is why the Palisades Mall is always flooded, and the Three Corners in Nanuet is under water every Spring? If anyone out there knows of Ralph Guglielmo, from SV, he was the Roadie for The Elephant's Memory, I was his "straight" old lady, LOL. Say hi for me.
From Mary "Jones"
LOVE your site, glad I found it, boy the stories I could tell you! LOL Born in Congers in 1945! LOL
---
August (Gus) Umlauf, April 2013:
Your Blog popped up during a search and I commend you for a valuable effort. I lived in Nanuet for only a short time with Don Sleight and his parents on Blauvelt St. However, both my wife (Sheila Sullivan-Congers) and I were long-time Rockland residents. Most of my years were as a resident of Lakeside School while attending SVHS. The notes and pictures from others are outstanding. Sheila and I had our first "date" at the Mapleways when she was bowling for the Lederle's house team. We bought our first crib and stroller at Buy-Rite, our first piece of furniture at Grant's, our son's first bike at Grandway, and thought there was no better pizza in the world than that offered at the Nanuet Hotel. Mary Eberling Venezia (posting below) is a dear friend from those years. Her posting jogs memories at an important moment for me as I conduct research. I have finished my first memoir entitled "By Way Of Canarsie" which concerns my earliest years in foster care and am embarked on the second book due out this summer. The Title is "Outta' Brooklyn" and traces my journey through five different foster homes as I move from Brooklyn to a farm in upstate NY and, eventually to Spring Valley. It ends when I meet my meet wife-to-be while we both worked at Lederle. To say I would enjoy hearing from anyone from that era, would be an understatement.
August "Gus" Umlauf poke1@windstream.net
---
Cal Mendelsohn, December 2012:
What an absolutely wonderful site and trip down memory lane. Way too much to say!
Still live here, and I remember most of the oplaces at the top of your column--great memories of Hogan's, Mini golf, Mapleways Bowling Alley, pickup baseball games at the AC Field behind the Mall. Also, I remember fondly the interesting characters that inhabited my childhood, some of whom Jamie Kempton mentioned and who could regularly be seen saddling up to the Red Rail and other local gin joints on Main Street.
I remember the Memorial Day Parades, pizza at Jocar, haircuts at Phil's Barber Shop and the opening of the Nanuet Mall in 1967, which was preceeded by a mass exodus of turtles that found their way crossing my yard on Prospect Street for about a year.
Very glad to see Ron Lugo and Barbara Thomas's piece on Lisa's murder--she was a neighbor and friend and I'm glad that the effort to find her  killer(s) goes on even now.
I hope everyone is in good health and spirits. Great to "catch up" on some of the doings of those who grew up here that I knew  directly or knew of through siblings or otherwise.
Thanks for letting me go on!
All the best,
Cal Mendelsohn
cal@nativeweb.net
---
Kevin Sullwold, November 2012:
Hey Dan, nice website! I grew up in Valley Cottage/Nyack and was around Nanuet in the 1980s/90s/00s a lot before moving to Dutchess County in 2008 (I am 31 years old). I love figuring out where things used to be and seeing how they evolved. The question that I have on my mind at the moment is the fate of the Buy-Rite store. I see in the photos and descriptions that it was on the SW corner of Route 59/Middletown Road. I know the Ferretti's home (which is slated to be destroyed) is shown in the photos as well and I can only surmise that the Buy-Rite was on the corner when Route 59 was a much narrower road. I suppose that during the Route 59 expansion, Buy-Rite was demolished and the Ferretti house was suddenly at the corner of the newly expanded intersection. Is this correct? Thanks so much!
---
Joe Komonchak, November 2012:
All the members of my large family have enjoyed your website devoted to memories of Nanuet. I am attaching three class photos taken at Highview Elementary School. They show my graduating class of 1952 in the fifth through the seventh grade. Feel free to post them on your website.
(I am the priest in the family, and not my brother Andy, as someone said. I am retired now and live with Andy in Bloomingburg, N.Y., two exits past Middletown on Route 17.)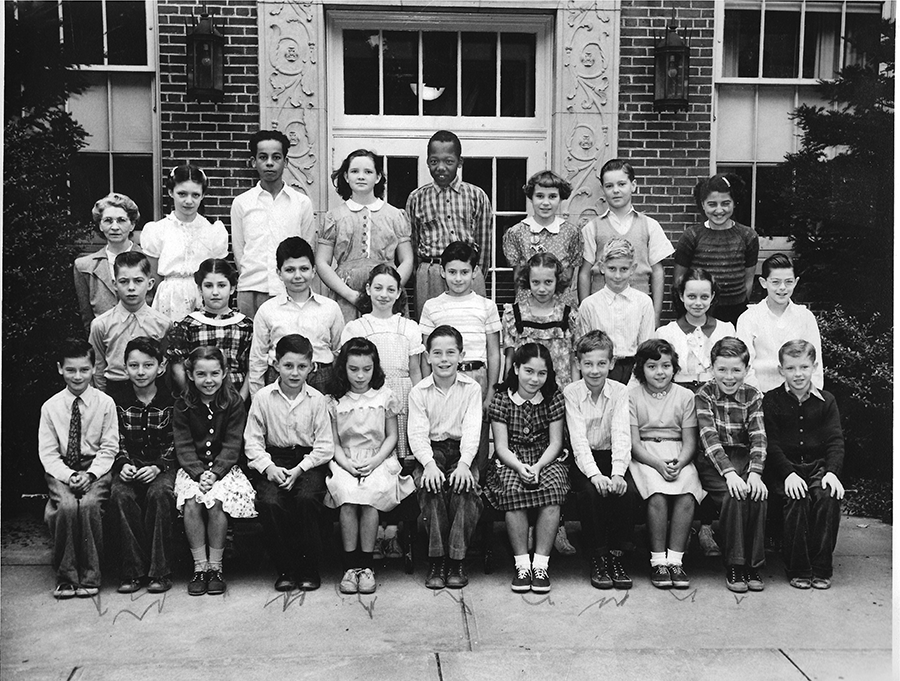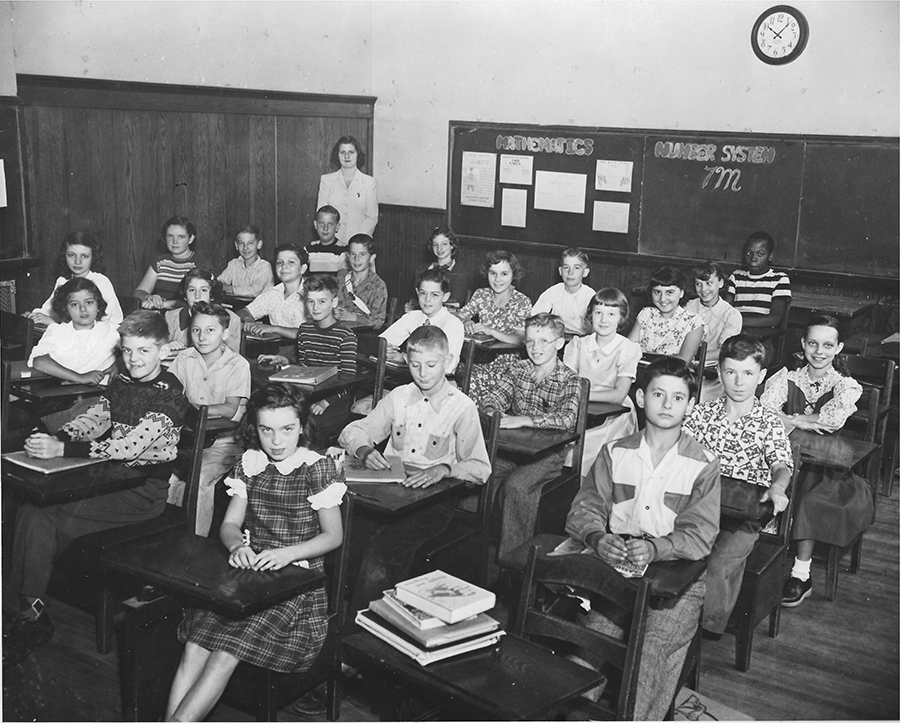 ---
Patti Heydeman, October 2012:
Dear Daniel, your site rekindled so many memories of my nanuet. My Dad was Louis Heydeman who owned the gunshop right in the center of town, near Keyrouses Drug Store who sold the most wonderful tasting cough syrup that realy worked, it had a licorice flavor.There was ice cream to. I remember the day when I got to have a sundae. something went very wrong with the container that had to be shaken firmly before whipped cream was ready, the thing got loose and sprayed whipped cream all over the place.Will add more at a later time.I'd love to hear from anyone.
---
Diane Agostino Lillie, September 2012:
My memories of Nanuet are of a quiet rural town with glorious fall and spring seasons and winter wonderlands. I lived there from 1950 until 1967. Many times as a child I would walk in the woods behind my home on Highview Avenue picking blackberries in the summer and sledding down the winding path in winter. I remember the sledding hill at Lederles during Christmas vacation and straining in early morning to hear the siren that signaled "no school" during winter storms. Lake Nanuet was a refuge for me in summer and the woods became the perfect hiding place for me during troubled times at home. Many on this website have shared many wonderful memories of Nanuet but mine are a mixed bag. I do fondly remember Ms Buckman who was kind and caring and how I cried when she left. Through the good memories and the painful, God in His faithfulness always held me in the palm of His loving hand and continues to do so. The last time I visited Nanuet was in 1996 but the quaint small town I remember had vanished. The home I grew up in that seemed so big then was now not as big as I remembered. We visited our neighbors and their home was the same as it was years ago. Edgar Milfred, I remember you well and enjoyed reading your post. I remember walking in the woods with you and Ellen Kushner and that you lived on Middletown Rd and I think you mother taught school. I attended Highview Elementary School and still have my class pictures. God bless you all.
---
Jim Muller, August 2012:
Dan,
Thank you for all your hard work putting this together. It brings back SO many memories for me, not only the images, but the name of those who have posted before me.
My dad, Larry Muller, was the postmaster in Nanuet for many years.
Mom, Kay, got her first job at Highview Luncheonette (formerly Elliot's).
Later Mom went to work at an insurance office in Pearl River with "Aunt" Janie Mills.
Mom eventually worked at NYNEX in White Plains until her death in 1988.
Many  of the close friends they had, so close in fact that they were all "Aunt and Uncle" to us kids have been mentioned here, or their children have posted here.
We lived on Kemmer Lane, behind the Holiday Inn and in fact spent many a summer day sneaking into their pool for a swim. The entire area is now the Home Depot Expo Center.
I used to walk the train tracks and cross the trestle over the Thruway to an old abandoned pond in the woods. It used to be a swimming pool for the Juzek family before the Thruway was built.
The Juzeks were our neighbors and  it was one of the Juzek family that built the house I grew up in.
I remember a couple of times when the swamps behind Grandway would flood and the entire parking lot, and most of 59 just below Dykes Park Road would be under several feet of water. I wonder if they ever solved that little problem.
My Grandmother's house on College Ave, just a couple doors down from 59A, across from St Anthonys was still there the last time I was home. It was a Century 21 Real Estate office I believe.
I can't believe how much has changed over the years, but it's good to know I can still share others memories of home.
---
Seth Mendelson, August 2012:
Hi. Just found your site. I see some old friends here and even my own brother.
I have some answers to some questions. Since I worked at the Journal News as a sports and news writers for a couple of years after college in the early 1980s, I can tell you that College Ave. was named becasue there was plans to build a college there in the late 1800s.
Buy-Rite toy store was owned by my uncle Leonard Kurtzman. Yes, it was a dusty store, but it had a great selection and was the best thing around in the days before Toys R Us.
Some other thoughts:
*I love the Nanuet Restaurant and still visit, making a 30 mile trip from New Jersey every once in a while for a well-done mushroom and meatball pie.
*Do you all remember our first good varsity football team. In the fall of 1972, I think we went 5-3-1 (tied Ramapo) and one of the Berich boys (I think it was Don) was a star running back  as a sophomore. I remember the Journal News called our game against North Rockland the game of the season. We lost and Coach Abeling was angry taht the marching band left at halftime because it was cold.
*I loved Elliot's and went there after school at Highview.
*Mr. Merkle & Mrs. Rosenthal, who was my teacher in second AND third grade. She moved up with us.
*Mr. Abt, Mr. Rizzuto, Mr. Burke...
*Beating Pearl River
*Daryl Brown and that great basketball team. He lives in Dallas now.
*Tony Harlin and the shot-put.
*The Nanuet Mall....basically lived there for a few years during my teens....i would leave empty pistachio nuts shells on teh floor until i got caught by a security guard who made me clean many up.
*Nichols  Hill
*The Schwinn bicycle shop in Spring Valley.
*Jack in the Box in Spring Valley
*Maximus in New City
*The Ground Round right by the train trestle on Route 59
*Knolls Day Camp
And much, much more...Hello to my old friends back home.
---
Cliff Cortland, August 2012:
Dan,
Thank you so much for starting and maintaining this web site. I lived in Nanuet from 1960 to 1982 with a few years away at college in California; graduated Nanuet High in 1975. Donna Schubert-Thibault mentioned the Golfari's farm at the end of Park. I have always wondered who owned that area. We lived at 38 Freund Drive in the development Donna mentioned. Mr. Boardman was the name of the builder and Freund was his lawyer's name that's how the street got it's name.
The development backs up to what was the Nanuet Golf land, miniature golf and driving range owned by Ernie Morrow. Ernie didn't want us to walk up along the driving range to play miniature golf because he was afraid we would get hit with a golf ball. All we had to do was call and he would send down one of his sons in the jeep they used to pick up golf balls and they would pick us up. There were also batting cages with pitching machines.
Ernie died in the 60's and land was sold for the theater in the round. We saw a lot of great shows there, the Temptations, Frankie Valley and The Four S easons. I met a woman a month ago when she learned I was from Nanuet she said, "I played there at a theater, I was on of the backup acts I was one of The Gold Diggers." Small world.
My memories of Nanuet are fond ones. It was a small town back then and a great place to grow up. Our family would ride bicycles down to the Memorial Day parade on Main Street and then off to Nanuet High for the carnival.
When I was at Highview you could go to Elliot's for lunch if you had a note from your parents. Mom would give me a dollar and remind me to leave a tip. I would get a cheeseburger, fries, a vanilla coke, leave a tip and buy some penny candy. A dollar went a lot further back then.
So many great memories; thanks for keeping them alive. Feel at liberty to print any or all of this and share my contact information.
Cliff Cortland
ccortland@msn.com
---
Donna Schubert-Thibault, June 2012:
Hi Dan ,I know it has been forever but I was looking at "our site" and came across a Mary Eberling. If you hear from her ask her if she is related to the Eberlings from New City.My mom was the oldest of Hamilton and Sarah Eberling.I just found out about an old neighbor from Park Avenue that has passed away. She was Violet Hunter (her husband was Ted Hunter).She was a great friend and neighbor. My Mom and her worked at Lederle during the war and ended up next door neighbors.Also I wanted to mention that my father worked for Orangeburg Pipe for 30 years after the war. He was a millwrite A( all I know is that he worked maintenance. While there he met my freshman English teacher Mr. Burns.He would work there during summer vacation. Well Mr Burns loved telling us a few war stories in class and my Dad grabbed him and told him to stop the stories(he was only kidding) but English was a bit more boring when he stopped. Also I remember Miss Schroedor, my first grade teacher coming to my home one day. I thought I was in trouble but apparently my Mom used to babysit her as a child. I sure wish I could get a copy of the Eberling Drive sign,located at the County Courthouse in New City.I have heard that my grandfather and his father donated the land for the courthouse. I also want to mention Mike Higgins of Higgins Funeral Home on N.Middletown Rd(Main st to us)This dear man helped us bury many family members and was highly re guarded by my family.Did you know the Golfari's farm at the end of Park Avenue. They were there when I was very young until one day they were gone and they put the "New development" in. When we went down Nichol's hill we would go into the woods past Park .What a ride.I am hoping to stroll down Nanuet's memory lane before I go, so if the Lord lets me I will bring back more stories as I go around town and places jog my memory. If I have any more musings, I will write again soon Thanks- Donna
---
Ron Lugo, June 2012:
Hey Daniel, my name is Ronald Lugo, you may recall some time ago I submitted several photos of the pascack brook that ran through St. Agatha home. Well again I'd appreciate your consideration in posting what may very well be the most heartwrenching story in the history of Nanuet. I'm sure most longtime community residents including many of the individuals that have postings on your Nanuet page are aware of the occurrence in 1974 Lisa Thomas grisly murder behind what use to be the Nanuet Mall/Bambergers. The criminal/s are still at large and as a result of community outcry the case was recently reopened.
Barbara Thomas has set forth a Facebook campaign "Justice for Lisa Thomas" in hopes that someone will come forward with any information pertaining to investigation. I've been doing what I can to help in the cause and In light of the recent stir I created a touching Youtube slideshow yesterday of family photos that express the sentiments felt by members of group along with friends and relatives of Lisa. The video seems to be circulating quite well.. Anyway, here's Barbara Thomas's news paper article, my Youtube link and an Image I created as well along with the Facebook group link..
I'm not sure if this would be inappropriate subject matter for your site but it is a pertinent story relative to Nanuet.. Either way, thanks for sharing the memories of our town, It is a home where the heart lay fondest. I know Barbara Thomas, Family and friends alike would be deeply touched and gracious to see it up and i can't thank you enough.
Be well and thanks again!
Ron Lugo
Facebook community group "Justice for Lisa Thomas":
https://www.facebook.com/pages/Justice-for-Lisa-Thomas/257885657587145
Youtube link Carole Kings: So Far Away . "Justice for Lisa Thomas"
http://www.youtube.com/watch?v=NGoWi7fr40A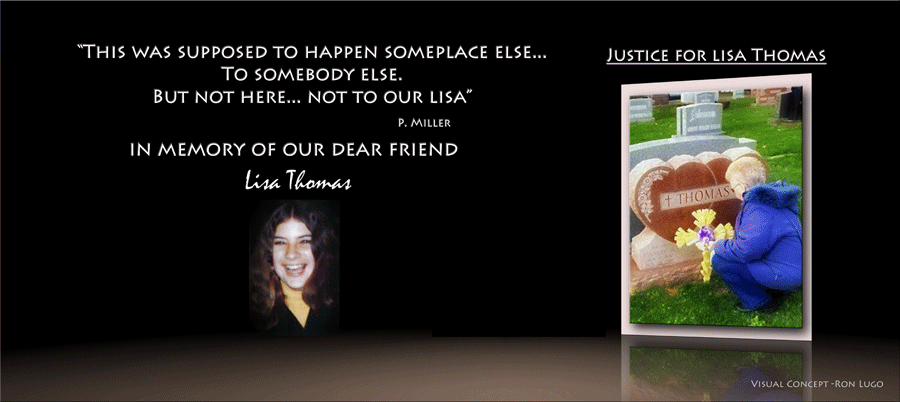 In Loving Memory of Our Friend Lisa Thomas "Hopefully community exposure and public awareness about this case will bring forth the long awaited Justice for Lisa and bestow some closure for Lisa's Mother Barbara Thomas" -Ron Lugo.
October 7, 2012 will mark the 38th anniversary of the day that my daughter Lisa Thomas' body was found murdered behind the Nanuet Mall.
Another year has passed and we still have no answers.
Sometimes it's hard to believe that her tragic death occurred 38 years ago, yet most times its feels like yesterday. As I watched my beautiful 15 year old daughter go off to the mall to buy a blouse that day, I had no idea I would never see her alive again. Her murder remains unsolved and her murderer has gone unpunished.
I would like to extend my sincerest gratitude to those of you who have kept Lisa's memory alive. For many years, I felt she was forgotten, with the exception of a few. Recently, I realized this is not true. I have read the messages on various web pages, and I am truly touched to know that not only friends have paid respect in Lisa's honor, but total strangers as well. Your thoughts, prayers and wishes have lifted my spirits.
I pray that anyone with knowledge of this crime will search their soul and find it in their heart to come forward. My only hope in life is to have Lisa's murder solved so we can honor her precious memory and finally lay her to rest. She deserves that and so much more.
Barbara Thomas
Nanuet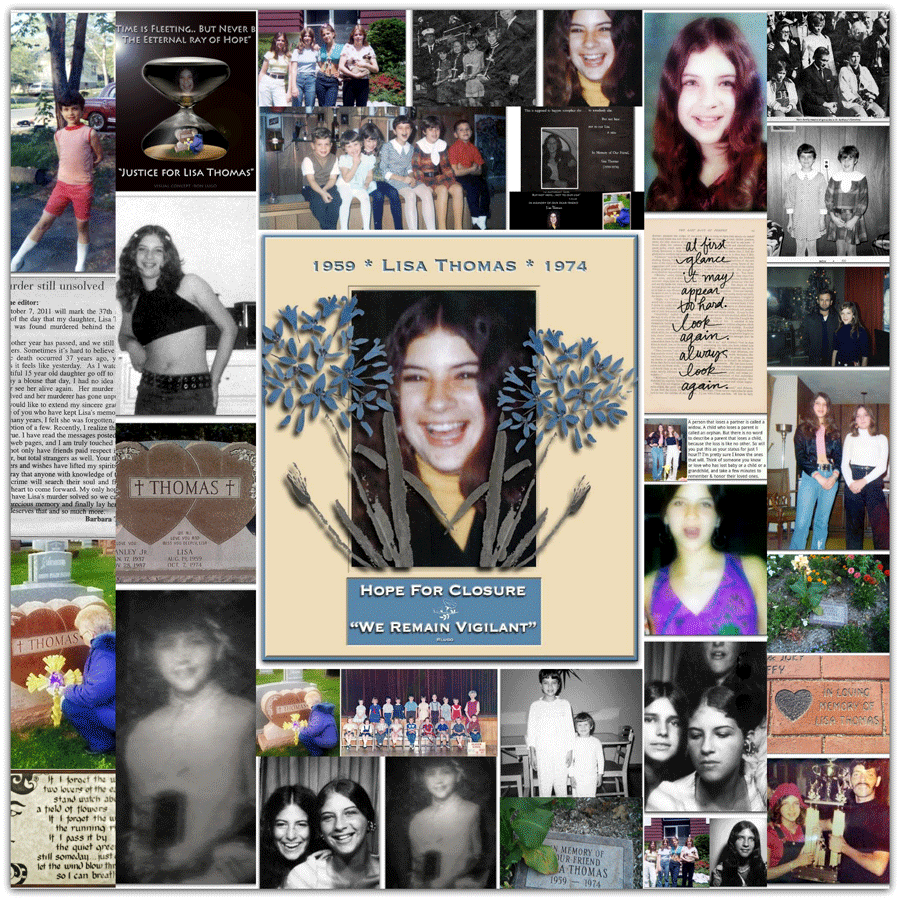 ---
John Clark, April 2012:

Anyone remember my grandfather....Anthony Lombardi? He was a mailman for nanuet for 30 years. His route covered all of main street. I used to go with him delivering mail all the time as a kid. They actually dedicated the post office in honor of him 7 years ago. A nice little plaque sits by the front door. It was a tremendous day for my family.
---
Jackie Bowdon (Mills), April 2012:
I was born and raised in Nanuet. I graduated from NHS in 1971. I lived on Demarest  Avenue which was at the time the eyes on Main street.  We lived right above Don Liebert Insurance agency and I remember long before his agency was built there was a small thrift shop that sat on that location. My sister still lives in that house. It's been years since I have been back since I now live in Texas. Thank you for all the memories. Highview school, where our principal, Mr. Abt, came to tell us that Kennedy was shot, Papa Charlie's meat market and who could forget Miss Meyers, the librarian, her wild nail polish. Thank you for sharing all these memories.
---
John Fickes, March 2012:
Dan, You can post my name and e-mail address. A note for Kathy; Kathy your memory is fine. There was a Club 59 at the western end of shopping center where Cleats N Sneaks stands today. I spent a very cold night there in the early seventies as a member of the Nanuet Fire Engine Company, putting out a major blaze that destroyed the place. It was never re-built. I hope your memories of the place are good. jfickes34@optonline.net
---
Bobby Tremper, February 2012:
Had an absolute ball reading all th info. on Nanuet.  I to, lived on Blauvelt road, three houses up from the Smiths!!  The only thing I can add is that the corner store on the corner of church was originally called Morgans.  Mrs. Morgan ran it and lived up the street on College.  Penny candy could be bought back then , for ten cents you went home with a bag!!!  I go back about 3 times a year, as my son lives in the area with my Grandkids.   Still miss it though. it was an awesome time to live and growup. This site is amazing. Keep it up!
---
Mary Eberling Venezia, February 2012:
Nanuet before the Thruway--Palasides Parkway-or the tappan zee bridge-One way to the city 9-W-over the George Washington bridge or the wehawken ferry -This is what I remember may not be 100%  Lived on Blauvelt st.Then Highview ave.neighbors Machellos-broom -Caty Horn Sissy Weisberg-father the dentist-Bobby Dorfman-Peter Baulvelt the Fishers-Vantassel-teacher My mom Marion Eberling teacher science Father Charles Eberling owned gas Station in town across from bank then we owned deli by goldens at the 4 corners-sold deli and house on palmer ave to the Kemmers-He then bought the Town Tavern in New City School was Kindergarten to 8th Remember going from room to room to prepare for highschool  we had choice for highschool-Nyack-Pearl River or Spring Valley remember Geschunds pond behind the school skating  we also helped Albert Guschind harvest his corn. In exchange he would take us on a hay ride horse and wagon Duane Van Der Bogart and I built a ski slope on a farm I was living on  Remember sleighing across main st. with the Roths Chester and Honey went between the car tires Taking first train ride to Jersey on the communter train  Playing in the Sawmill on the logs  Threw cigg. to the troop trains with our address in so we would have a solider to write to Camp Shanks Air raids in school bomb shelter in house Gate night  town parades  memorial day service at the park  Spent 8 years with same classmates Rose &Helen  Nenninger They raised goats -Peter Blauvelt-Ann Feist Mink Farm-Peggy Kernery-Eleanor Brettman-  Elizabeth Millford-Duane Vanderbogart.Don Sleight-Linda Clark-Fred Williams Edith Hildreth-  Linda Clark-Bobby Dorffman-Calvin Schuppner-were some names I recall remember the Lutheran Church burrning down  Was working at Swiss Trudys when it burnt  Rafting on lake Nanuet  Was a life guard at McGills Lake took a class with Emma McGill Many of us had Victory Gardens Raised Chickens  Walked barefoot up 59 Nanuet changed from country to suburbia and the farms horse-dairy-strawberry-corn-fruit ect were sold to developers Progress Enough for now would lov to hear from anyone Mary Eberling Venezia
---
Rich Gerber, February 2012:
Dan: Graduated NHS 1966. Lived in Nanuet on townline road from about 1953 to graduation..many memories of many things. went to highview and miller and nanuet jr sr. hs..Miss the pizza from across the border in NY called tree tavern..remember the red and tan lines.jaunts into NYC as a teenager..had many friends on highview avenue..was a member of the nanuet hebrew center..miss the fish fries at howard johnson's all you could eat either tuesday or wed nights..the candystore across from highview elementary..playing ice hockey on a pond behind highview..swimming at lake nanuet..walking to the NHC for barmitzvah training and stopping for a devil dog and hot cocoa at a small coffe shop on main street..don't remember the name..before leaving for college drove a delivery car for a pharmacy on main street at the corener of prospect. I remember great summer food at the elks lodge..just a few things to share..my best to all and if you are in atlanta, ga..would love to hear from anyone in my generation from Nanuet..cheers..!!
---
Kathy, January 2012:
Hi Daniel - I enjoy reading your Nanuet Site. I lived in NJ but in 1968-69 my friend Mary and I spent many nights at a bar on Route 59. It was in a strip mall just west of where the Nanuet Mall is now, on the same side. It was called Club 59. I was wondering if any of your readers remember it. Mary and I are beginning to think we imagined all those nights of dancing, since we seem to be the only ones who remember it. You are welcome to publish this. I hope one of your readers will remember and - maybe - even used to go there. Thanks ~ Kathy
---
Joe Fornaro, January 2012:
Just read Craig Swan's memories of Nanuet...Monterey Pool...Sid's last name was Goldstein...
---
Craig Swan, January 2012:
My name is Craig Swan and I stumbled upon your web site looking up stuff on Rockland County. Pretty cool site!
I'm not from Nanuet (used to hang out there a lot till about '72 when I moved out west) but I grew up in Manhattan till I was 14, moved to Weschester County in '64 and then to Nyack in '65 (we had some older relatives living there) and before graduating from Tappan Zee in '68 I went to Nyack High School from '65-'66.
It was really a trip to see the name 'Monterey Swim Club' again! How long did it remain there? That really brings back memories. My first (full-time anyway) job was as a lifeguard there the summer of '66. I was 16 then. I worked there with a fellow Nyack High School swim team member (George Nikitin) after we had gotten our life saving certificates that spring. George and I used to meet up downtown Nyack at about 6:30 every morning from Monday thru Saturday and we'd take the Red & Tan Lines bus up to New City and walk south down Rte 304 to the club - it was actually called the 'Monterey CABANA Club' then. Big pool - I remember it being 180 ft. long and I think 80? ft. wide. We worked 10 hour days, six days a week for the whole frkn summer for $300.00 each for a guy (owner) whose first name I can only recall as "Sid". "Sid" would chomp on his cigar and peer down at us and the pool from the railing up on the hill (to the south) overlooking everything. He was a real character.
As the summer wore on (very hot summer) we became increasingly bored with mostly saving little kids at the shallow end (no babes in the deep end as we had envisioned) and we began to devise pranks on Sid. One of the best I can print without worrying about any statute of limitations was when we climbed down into the pit behind the diving board area (towards 304) and cranked open this huge wheel that controlled the valve that emptied the pool. As the day went on on Sid became increasingly nervous and began pacing back and forth away from his perch up on the hill and kept asking us what the hell was going on. We kept yelling "there's no problem"; only in the late afternoon to admit that we had found the valve mysteriously partially open and water rushing out. We then heroically fixed it and it took a couple days I think to refill the pool properly.
Anyway the summer finally came to an end and we went to collect our $300.00 in wages (don't even want to figure what that was per hour) and Sid reluctantly shelled it out. He then tells us that if we empty and "clean" the pool he'd give us another $100.00 each. So naturally we said "Yeah, OK" and pretty soon we're pretty pissed because we did Not know what we were getting into. It was a back breaker. I mean we could barely keep up with the sweeping, raking and shoveling out of muck and silt that had collected all summer on the bottom of the pool as it emptied from the deep end. It had to be a couple inches thick. Sid peeered down at us the whole day barking commands and we (as discreetly as we could) kept stuffing our pockets with money we found on the bottom - George and I actually split about 200 bucks we found, so the summer ended up paying us about $400.00 each. I'd never do it again.
So, after 10 weeks of skin cancer 101 I travel down to the city to 47th St. to Manny's Music and with my $300.00 (and about another 200 bucks I'd made from my band starting up that summer) I blow the whole amount on a Fender amp - but it was worth it in the end lol.
Thanks for putting the site together - fun to read all the stuff,
Craig

---
Edgar Milford, November 2011:
Morgan Park was to the east of Middletown Road off a road that ran parallel to rt 59 but south of rt 59. A small brook ran through the property and when I was a child it was well manicured and we used to walk through it catching frogs and such, but never knew what it was until I saw a postcard of the exact perspective of the brook that I knew so well labeled Morgan Park.
Remember taking the Erie Lackawana to NY (Hoboken then across the river to downtown) in the days before the Parkway and Thruway. Fond memories of the 8 room schoolhouse Ms. Buckman, Miss Prentiss, the McGeary sisters, Mr. Barr the principal, Mr. Schubert the art teacher, and the tiny blacktopped thing in back where we used to run around.
---
Helen Muller Farrington, November 2011:
My brother Charles and I go back into early Nanuet than most. We grew up in the 1930s and 1940s in Nanuet. We went to school in Nanuet and then Nyack High.  I remember all the early markets as I shopped with my Mom. I remember during WW II the troop trains that shuttled through Nanuet on their way to Piermont and then the boys went overseas. I remember Dr. Weishaar's office and the church next door that my family went to. Great recollections of Chief Lieberman and his fellow officers. My Dad, Ernie, was a mainstay of the Nanuet Fire Dept.
Thanks for all the great memories.
---
Hank Feinerg, August 2011:
Just found your website. Brings back a lot of memories. We moved to Nanuet in 1959 and are still living in Rockland County. I knew many of the people who are posted on your website. You didn't post Jolly Boys, Golden Chrysler Plymouth, Pergaments, Tinys Diner, G& S Lawn Supply, Johnny's Sunoco, Keyrouse liquor Store, Charlies Citgo, Grants, The Driving Range on 59, Eagle Day Camp, The Army Navy Surplus Store, Bill Goodmans, Parsels Glass, The Triangle Pub, Swiss Trudy's just to mention a few.

---
Daniel Mathys, August 2011:
The site is really great...I see it has no recent updates so I would like to add one or two...ref. to the picture of the Memorial Day parade next to Buy Rite is a Brown Building, that was where Bob's Taxi was located. When the Nanuet mall first opened my mom, who did not drive, would call Bob's and they were over in a flash. We lived off Middletown Road (north) just before the Palisades Parkway (about 3 miles away) entrance/before the New City borderline, as you may have remembered Middletown Road was a narrow 2 lane road, just after our street entrance was the famous high bump in the road, the actual pitch of this bump was quite radical and if anyone remembers their Dad perhaps especially my dad speeding up for us going over the bump was like a quick thrill. Unfortunately there were a lot of accidents from this bump (between Lakeshore Dr and Tennyson) They flatenned the bump around 1973 due to all the accidents. Back to Bob's taxi, I could still remember the young taxi drivers (all men) in the late 60's and early 70's especially in the hot summer days never wearing any underarm deoderant and smoking cigarettes with no AC in the cars, they always picked us up with an old Plymouth or Chrysler-4 door with the full flat seat benches where you would just stick to those vinyl seats and the hand radio they would use looked just like the Adam 12 policecar radio, it was a Motorola.....those memories never die...
About Robert Alfieri..I lived up the block from him and my parents indeed bought that nice fresh turkey for Thanksgiving from Charlies Meat Market..I now live in Atlanta GA but this site is now my Home Connection!
---
Tom Jacaruso, July 2011:
(Tom is graciously sharing these old snaps of Mapleways Bowling Alley.)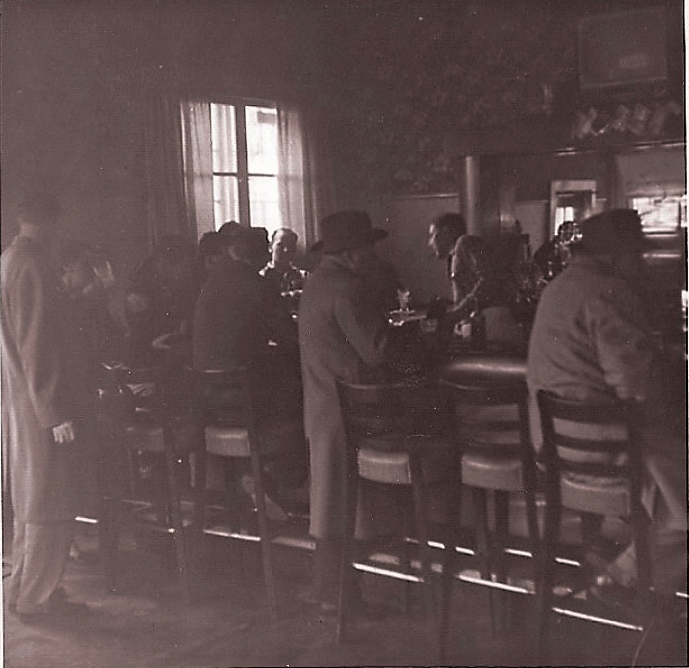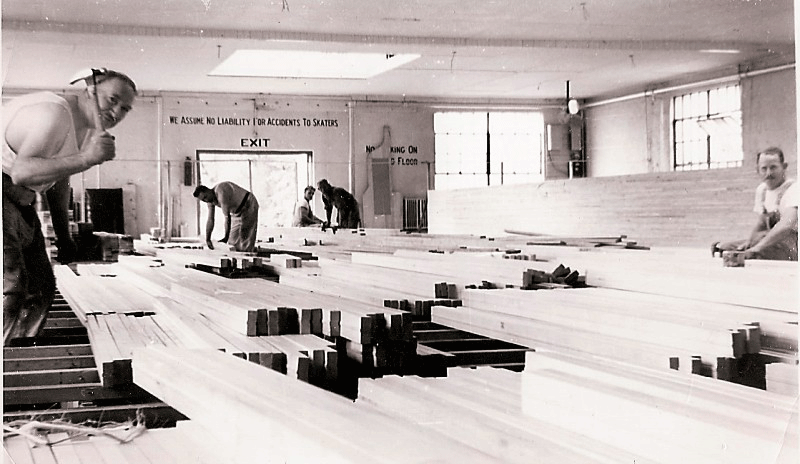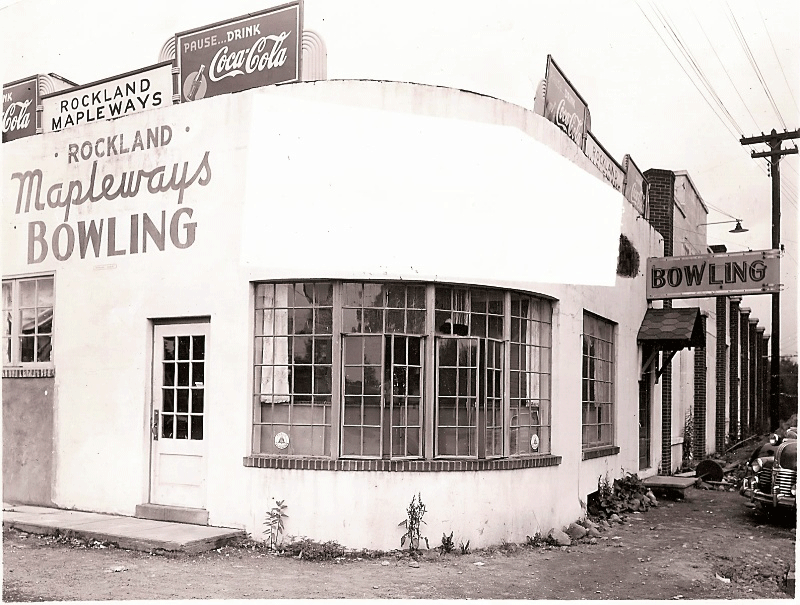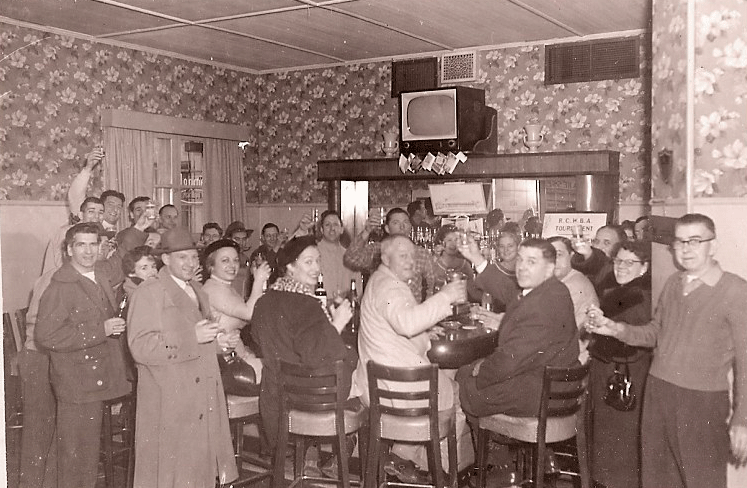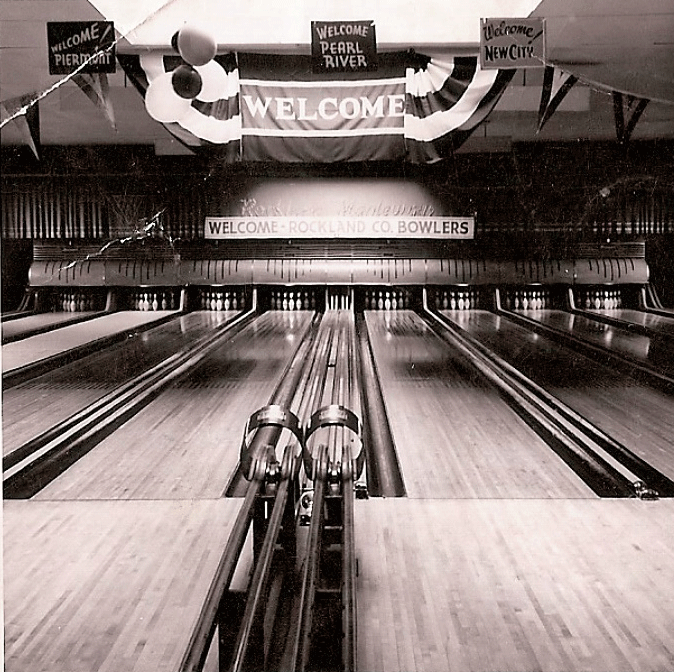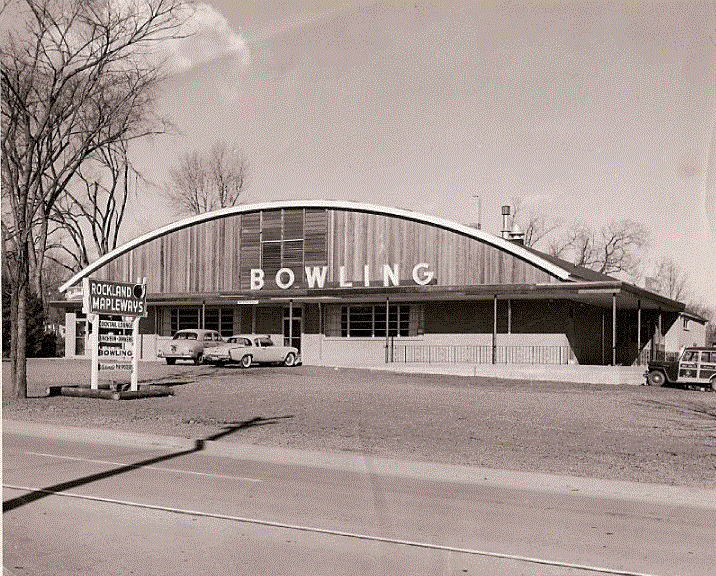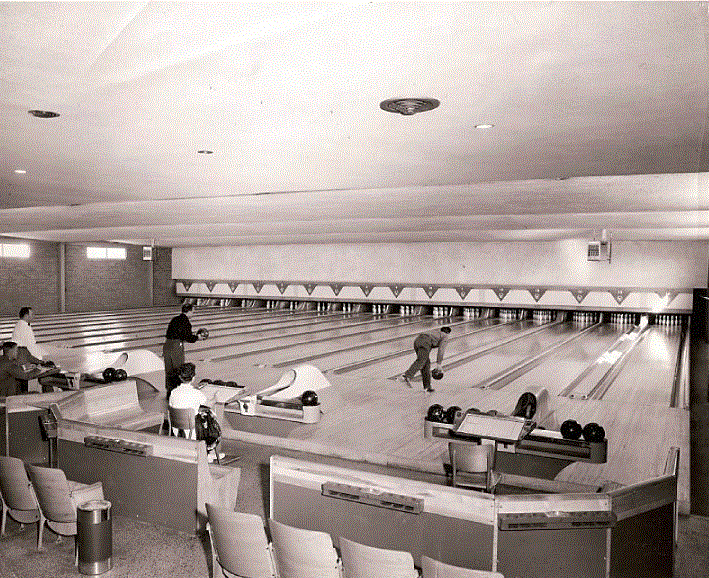 ---
Pete Jeuck, June 2011:
I enjoyed reading the newer posts. I just learned of the passing of Dave Durland in July 2009, the day before my first back surgery. . Dave and I were friends shortly after graduating from Nanuet High.  In 1977 I lived with Dave in his parents house just off Grandview Ave. for 3 mons while his dad was in FL for the winter.  As with most of my old Nanuet friends I lost touch with Dave after I married and moved to Wash. DC in late 1978.  I am home now recovering from a spinal fusion surgery I had in late April.  It's been a tough go of it recovering.  Getting old is not for sissies (my grandfather used to say) My grandfather was my biggest fan when I played JV basketball for Nanuet.  Dave's parents owned the Durland boat dealership located in the Grandway parkinglot.
I took my wife to Nanuet High School A few months ago and we walked around the school.  It's really aged.  Some of the structure is still the same but much has changed.  There were award placards near the gym memorializing individuals of note who helped the school or who held sports records. I remember many of those who were recognized.  One plac was in tribute of  Ralph and Mary Smith who were very active in supporting youth functions sponsored by the school.  Ralph and Mary were our  immediate next door neighbors and they lived in  a neat as a pin gray and white ranch on Blauvelt Rd.
So much has changed. The railroad tracks are gone with almost no vestige of their having ever been there.  The Smith's house though still looks the same as I remember.
---
Joseph Fornaro, June 2011:
hello dan...i lived in nanuet from 1947to 1981 worked at perinos...graduated from highveiw class of 1950...mr mccue was my favorite teacher...mrs donahue was a coach...mr stedge a coach to...mrs lang was great to...mrs cook math...mrs van tassel...our 8th grade class trip was a trip to albany...(was great fun)...i lived on main street...(across the street from the ambulance building)...rent was 35.00 a month...we hung out at forgies luncheonette...i worked at perinos grocery store an the corner...mr perino and his son larry were the greatest...some of my friends were sam macerili..the decharleroy family...willard mcleod...the palisinos...the youman family gip & george...jay overmeyer & his dad...phil & jimmy (barbers)...tony feretti...the conklins...nanuet bank...judge stephens was bank president....police cheif was lieberman...i remember the nanuet baseball team...vic valtidi & arte alino played for them ...boggianos...i lived also at 13 lexow ave...and at 41 lexow ave...(next door to charlie alferi)...played baseball at highview...ice skated at gerswins pond (behind highview)..drank soda at store by highview (when the roths (grace) owned it)...went to pearl river high...(nanuet had no high school then)...my brother worked at swifts electric (bob)...my other brother (moe) worked for the telephone company...my mom lived at normandy village (and worked at nyack hospital...pediatrics)...i also worked at nanuet high school with raymond fee & tony lombardi...i also hung out at keyrouse drug store (played the pinball machine for a nickle a game)...george youmans worked there & steve & ken rossi sister worked there too...next door was the liquor store ran by joe keyrouse' dad...the owners of the red rail were the mauies (the son john was a good friend)...the wagners (david & beth) are still good friends...(david was my best man ..& my sons godfarther)...phil digivonni a real pal...frank & his son vito deluga (nanuet resautant) will always be my friends...nick & mike palisino...the keaons...and all my friends from rockland county...its great to remember my years in nanuet...
i knew a harry silverman,in pearl river (any relation 2 u?)...i also worked at the model dairy , ben bornstien , owner...& knew bernie & tony (owners of county transmission)...first was by bowling alley (four corners...is nanuet lake still there and mcills was another place 2 swim...we use 2 sleigh ride in the cemetary by jakes butcher shop & the gas station...is the central theater still in pearl river?...when i went 2 pearl river high school coaches were shuttleworth & talaska...is the campus luncheonette still there?...(across from high school)...i also worked at tuckers bakery...(harry tucker owner)...i wouldn't mind hearing from any one from nanuet & pearl river (if they remember me)...do they still have the soap box derby down the hill in pearl river ?..( down central avenue)...
Does anyone remember shoppers paradise's grand opening ? ...(the guest celebrity who appeared there ?)...it was dagmar from the jerry lester show ...and the great jelly chocolate brownies from the nanuet bakery....happy holaran my neighbor...on lexow avenue...angelo farsetta shoe repair...and the time a deer jumped thru the barber shop window by perino's... theises clothing store...mr shubert (music teacher at highveiw)...mrs reynolds (school nurse)...doris jean and harold starr...ingred berger...jerry hladik...leroy campbell (tax accountant)...petersons insurance (my first car insurance..i think i payed $ 65.00 a year for full coverage)...wood mill by the railroad tracks (i think george fee ran it)...the pia family (jerry & larry they was pretty good baseball players, & jerry worked at e.j. korvettes..i still have my high veiw year book...deiter pfingst ,adele zimmerman, edith hildrith, willy mcleod, tony riccio (my best freind)...,judy dickstien,richie shroeder,maurice decharleroy, ceile audet...ingred berger, jerry hladik, ron raswag (lived on park avenue), some of my class mates... it would be great to hear from them...i was also a friend of allen gales (that guy was always laughing)...his family owned the white birch...(he was one of the first younger guys to have his own car, a red covertable)...thanx ...joe fornaro jo1535@cox.net
---
Michael Gillespie, April 2011:

Daniel,
My name is Michael Gillespie. I have seen your web site many times while researching my home. I am sending this E-Mail to you because Nanuet needs your help. I don't know if you are aware of it, but the Highview Community Playground recently was torn down due to safety reasons. It was located at Church and Highview Ave. The community is rallying together to rebuild this playground. They have set up a web site highviewplayground.com where donations can be made or have a brick paver personally engraved with your families name. Could you place this on your web site to promote this project.
Thank you,
Michael Gillespie
---
Alan Mendelson, February 2011:
Your website was just sent to me. Wow, the memories you bring back. Thank you.
I remember sledding on hills at Lederle Labs and always wondering how the big rocks (the "erratics" is how earth science teacher Lester Nagle described them) got there.
Korvettes was not named after "eight Jewish Korean Veterans"; but actually after the naval warship called the "corvete";  E and J were initials of the founders.
I remember the Man from UNCLE appearance, and I bought my first watch -a Timex--when Grants had its going out of business sale.
I dearly remember Ted Hunter's Flying A gas station and the day he died. Even today, I remember his face as if it was yesterday. And yes, I remember full service too.
And I remember when Dr. Stayner bought the building that housed WKQW radio so he could open an abortion clinic upstairs, and there was the bar downstairs owned by the guy who use to own the barbershop by the GrandWay.
I still use a shoehorn from Brenner's Shoestore in the Nanuet Mall, and I still use hangars from Nat Kaplan's in Spring Valley.
One more... the weekly Saturday at noon test of the siren of the Nanuet Fire House. At the same time, you were supposed to test your own home alarms.
---
Henry Geller, January 2011:
Will have to look over the site again later on to read in more detail, but a few things: 1) I believe (if memory serves) that Buy-Rite had actually been a roller rink prior to it becoming a toy store (I moved to Nanuet in the early 60s and it was prior to then I believe). Also not mentioned was Jolly Boys, Nanuet's first fast food hamburger place (19 cent burgers), on Route 59 directly across from Grandway in front of the swamp that became the Nanuet Mall. Oh and the library upstairs was only the Children's section of the library, the main section was downstairs next to Boggianos. I know because I actually worked there (at the Library, shelving returned books) we shared a basement with old man Boggiano and if you remember the stuff upstairs to have been somewhat dated, I recall boxes and boxes of inventory covered in dust down there.
---
Leo Weishaar, December 2010:
i just came across your website. my dad dr. weishaar grew up at 87 south main st. as did me and my bros. we lived between, what was last known as eagans bar and the chrismans who started the presbyterisn church which was next to riebers. dave chrisman was older than me. rev and mrs chrisman moved to california while i stll lived at 87 s. main.
does anyone remember when the milkfarm on rt 59 burned. what a fire that was. then farther up 59 swiss trudy's burned. the nanuet rotary club was founded and met there.
the thorneaus owned the red rail and lived above it. mrs (chris) thorneau was of german descent.
if i remember right there were 5 bars on main street. there were open for business all through prohibition. the depression had little effect in nanuet as it was still agricultural.
my grandfather owned most of the land from rt 59 to prospect avenue and main street up to the top of prospect. for decades he tried to practically give the land away. finally i think it was the late 40's possible the very early 50's an english man bought it and held on to it and the rest of the story you can guess.
bogiano's was our candy store and soda fountain. mr. bogiano did not trust any of us kids one bit. i remember his equally skeptical daughter alvina, she may still be alive. bogiano owned that whole block and lived above the store. the ruganis lived above a store there too. silvano was in my class. they had a television too.
johnson bros store was the stationery store. i remember when they got that fancy new store front.
my mother bought our meat at jakes. the saw dust floor was great for sliding. the grand union was down a few doors from jakes. while mr rieber supplied most of our groceries. my mother ordered them on the phone. sometimes i rode w mr rieber on his deliveries.
mr stark, who lived next to the synagogue was the one who built the synagogue. they had a lake behind their house. my dad, when he was five, camped out overnight at the lake sometimes. that was the age he was when they moved out of the pounds house down a few doors to 87 s.
old 59 is still the greatest road in the world.
the komanchocks lived across from coates. when coate was selling hazel komanchock ask him what they were going to build there. he said 'it's none of your business'. that was the wrong thing to say to hazel. my k. was a court stenographer. their son was a grade above me. was his name andy?  he is a very respected theologian in d.c. he is right in the middle of where the bishops hold up at their national headquarters.
and saturday nights on the line at st anthony's. i love that church. i am still devoted to st anthony.
the swamp behind our house, now the mall parking lot, would often flood and freeze in the winter. it was good skating.
i think it was around 1960 when we all had to have keys made for our doors. it began to be time to lock ourselves out. we went away for three months in the summer and never locked a door. the house was built by the huttons of the lumber yard hutton and johnson.
the iceman came everyday to the bar next door and the coal man came to the chrismans. if you have seen the movie a christmas story you have met our furnace. fuses blew all the time back then and flash lights had a shelf life of about 3 days and an on time of about three minutes. the fuses and the flashlights gave out at the same time.
does anyone remember the ice storm sometime in the fifties? we had to take the colligans in during that storm. ray colligan owned the flying a gas station across from the bank.
the bank was robbed in the 30's. bing crosby starred in it. i think the bank robbers held a family on pascack rd hostage. the police did a door to door but the faimly was afraid to let them in on their little secret.
bobby lankau silvano ruggani and the rest of us of the class of '62 were the first nanueters who didn't get farmed out to pearl river or nyack high. does pearl river still have that very loudhorn fire alarm?
i heard that college avenue was so named because plans called for a college to be built there. we used to sleigh down that hill. my grandparents new the fischers who owned the estate on college avenue. he was the carl fischer who owned fischer music publishers. the fischers were a two generation piano building family. carl broke loose and went into to publishing. mr fischer died and mrs. fischer almost never went to the nanuet house. i knew the caretaker. he let us pick from the fruit trees and i used to make out in the garden.
the 4th and 5th grade mcgeary's lived upstairs nest to the schroders. the schroders house was a near twin to ours. the mcgeary sisters taught my father and his bros and me and my bros.
back then the average family made three thousand dollars a year. most we all ate well, most of us had parents who were paying a mortgage. every family had a car. cadillacs were a bit steep for most at $5,000.
if the head shop i read about is the one i am thinking about, my mother grew up in that house. it was at the nanuet triangle on the estate of i can't remember right now. the mcginleys lived next door. lee was in my class.
does anyone remember the traffic when lederle let out.along townline rd a development went up. the houses were going for $13,00.
back in the day, somewhere near that development there were summer cabins. nanuet was a resort town. people came there because the water made you live a long healthy life.
davies lake. the water was unbelievably cold. ice skating on the hudson. gerkens and vanhoutons fruit stands. i picked strawberries for the vanhoutons one summer. a few made it into the bucket.
i remember sr ingassia. paul was in my class.
have lights come on at the high school field?
mr. stedge, miss killman, miss dolan, the mcgeari's, miss van tassel, miss prentice, mr barr and mr van. mr. hebert, dr. duffy, mrs wiley smith. she was our science teacher but  learned more history from than from anyone. mr burns. mr merrill who died before he could flunk me in french. ralph brown invented our eigth grade graduation motto. 'results not excuses. '  still the best motto there ever was.
being eighteen and drinking at perino's.
we burned our nanuet house down twice and the west nyack house once. my wife and i burned our house once exactly the same way the people who owned it before us. then they burned completely down their new house.
jeanette wozniack had her sweet sixteen party at the bear mt inn.
katy curran, how is that calm demeanor i left you. my brother peter moved to florida and so did billy hoffman. warren knapp was the biggest ever kid at school.
billy connors house burned down and they lost everything so we all donated stuff than billy knocked me out w brass knuckles. what's the matter billy, weak fist. billy connor sucks. mandy ryan is the greatest singer ever. ruth walker was a cow girl and she could yodel. she ran for class president but i don't remember if she won or not. billy secor was a cowboy and i think he could yodel too. elizabeth wagner was our perpetual valedictorian. she never used the same speech twice. i may have his name spelled wrong but mr ray was our perpetual janitor. me and another kid snuck down to the furnace room one time. i only remember one fist fight in thirteen years of school. the worst thing you could do is smoke in the boys bathroom. that was worse than running in the hall.
we studied communism in school and in the tenth grade we had to pick a communist country and do a term paper on it. were the last class to learn about the horrors of communism. now it seems like half the country doesn't know the difference between communism and freedom.
anyone from the clas of 62', do you rmember when the lights went out at school and the air raid siren on the school sounded. it was finally happening. the russians were coming. we went out to the hall and covered our heads waiting for the bombs. alas, it was a short circuit which blew the electricity and tripped the siren.
the pictures of the memorial day parades. we were never that small and were much more professional. also girls didn't play drums or trumpets but boys played everything but flutes.
st anthony's didn't have a high school so the st agatha kids came to ur school. we never saw or new of them before that. we figured that they hadn't been aloud out til then.
i just remembered the keyrouses pharmacy and liquor store. i think they were kind of across from the nanuet bar and grill.
i wrote too long.
---
Patrick Carle, November 2010:
My family moved to Poplar St. (off Middletown Rd. ) in 1956. I went to St. Anthony's, Class of '68. I think it was Margaret who inquired how College Ave. got it's name. I read somewhere that there was plan to build a college on the site of St. Anthony's, before the church was built of course. College Ave. was built to access the college. As anyone can see the Ave. sort of dead-ends at St. Anthony's.
It doesn't seem likely that the church was started by a group of Germans. They would not have named it after an Italian saint. I do know that the current church was built in the '20's. The original church was where Schultz Ford is today.
Loved that photo of the Memorial Day parade passing in front of Buy-Rite. Does anybody know the year or the name of the band passing by? A friend of mine swears that's his wife playing the flute.
---
Lee Kearney, October 2010:
I just stumbled upon your website and love reading about Nanuet. I was born and raised there, went to Miller School and Nanuet High, graduated college and have only been back a couple of times for a visit, the last one being maybe 25 yrs ago.
My father was a life long member of the Nanuet Fire Co. and I hung out with him often at the firehouse in the 1960's. We had alot of friends in town, some of which I've read some great stories about on this site. I especially remember the Jacaruso family, Ingrassias, Nowicki and Weishaar families, and the Fay family who lived across the street from me on Middletown Rd.
Some of the memories I have are from a long long time ago, although I read Don Lieberts account of things in Nanuet which goes back alot further than mine. Doc Weishaars house sat very close to Tiedemans Store and was all but in the woods where the Nanuet Mall now stands. One other thing, nobody I saw ever mentioned Kemmers Deli which was in the Grandway- WT Grant shopping center. My brother worked there when I was 12.
---
Jimmy Mitchell, October 2010:
The Memorial day parade on Middletown Road, in front of the Buy-Rite toy store. Also visible in the pics are Grand Union and Grand Way, and a Mobile Station.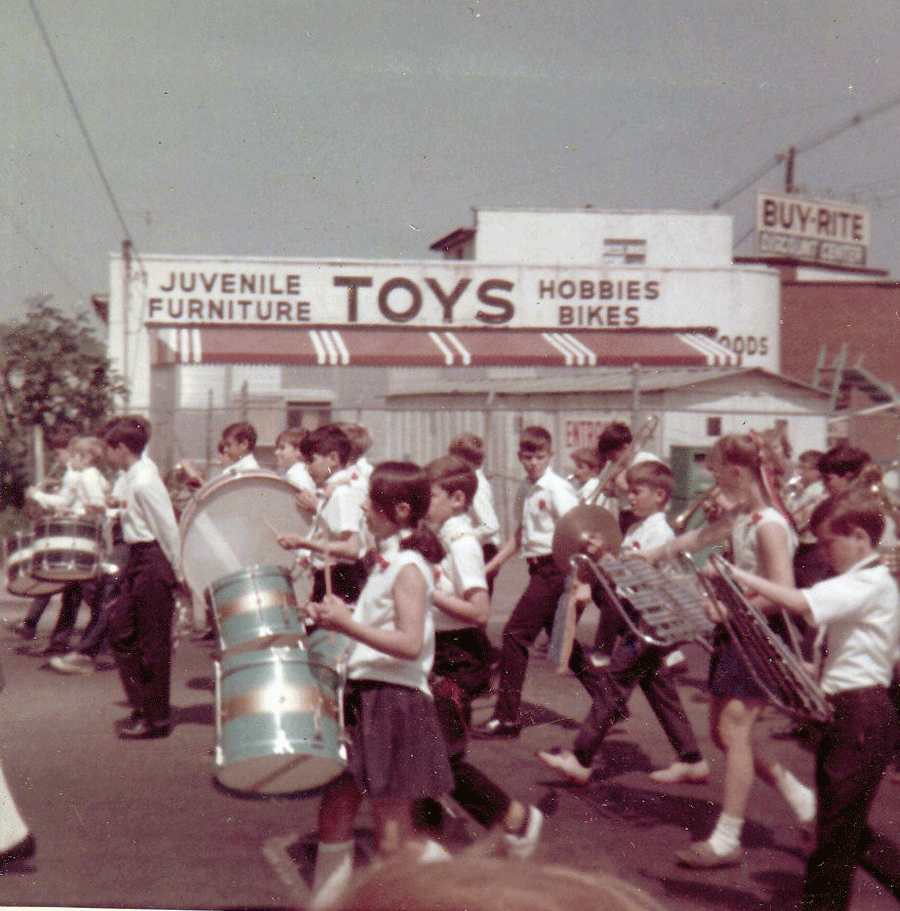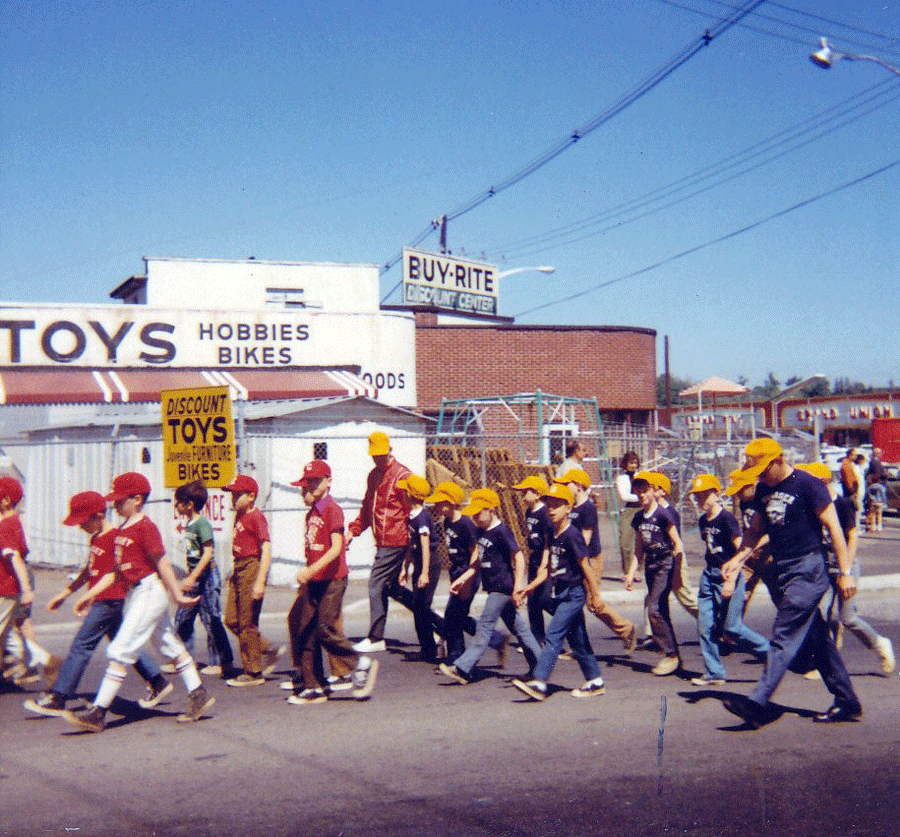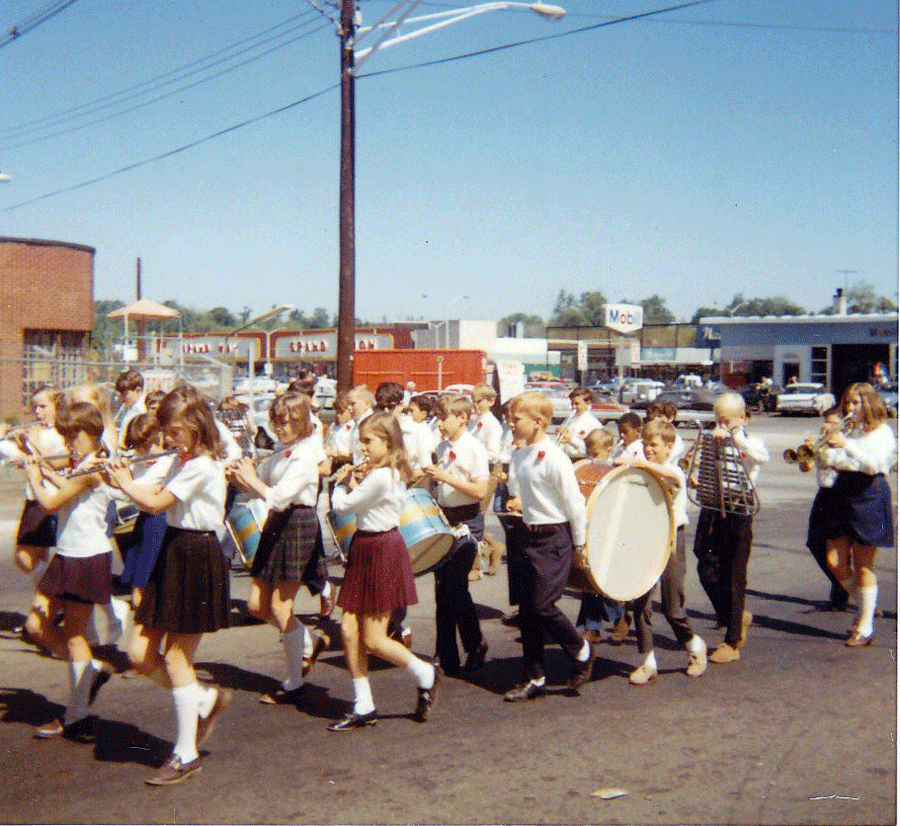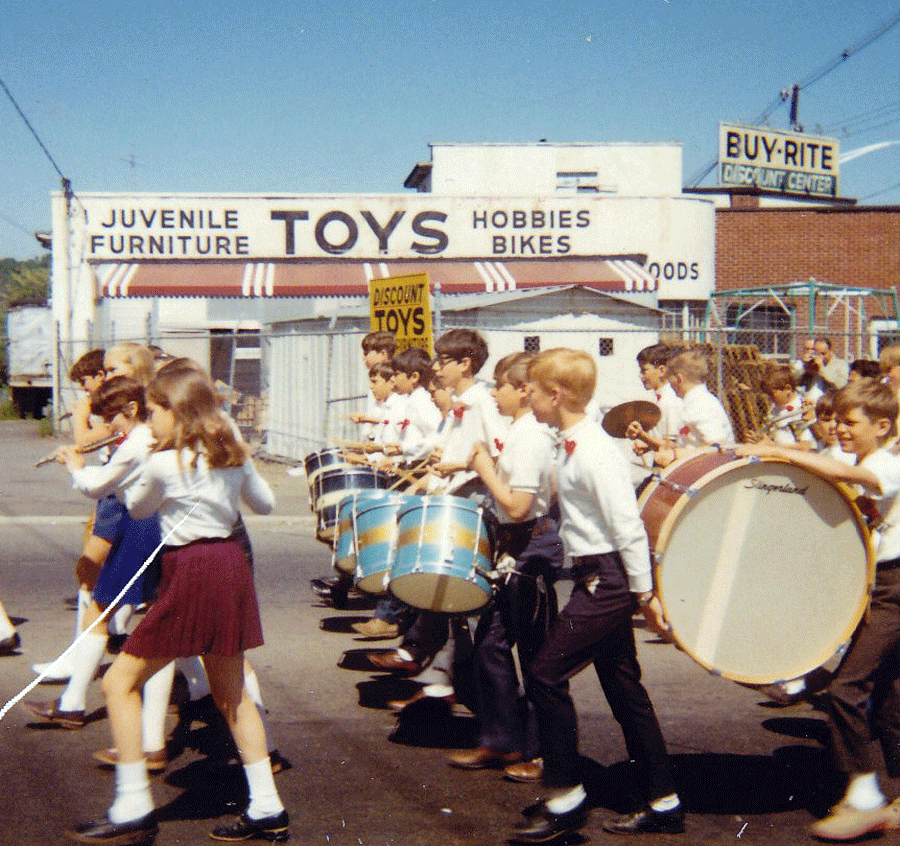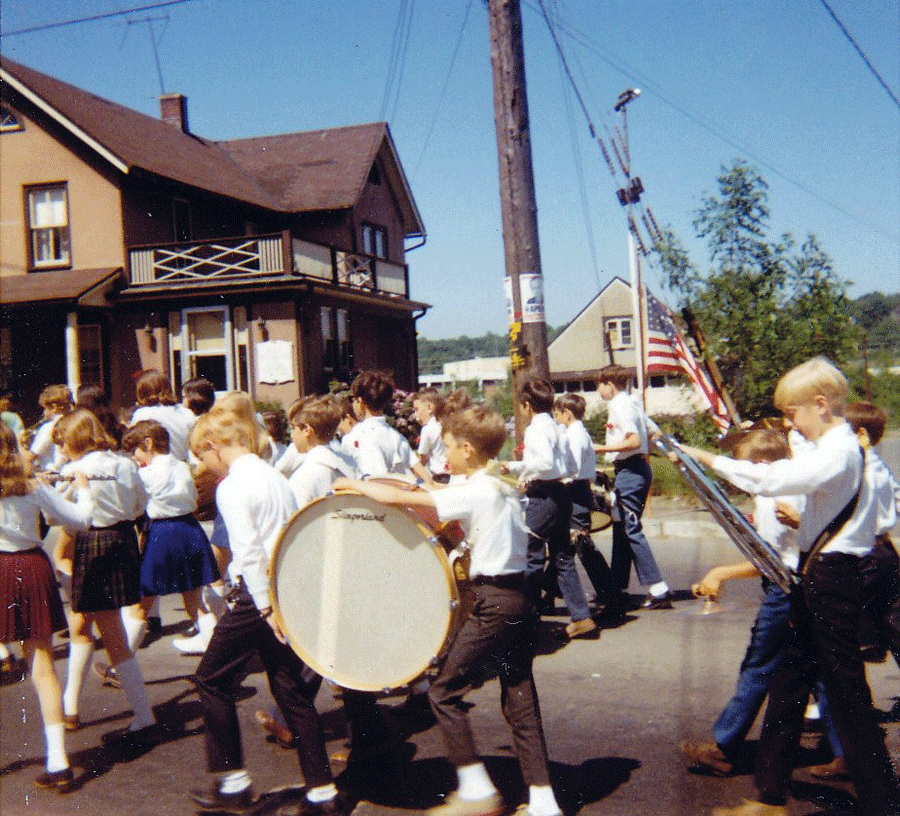 ---
Beth Widman Wolert, October 2010:
Loved your website of Nanuet. My family lived at 186 Grandview Ave from 1962-1972. Thanks for the trip down memory lane.
One reader (Peter Jeuck - 4/2010) remembered the 68 roadrunner that crashed into the bridge at 100mph. When this happened my Dad took us to see that car and actually took a photo of it, with the date of 1968 on the photo, which I would be happy to send to you, along with a photo of The Knolls (where I went to camp) dated 1970. As for your pictures: there is one picture that you are not sure of what business it was (it was not Elliots); if it was across the street from the back of Grace Baptist Church (where we went every Sun, Mon, Wed and friday. .lol) I remember it was a women's small beauty parlor owned by a young woman named Midge. She actually lived in that white house. My mother used her to get her hair done and Midge also went to the church, so she had a huge clientelle out of that little shop! How can we forget the big teased hairdo's of that time!!
Again, thanks for the site. Have a wonderful evening, and thanks again!
Beth (Widman) Wolert
Roadrunner crash, 1968: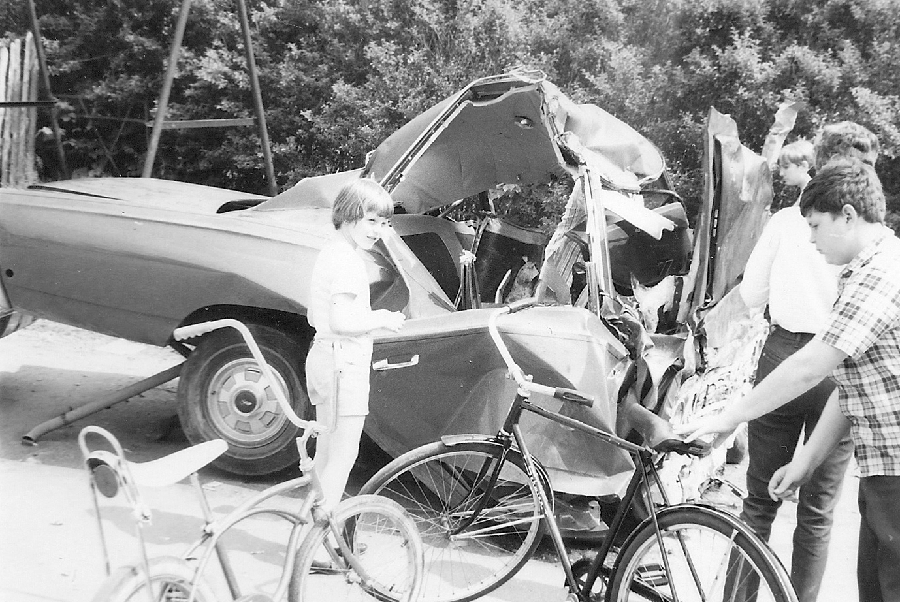 The Knolls, 1968: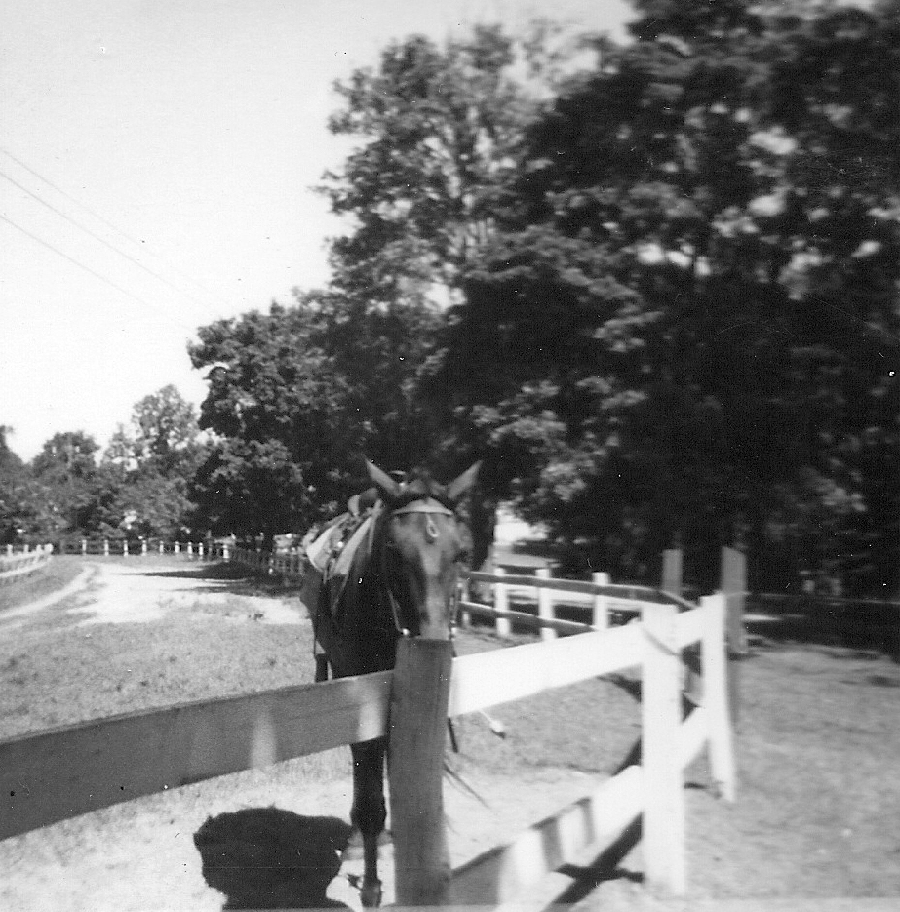 ---
John Fickes, September 2010:
A friend forwarded your Nanuet site; fantastic. I just started reading and hope to finish soon. A few correctionas already. Empire Tobacco & Candy, owned by John Staton who passed this year, was next door to the Nanuet National Bank. in the building housing a nail store and tanning salon today. I'll try to pass more on soon. NHS Class of 66 and ex-chief Nanuet Fire Engine Co. (92-93)
GREAT MEMORIES.Also, for the great spots in Nanuet (even though they were just into Pearl River) : The Patrikis' Diner and the root beer stand next to it, both across from Lederle. You can use my name as I noticed quite a few I remember and might want to get in touch with. Regards, John Fickes
---
Tommy Curran, August 2010:
Daniel,
Great Job!
My family moved to Nanuet in 1952, from Jersey City. We lived at 140 South Middletown Rd. , a two family house next to the Nanuet Hotel. We were tennants of the Pallasino's Rose Frank, and their son Mike. Mike later took over the Nanuet Hotel from his parents. At that time Bob Lampone and Frankie De Lucia worked there they later opened the Nanuet Resturant. Their kids were Vito, Janette, and Mary: their mother was Alice. The Lampone kids Roberta & Frankie I attended St. Anthony's School and was in the first graduating class.
The Erie Lackawana R.R. then would reverse the engine between the shoemakers store and the Laurel Hotel. Mechandise would be delivered to Hutton & Johnson. The Nanuet Hotel still has rooms upstairs. In the now parking lot of the hotel we had a large vegetable garden.
I graduated from Nyack H.S. in 1960 there was no Nanuet H.S. at that time and no other H.S. would accept students from Nanuet. I began working in 8th grade at the mill across from Swift Electric. Through high school I worked as a carpenter's helper first for the Nanuet School Dist. (George Fee) was custodian. Later I worked for K&E construction who probably built 80% of the houses in Rockland.
I attended Ithaca College and graduated in 1965, went into the Marines Corps. and served in Vietnam. After that my folks moved to West Palm Beach, I worked in NYC for about 20 yrs. as a salesman computer and media. My folks returned to Nanuet again and lived in Normandy Village, till they pased away.
I was forced by the hostile takeovers of the 70's & 80's to return to the union as a carpenter. I am now retired since '08.
I attended college with Paul Lankau. Life long friends I am still in touch with are Billy Lehner and Gary Krause. I still see Paulie Demoa nad Jeff Bronte.
Jack Tancos Billy's uncle owned the Red Rail, and a bakery in S.V. he was also the mayor of S.V.
Does anyone remember Paul De Vito's which later became Egans it was next to a church and Dave Cripsman's father was the pastor.
My uncle Mike Higgins was the undertaker he had three sons Danny, Stephen, Bobby. He was also the P.D. Commissioner of Clarkstown.
There was the Nanuet Hebrew Center next door to his home near the corner of 59 & Middletown Rd.
The Clarkstown P.D. HQ was a derelict house at the corner of 59 & 304 it still stands. It was across from Johnny's SUNOCO. Lake Nanuet was owned by a family named Tollman?
There was also swimming lake where Buywise Liquors was, it was called Mc Gill's.
The Welchmans owned Jolene Cleaners the located where there is a small strip mall at corner of Church , So. Middletown & Convent Rd. The Lenihans lived upstairs, I think it was once the Nanuet Firehouse?
There was the Nanuet A.C field at the end of Babcock Ave. where the Ruganis lived Silvano was the son.
The Red Rail was then a Greman Resturant Billy Lehner's family live upstairs and so did Jackie Mc Celland's family.
Ther was also a store called Riebers at So. Middletown & !st Ave. a general store.
There was an A&P on So. Middletown near the Nanuet Bank. The Stevans were the bankers.
Gas stations were Ted Hunters & Nivens at the south end of town.
Overmeyers had a moving and trucking garage on Orchard St. it's still there. Bill Carroll also had a White Rock Soda Route in their garage.
There was and estate called Fischers which ran from So. Middletown to College Ave. and also on the north side of College Ave.
There was a family named Stark who had a pond in back of their house on Middletown Linda & Mel were the kids.
Rocoff's also had a dept. store next to Perino's.
The Mapleways was the 4 corners next to the Feretti's house the house is still there.
Louie Heidman had a rod & gun store where the present one is located.
That's all for now I'll add updates as i remember more deatails! Please feel free to email me if need more info or anyone wants to get in touch we are having a NHS Class reunion on Labor day weekend at the Comfort Inn on 59 ther many people from Nanuet attending!!!
---
Patrick Lubey, August 2010:
Hi Daniel - someone (John Valentine) if you know him posted the link on Facebook - wonderful site and memories of Nanuet!  I lived on Hillaire Place in "Pearl River Heights" but we were certainly part of Nanuet. I'd like to add some memories - my parents moved to the country in the 50's. We have pictures of the Palisades Parkway being built and later how Rt. 304 sliced through - amazing how they moved those houses out of the way - I believe the Mazzuca's were one of those families. I rememver too things like the milk machines scattered throughout Nanuet - vending machines for milk - my kids can't believe it. I'm sure some of your readers were there when the Man from U.N.C.L.E. (Robert Vaughan) made an appearance at Grand-Way in Nanuet. All the mentions on the web site made me remember others - Van Houtens Dairy on Rt. 59 in West Nyack, just before the Thruway overpass. I still vividly recall (50+ years later) kindergarten class at George Miller school. We were very fortunate for all we had - Nanuet was a great place to be a kid. Thanks for the web site and memories - I'm sure you may know there are a couple of sites on Facebook that also share some great memories - ex. You know you're from Rockland when... and Goodbye Nanuet Mall. Please feel free to share the posting - I've very much enjoyed the others.
---
Katie Curran, July 2010:
Dan,
Oh, the memories came flooding back. Wanted to add to your stories of White Birch Inn. It also was a hopping juke joint. Some of the hottest live jazz & dancing to be found.
Katie Curran 
---
Robert C. Alfieri, July 2010:
I was born and raised in Nanuet. My father and grandfather ran Charlie's Market, at 207 S. Middletown Road (Main St) from 1946 to 1952 (as Star Market), then from 1952 to 1978 (as Charlie's). That was when we moved to Phoenix, AZ and I joined the Navy for eight years. Last time I was in Nanuet was June 1986. I really miss the place.
What happened at Charlie's was not a numbers racket, but a counterfeiting ring working in the basement of the store. They were busted in 1983 and convicted in 1984. I still have clippings from the Journal-News describing the incident. Fortunately, my family was not involved.
I remember a lot of Nanuet back in the late '60's and '70's. I can remember when the Mall first opened back in '69. Bamberger's had a nice little restaurant in the upper level that my mother would take me and my sisters to, usually on Fridays. Speaking of restaurants, the Nanuet Restaurant made the best pizza I have ever had. Found a place here in Phoenix which is quite good, but NOTHING could beat the NR! I can barely remember Jocar's. Martio's I remember when it opened. Best place for slices, but the NR was the best, period.
Another thing I can remember was that there were THREE barber shops along Main St. Alas, I don't remember who ran which one.
Johnson's Stationery I hung out at a lot, either picking up newspapers (and he stocked many of them) or magazines. He would get magazines on request as well.
I was also a member of the fire department back in 77 and 78, when they lowered the age limit to 16. My father is a Life Member. Some day, we would like to go back.
I first remember living on North Lexow Avenue, but we moved to Amarillo Drive just before I turned four. The Amarillo Drive house I still remember well. My grandparents (all of them) lived on either Blauvelt Road (my mother's parents) or on Loran Court (father's father). I can remember standing in front of the one house and seeing the other's.
I could go on and on and on, but I should best stop now. Yes, you may post this email. If I can't GO home, your site is the next best thing. Keep up the most excellent work!
---
Vincent Smith, July 2010:
Great site Dan !!  Here are a few more thoughts to include if you like.
I lived on Grace Street when it was a dead end and had a brook running where Korvettes was eventually built. There was also a swimming hole called Pelegi's (sp) We spent many a hot summer day there either fishing or swimming. My brother Russ and I also loved it after they built Korvettes because every summer when Amusements of America would come to town we would get up very early and go down to help the carnival people set up.
Things I remember; working at the Kiddie Land in West  Nyack, summer playground at Highview School,drag races on Palisades Pkwy. , ice skating on the Mill Pond and sledding down the hill through the woods onto the pond,I think Jimmy Snyder lived in that house at the bottom of the hill near rhe bridge on Church St. , my mom and sister owned that store across from Highview school for a few years, my aunt Jean worked at the Red Rail one of my favorite haunts, my dad Russ Smith built the first Little League Field and started the first two teams (Dodgers and Yankees), walking to downtown via First Street at night stoning those street lights for fun, Al's corner store (Harry Blauvelt owned this at one time), the jocks would buy raw eggs to eat at Al's, and last I remember and still enjoy the best pizza ever at the Nanuet Hotel!!
Dan thanks for the walk down memory lane! Keep up the good work.
---
Peter Jeuck, April 2010:
I grew up in Nanuet...born in Nyack Hospital in 1955. My family moved out of Nanuet in 1973 after I graduted from Nanuet Senior High. I lived near the Naurashaun Brook and the railroad tracks. The Old Elks Club was  just behid my house.
There used to be a burger place in the  swamp (which is now the Nanuet Mall) across from Grandway on Rt. 59... I have had a mental block for years about the name of the burger place. It was the first around long before Mc Donalds.
I worked for six years  at the Sears Auto Center. I remember Boggianos and the old turn of the century fountain style counter with rotating stools.
When I was a kid of about 10 or 11 the grounds keeper of Nanuet High School Mr. Fee used to chase my friend Tommy  Martz and I   out of the dump he kept along side, and down hill from, the football field and track. That dump is now a ball playing field for the school. I don't know why he had these, but he stored many 55 gallon chemical drums along the fence  inside the track and field. Many of these drums were put into the dump when empty (which was public school grounds) and Tom and I would take them  into the woods and do things with them.
I remember the old rail tressle across the Narashaun Creek not far from Townline Rd. and the Cara Dr. neighborhood. I walked  what used to be the tracks a few years ago and remnants of the tressle remain. The other side is now a golf course.
Having grown up during the 1950s, and 60s I saw a lot of changes. The four lane Route 304  began consrtuction in the mid 60s. I lived on Blauvelt Rd near Miller School and Rt. 304 crossed over Blauvelt Road near what was Lake Nanuet entrance. I had sneaked into Lake Nanuet a couple of times as a teen. Before Rt 304 the Lake Nanuet entrance was closer to Elks Dr. Practically across  Blauvelt Rd from Elks Dr.
Narashaun Creek ran through a meadow behind my house. When I was real little there were horses kept in that meadow. That meadow is now houses that sit right on Narashaun Brook on Elks Dr.
I started Kindergarden in Miller, finished elementary school at Miller, went to the Middle School which was fairly new  in 1966 and then High School 1969-1973. I was not a stellar student throughout much of school. Graduated  less than the middle of the class in 1973. Had no college prospects. Funny thing that I'd go to Rutgers in  the 1980s and graduted  with High Honors (Magna Cum Laude) with a degree in physics from Rutgers in 1987. I was inducted  into Phi Beta Kappa  upon graduation. Got my act together after too many directionless years of working as  a mechanic. Obtained a MS in Environmental Engineering   from NJIT in 1991...also Magna Cum Laude. Funny how things change...from directionless  troubled kid in the 1970s to settled career person now thinking about retiring in the 2000s. I am sure no one  who knew me then would have suspected I would excel in math and science. At the time I grew up in Nanuet I sure didn't think I had that capacity.
There used to be a swim hole  (we called it Neal's then) along side the Hackensack River not far from the 40 foot hole. This whole area is now a reservior.
I remeber  Johnson and Sons lumber, and all the places you mention, Jocars Pizza, re. Rail etc. The Nanuet Hotel would serve my buddies and me beer before legal age   in the middle of the night. The Nanuet Hotel wasn't  for kids and the juke box had  Frankie Vallie , Sinatra,   etc. Arnie...a guy   who used to hand around town used to have a room in the Nanuet Hotel.
I remember the farm fields before Normandy Village.
I also remeber  Lederle Labs. Somtimes there would be some God awful smells that came from that place, that would travel for miles. At those times us kids  would say they were burning horses in their incinerator.
I remeber the 68 Roadrunner that was brought to Nivens Citgo station...the one that hit the Palisade's Parkway bridge at over 100 mph. It was flattened  in front and compressed to less than half its length. They had some pretty bad wrecks brought into Nivens at times. My friends Mickey Baer, Tom Reilly, Craig Stockdale, and Aldo Nervegna and I would hang out at Cattacombs on Friday nights,: up at Grace Baptist Church. That was during the Jesus freak days of the early 1970s.
Your forum has some familiar names from way back, Nivens, keyrouse, Nowiki, Jaccarusso etc.
Brings back some memories. Its been a long time.
I  am (also) inquiring about Bob Higgins who was a classmate of mine in High School. Yesterday I  learned of the passing of Thomas Reilly  who , while we were attending  Nanuet Senior High School, was a very close friend of mine. Our lives took divergant paths and I lost touch with Tom not many years after High School. I believe the last time I saw  Tom was at Craig Stockdale's funeral in 1999. Feeling nostalgic while surfing the internet yesterday I put Tom's name in Google by chance to see if any information about him, and unfortunately came across  Tom's obituary  from Feb. 2005   which saddend and took me somewhat by by surprise. In High School Tom and I were very close. We played  basketball together  from sophmore year to senior year. We also were close friends with Mickey Baer, Aldo Nervegnia, Craig Stockdale. We used to hang out up at Miller School much of the summer playing basketball...and getting into some monir  mischeif. In our last year  of High School and for several years afterwards Tom and I dated  the Gleason sisters, Kathy and Holly. When Tom broke off with Kathy  he went to California and I lost touch with him. I noted in the obituary  that Tom's funeral was at Higgins funeral home. Reading about the Michael Higgins Funeral Home history online I realized that this was the same Higgins family as Bob Higgins who ran a funeral home in Nanuet.
I was hoping  to contact Bob and to learn a little more about Tom's passing and to see if Bob knows any  forum, or group, listing etc. with whom I could leave some contact information  so I could learn about any re-unions, deaths  or other social events associated with those with whom I grew up  in  the Nanuet Class of 1973.
Pete
---
Joe Nucera, April 2010:
ok so here goes! My name is Joe Nucera moved to Nanuet 1962 from Pgh Pa. as my Dad ot transfered o the new Orangeburg plant. We at first lived at the Ashley Motel on Rt 59 I believe it was owned by the family named Kurnias? Had to get the school bus at rt 50 and grandview Ave...We finally move in our house at 56 Lexow Ave the newe part of Lexow, I remember so much , talk about Boggianos store he used to get so mad at us for comng in and using is nickle pay phone and not buying anythin, I used t ask him all the time " How much is a 15 cent soda and he just looked and sared at us and walked away but he did watch ud likea hawk. Always had my haircut at Phils wonderful man always hada good story or two to tell ya, A lways waved at ya when u walked by. Johson dug store always was there when Billy worked the register...remember well the school busses parked in the middle of town.
The red rail, well what can i say about the red rail that hasnt been said already. I blieve my friends Kevin and Bernie their mother worked there...No Nanuet Mall as of yet took the railroad tracks to rt 59 and on to the bowling alley. spent alot of time there just hanging around The Wt Grants store worked in the garden shop with Danny Mumord RIP brother! I hink just about everyone worked there at one time or another. . The sunday afternoon softball games in New City...Don-Lens Diner awesome food and a place t meet, the bost company in the parking lot...there was a pizza place around the corner from WT Grants cant remember th nam they had a daughter named Lorriane...speaking of food Tinys Diner at the four corners had a great nite waitress who was like a mother to alot of us...wasnt it owned by mr Lazoroff aka Tiny? I bliev he was also a coin dealer... And yes of course Jolly Boys...burgers.
Sledding down and plaing basebal on nichols Hill...Pizza places one by the Rt 59 theater Rexs???
I remember the fire sirens going for school and or ires when it went off I always went to my kitchen door and watched Marc Anderson RIP drive down the street with his blue lights flashing...Does anyone remember the big Shoppers paradise fire? any idea when that was? Lunch time from school spent at A&M country store getting my Yohoo drink with chocolate cupcakes and eatng them in Mr Fultons Social Studies class...Sneaking out to have a smoke in the pipe in the woods ...Working at Nedicks for awhile also eJ Korvettes whch I have to agree had the best record dept around...And of course the carnivals at swifts parking lot done by the fire Dept...
Well I could go on and on...Haven't been back for at least 10 years maybe time for a road trip...Oh yes then the Mall came and then>>>>>>>>>>>>>>>>>>>>>>>>>>>>>>>>>. .
ok Dan her ya go. Sorry for the typos i know i jumped from subject to subject... but I am sure all will get it
Tak Care and keep up the great work.
Joe
---
Laura Senf Gershater, April 2010:

I saw your mention of the Red Rail in Nanuet. I grew up in West Nyack and attending Clarkstown High School South. I graduated in 1977. The Red Rail was my stomping grounds for 3 years from a senior in HS till i was about 19. I can tell you by first hand account that there was not brothel in the upstairs. But, I can tell you that Joey Santos (the owner) brought some of the best musicians to that little bar. The upstairs was for hanging with the bands and that is where Joey had his office. Some of the best times I have had have been in that bar... ... Rock on... . .
---
Jim Lehman, March 2010:
Hi Dan, just learned about your site from a cousin. We moved to Nanuet from Haverstraw in 1952. My mother was so mad at my father for building a house in the "sticks" that she never saw it until it was completed. Grew up at 54 Briar Road. Ther road was unpaved for about the first ten years we lived there. Dad lived there until he passed away almost two years ago. My brother still lives there. Went to Highview for first grade with Mrs. Swanson. Then went to St. Anthonys. Still refuse to wear brown slacks and wear a  brown tie. Went to Nanuet High and graduate in 1964. See that Steve Sharf was on your site. We were classmates and wrestled for Ray Stedge for four years. The old Clarkstown Police station used to be a shack behind the Nanuet National Bank. I worked at Korvettes in high school. Help build the Nanuet Mall in 1968-69. Hung out with Roger Palmenberg and Bob Westervelt. Play a lot of baseball on Jimmy Mellion's lot. Jimmy Gegorgatus father started the Triangle Pub. Spent way to many nights there after college. Remember the all you could eat fish fries at the Howard Johnsons?  Get back to Nanuet about once a year. Thanks for the memories.
---
Bruce O'Dowd, March 2010:
This is a FANTASTIC website! I know of all of the places mentioned here. Does anybody remember McGrath's Deli at the end of Strawtown Road? How about that tunnel on Sickeltown Road on the way to Van Houten Farms? I'm talking about the early '60's now,we moved to Jacksonville, FL in 1971, then year I graduated from high school in 1972, Wolfson Sr.
My family lived on Townline Road very close to the stables, and Palisades Parkway. We lived right next to the intersection of Rose Road and Townline Road. I had friend whose Father worked at Lederle Laboratories in Pearl River, (or was it Nanuet?) and my favorite place was a slot car racing place that was in Pearl River as well.
However, I think that one of my favorite places to go as a youth with my Dad, was a Sabrett hot dog stand on 9W! Of course there was also Vince's Pizza at the four corners of Clarkstown. WHAT MEMORIES! I can also remember the Clarksville Pharmacy, and the West Nyack Fire House where my Dad was a volunteer. but the sleigh riding down Bunker Hill was the best!
Oh how I remember the ice skating rink and the ski slopes at Bear Mountain as well. GREAT WEBSITE!
---
Alissa Tallman, March 2010:
Hello, fellow Rocklanders! I am in the midst of a writing project about growing up in Nyack and have been searching high and low for photos of 1970s and 1980s Nyack (as well as other areas of Rockland County, including Nanuet). I am specifically looking for interior/exterior shots of stores, restaurants, and bars from this time period. (I would also be thrilled to come across any miscellaneous ephemera, such as menus, matchbooks, etc. ) Might anyone be willing to post some of their own photos or have any suggestions for where to find some? (I have already scoured the Hudson River Valley Heritage site as well as Facebook. )
Thanks so much!
-Alissa
(I can be reached at songbird2442@yahoo.com. )
---
Dave Nivins, February 2010:
WHO REMEBERS TINYS DINER CORNER OF 59 &MIDDLETOWNOR G&S RENTAL ON 59 i SPENT MY ENTIRE LIFE IN ROCKLAND NANUET AND GARNERVILLE MY DAD HAD THE GAS STATION ON THE CORNER OF CHURCH AND MAIN. THE FIRST BOWLING ALLEY USE TO BE UNDER ROCKLAND INDUSTRIAL ACROSS THE STREET FROM BILLS CITGO. FISHERS OLD BARN BEFORE NORMANDY VILLAGE
---
Nancy Brontë, January 2010:
Hi Dan, I must say I have enjoyed this, I was just back in Nanuet, in November and it just doesn't look like anything I would like to remember. I remember before the mall was put in, it was all  woods. Where the synagogue was on Main Street next to Higgins funeral home. A police station at one time was in an old White House on the corner of old 59 and 304 it's still there, but boarded up. Toy store in the corner I remember when McDonald's first came to Nanuet on 59, hamburgers were $.25. I remember the grocery store, Donna talked about were fudgesickles were a nickle. I remember the old firehouse. Main Street was so nice, you blink you miss everything. It was a safe town back when I was growing up. I moved there when I was three years old that was 1953 grew up there, loved it. Well. Thank you very much I enjoyed this site. You take care Nancy Brontë
---
Donna Perino Scott, January 2010:
I have lots of memories. My Dad and grandfather owned Perino's Mkt. on Main St. from the 40's thru the 60's. We also had delis in W. Nyack and Slate Hill, NY. My Dad was Larry and my grandfather was Frank. Grandpa's best friend was John Forni of Forni construction. I started working the store in the 2nd grade, running the register at lunchtime so my dad could make the sandwiches for the "mill crowd". When my brothers showed up I'd walk back to Highview, the only school in town back then. My dad was special, he extended credit to everyone in town and if you were sick or out of work, your tab got torn up like it never existed. He would often leave the store unattended because he knew people would leave their money on the counter!
Before Dr. Ingrassia, Dr. Steiner was the main man. I remember him sitting at my Dad's bedside night after night for weeks when my Dad had pneumonia and coming everyday on his lunch break. Then there were the friends & neighbors who helped run the store during his illness. We lived on Park Ave. then. There was a guy who would come around and sell baked goods out of a truck, The Dugan Man. Some of our neighbors were the Gyetko's, Katencamps, Quinn's (who owned Beckerle Lumber), the Schubert's (Hi Donna), Mrs. Reynold (the school nurse), Lustig's, Knapp's, Leo's, Monte's, Otto's, and Bronte's. I wish I could remember more of the names. Later we lived on Lexow for several years. My Dad sponsored a bowling team in the HAM & EGG LEAGUE.
MEMORIES OF NANUET

Sailing down Prospect on your bike at full speed !

The Dairy Queen on summer nights

Coatti's gas station

The shoe repair store- old, musty, scary !

The lonely sound of the train whistle on hot, airless nights

Saturdays at the matinee in Pearl River- our parents had no fear of us riding the bus or being out of site all day !

Cheese cake right out of the oven on Tues. mornings at the bakery

The endless patience of the Elliot's at the luncheonette and Shirley before them. The penny candy, egg cream sodas, chinese cookies and the jukebox.
Charlie the butcher always smiling & the sawdust floor

How IMPATIENT Mr. Boggiano & Mary Verville were with all the kids

The Main St. apt. dwellers- Aggie & her daughter, the Campbell kids, Pooky & Newty...
Spending forever deciding on a comic book at Johnson's and the nickel phone booth

Santa's yearly visit to the firehouse and the yearly carnival

Believing that God lived in the attic at St. Anthony's

When OLD 59 was the main rd. & some areas still had 3 digit phone #'s My grandparents had Elmwood 215

Tormenting the librarian ( with the two-tone nail polish) by requesting ADULT ONLY books. (We lived for her disdainful looks) !!!

Our 1st confession where John Courtney thought he had to confess every misdeed since birth (I've stood for shorter lengths of time at Disney)!!! Love you, John, wherever you are !

My brother Larry's friend John Hyde getting hit by the train and surviving

Putting my cat in a doll dress and stroller and entering him in THE BEST LOOKING DOLL competition at the Memorial Day Fair at Highview. We won the blue ribbon and "Kishermon" never objected. What a cat !!!

And the big one... the day my brothers had me believing that Elvis Presley rode thru town in a pink convertible, beeping the horn and waving and I missed it !!!
Do you remember when...
Saturday at the movies- 30 cents for round trip bus fare, 50 cents for a hamburger & shake, 50 cents for a double feature, 35 cents for popcorn and a drink, 99 cents for a new Nancy Drew book.
We drank Nedicks orange soda
---
Henry Conklin, January 2010:
Hi Dan: Just saw the post cards from Nanuet. They are great. Just to let you know that the 3rd postcard down of the house on the dirt road was located at 35 N. Main or just Main St. It was about 5 or six houses south of 59 four corners. The house was torn down in late 2004. My wife's G. G. Grandparents, Charles and Caroline Walthers owned 20 some acres in Nanuet where the mall is now. They deeded the property to their son Henry and Bridget Walters who deeded it to their son, Charles and Eva Walters. They had 2 daughters Lillian and Muriel who was born in that house. We have deeds for the property that the house in the postcard is built on. We have records of the property until the early 1930's when they sold the property. My parents rented the smaller house next door where the dentist office is now from 1937 to 1944. While in that house I was born, (the same house my future mother-in-law was born in. No, neither family knew each other. ) 1944 my parent's bought th e yellow house at the corner of Church St. and Blauvelt Rd. My Dad sold that house to Swiss Trudy in 1948. We bought a house in the Oakbrook area North of town. My brothers and I remember a lot of places in Nanuet. I went to Nanuet school from 1945 to 1948 when Mr. Barr was principal, (his son and I played together all the time). From 1948 to 1954 went to Chestnut Grove School. I graduated from Clarkstown High School in 1958.
---
Madeline (Smith) Mulligan, December 2009:

I have been enjoying your website and all of the different memories mentioned by Nanuet old timers. My family lived on Fairview Avenue. My parents moved from 45 Fairview in 2002, after 52 years in the same house.
You mention having a place to play called "The Woods". In our neighborhood we had "Walkers Field". Mr. George Walker was kind enough to let all of the neighborhood kids gather and play in the vacant lot next to his house. Especially in the summer months, the afternoons and evenings would find tons of kids gathered to play there. Most of the neighbors had large families, so there were plenty of us that enjoyed his generosity over the years. His dairy farm (as mentioned in another entry) also backed up on our property. He probably wouldn't have been as happy to know that we regularly explored his barns with all the haylofts and trap doors that led to a warren of storage rooms. My brother delivered milk for him in the late 60's and I still have the milkbox that sat on the back stoop for milk deliveries. Do you remember the metal carriers that held 6 quart bottles? The dairy property was sold in the early 1970's to make way for the homes that are located on what is now Apollo Court.
I have great memories of the Memorial Day parades and the fair that they held at Nanuet H.S. after the parade. I also remember the man who gave rides with a horse and carriage up and down Fairview Avenue during the Memorial Day celebrations. My favorite summer was the one when they installed the town sewer system in Nanuet. The neighborhood kids enjoyed many hours of crawling through those huge cement pipes.
Do you remember any of the carnivals that were sponsored by the Nanuet Fire Dept. with rides set up in the lot next to Swift Electric on Prospect?
Lots of good memories growing up in Nanuet. Thanks for the great site and the chance to reminisce about bygone times.
---
Donna Schubert-Thibault, December 2009:
Daniel,My name is Donna Schubert-Thibault. I am so excited about your site. I was born in Stoney Point NY, but my parents moved to Nanuet when I was 1. So Nanuet is my home town. My mother the late Dorothy Eberling-Schubert was the daughter of the men who owned Eberlings Market in New City. My grandfather and great grandfather owned it. So I loved the mention of it. I also want to tell you that the Pizza parlor on Main Street was my Grandmother Eberling's home before it became the pizza place. It was a beautiful dutch colonial with a great front porch where we would sit and say hi to everyone passing by. My Aunt Nancy is my mother's last sister and I am happy to say we had Christmas at her house in NV yesterday. She married a Man from Nanuet. They lived in the yellow house just down the hill towards town from Highview Elementary. I went to school there from K-6. My first teacher was Miss Mann, first grade was Miss Schroeder, I can't remember second or third, but do I ever remember fourth, I had Miss McGeary, Kathryn for every thing but Science, that was Elizabeth Mc Geary. I know a Lot of us remember them. Mr Stedge was PE. Mr Barr was our Principal.Then I went to NHS and graduated in 1967.
You mentioned all the churches except for Trinity Presbyterian. It was on Main St.Next to Tiedemann's Store. The luncheonette where a group of girls and I hung out after school (high school) was Forgies owned by Mr Pitch and later after I left by Linda Roth, a friend from Nanuet. I also remember the firehouse when Ted Hunter was chief, he was my next door neighbor on Park Ave. Sadly he died of a heart attack on the way to a fire. His widow is still in the home. I could go on forever about my memories of things around town. If you like, I could write up these little vignettes about my views of life growing up in the best little town in the world.
Nanuet Knights forever. Drop me a line at my email address if you do.
...I have some more memories to share. I fondly remember the Nanuet Diner. It was a real diner out on rt.59. I worked there for two years.I too recall those great frosty days on Nichols Hill. I lived on N. Park Ave and it was only a walk down the end of the street to get there.We were shocked when they built the"new development and ruined a good section of "our hill.There was a farm down at the end of my road so we could go all the way from Grandview to Park and into the woods a bit. It was great. Also on my memory book is the Friday nights spent at The Castle at Nanuet Highs auditorium,dancing or going to the gym to jump on the trampoline. If you can tell Paul Ingrassia I remember his Dad well, my mom named my brother Paul after him.
---
Steve Coplon, December 2009:
Greetings Daniel...thanks for the many memories of Nanuet. Here are a few more - Bremer field for Little League Games. These migrated to the new and high quality field at St. Agatha around 1968.
Also, the A&M Country store on the corner of Church Street and College (across from where Church Street and Blauvelt intersect.
---
Durand, December 2009:
Great site for remembering your roots. Lived in Bardonia for 42 years and I have been and done that. Yes, EJ Kovettes was my favorite place for records.My Mom worked there for 12 years also Grants had great deals.I remember riding my bike there and buying 45's and peddling home with the records on my monkey bar handle

---
Jamie Kempton, December 2009:
A big thanks to Dan Silverman for allowing Nanuet folks to reminisce about our local haunts of yore. You highlighted many of the well-known people and places of interest that I and my siblings remember. The varied e-mail responses evoked memories of still other famous spots and some well before my time.
My parents came to Nanuet in 1946. My dad was from Upper Nyack and my mom from Sparkill. My sister Fran was born the year they moved from Nyack to Nanuet, and my two brothers and I came along over the next 12 years.
Things I remember: the Penny Sales at the Firehouse; marching with my Little League team in the Memorial Day parade; winter skating on the frozen pond behind Billart Motors on Rte. 59 (where the Vitamin Shoppe is today); gobbling down several of those 15-cent hamburgers at Jolly Boys, served by a man in a smudged white apron named Oscar; winning a free game by sinking the ball in the Clown's Nose on the 19th hole of the miniature golf course (Where Cleats 'N Sneaks is today); catching tadpoles in the sewage pipes when the Nanuet Mall was being built; playing hardball at the A.C. Field at the end of Babcock Ave. (off Prospect St. ) till nightfall in the summers; watching Mr. (Vince) Riccardi stretch and toss his pie dough in the air at Jocar Pizza (he lived on Atlantic Ave. and passed away only within the past two years); and marveling at the array of gleaming motorcycles parked in front of the Red Rail. A fixture at the Red Rail was Horace (Happy) Holahan, who lived on North Lexow Ave. and could be seen shlepping down Prospect on his way to, in his words, "buy me some sodey pop. "
Regarding one of your cultural notes, at one time David Goldstein (Rupert Holmes) and his family lived next door to us at 59 Prospect (southeast corner of Fremont and Prospect) before moving to another part of Nanuet.
Some other places my family remembers which may or may not have been mentioned by others: Rhodes gas station and bus garage on Main St. ; Rhodes Taxi (behind the Nanuet National Bank); the quilting factory on Prospect; the Theater-Go-Round, where the Redeeming Love Christian Center is now; Egan's Bar & Grill on Main St. (now the Rockland County Times building, across from First Ave. ); Colligan's Service Station and Hunter's Super Service (preceding Koester's); Perino's Deli (before Hobbie's); Farsetta's Shoe Repair on Main St. ; Lombard's Sporting Goods on Rte. 59 (next to Hong Luck) and Buzzell's Sporting Goods (on Main St. near Orchard); Greenstone's Army-Navy store (in the Grand Way/Grants shopping center; Jimmy's (Jimmy Mantione) Barber Shop on Main St. ; Phil Andiloro's barber shop next to Johnson's stationery store on Main; Roy Pook's Gulf Station at the intersection of Old Nyack Turnpike, Grandview and Route 59; Kemmer's Deli on Kemmer Lane off Route 59; Valley Surplus acr!
oss Rte. 59 from Grandview; Reiss Beer Sales (and later Hops 'N Pops) on Route 59 near where Red Lobster is now; Bill Niven's Citgo station, on the southeast corner of Church and Main; the Rte. 59 theater "cinerama" where I saw "The Sound of Music", "Mary Poppins" and other movies from that era; Nathan's hot dogs and Blimpie's near the Four Corners; Marty's Sporting Goods at the South Mall, behind Main St. ; Mr. Picht's luncheonette on Main, now a chicken barbecue place; the Laurel Hotel, where the Whistlestop bar is now.
---
Chris Ingrassia, December 2009:
I was born in 1953 at Good Samaritan Hospital. My Dad was a surgeon there and had a general practice in Nanuet. I think I was one of the few Nanuet people that he didn't deliver or examine in a school physical. He started his practice in 1939 and first lived in the Pound house just down the street from Tiedemanns store. The Nanuet Mall property was a marsh and they used to hunt pheasants in there. My Dad was a Captain in the Army Medical Corps and was in the Battle of the Bulge. When he came back home he continued to practice in Nanuet until 1983. Then my brother Joe took over. There are 5 Ingrassia boys who claim Nanuet roots. My two oldest brothers went to Nyack High School because there was no Nanuet High School back then. I think they had the option to attend Pearl River. Nanuet was good way back then. There were real good families like the Komonchak, Nelson, Forni, Jacaruso, Welchman, Kaplan, Parsells,Pepper, Leo, Scarpulla, Bonomolo.
When we were young there was Memorial Day parade and the cub scouts, Little League, everyone would March. Then there was a bazaar at the Highview School. It was corny but definitely fun when you were little. Lake Nanuet was a real lake with a mud bottom and turtles and snakes. Just below Highview School was a pond on Albert Guschwinn's property fed by the brook that ran under Church Street. It's gone now. I still live here and the hamlet is devoid of a cultural center like it had so many years ago. The Nanuet Mall is going under slowly and there is talk of a complete makeover or being purchased for a Talmudic Academy. The Palisades Mall in West Nyack put so many small businesses into the crapper. The planning was so poor that it forever changed the neighboring towns, especially Nanuet. I guess it's all called "progress".
The memories of old Nanuet are still fresh in my mind and I get some pleasure in thinking about the good old days.
---
Patricia Jacaruso, December 2009:
I lived in Nanuet from 1955 to 1991. My uncles owned the mapleways which was first where buy rite was. Then they built the new Bowling Alley where Nova Lighting was. My uncle used to knock the pins down for us with a broom and Darryl Brown lived behind there so he would hang out. We were all so young. I remember when they tore down Ann Colwells house and relocated her so they could build Nanuet Restaurant. Does any one remember Jokers or the Golden Nugget?  My Dad used to get so mad when we would hang at the red rail because he said he knew what girls were like who hung out at the red rail. That picture of that beautiful house under your photos is on highview avenue it used to be Jess Kaplans house. He was on the original school board with my dad Dr. Robert Jacaruso. That little school house in front of the middle school was dedicated to my dad. Dad and his friends found it in an old barn in pieces and salvaged it so it could be rebuilt as a reminder of h!
How far Nanuet has come. I used to love helping set up the Nativity scene at the four corners and we used to have to chase deer out of the field  to set up for the circus every year. Now it's the Nanuet Mall. Things certainly have changed but it was a wonderful time and a wonderful place to grow up. There were no traffic lights and money wasn't necessary. Whenever we went to the butcher, the grocer, the pharmacy or the gas station money was never exchanged. My dad would take it out in barter or we would get a bill. Now I don't even recognize the place but the memories are still there.
Thinking about a whole bag of candy from Elliots for 50cents was great. thanks for your site. I got my first puppy from Mike Folsom (Nanuet's first hippy) at the OM (still a head). I still have the button from the OM. peace out... .trish
---
Susan Stark Moses, December 2009:
Daniel....I'm Susan Stark of the Stark family of nanuet, whom you make reference to re: the Stark property. your site is absolutely astounding with soooo many memories. what i'm finding even more astounding is that, i see you attended u. of pa. well, i live in bryn mawr, pa. and i'm wondering if you still reside here. do you? and if so, i'd so love to meet you and see who you so amazingly are and what prompted this website and more info about you. do, please send me an email (possibly w/ a phone number) for i'd love to speak w/ you.....what was your course study @ u of p, what do you do, were you barmitzvah @ nanuet hebrew center while it was still on main street in nanuet (you know that my grandfather, charles stark built the schule) as you see, i have so many questions. do, please, get back to me. it would be a joy to speak w/ you. many thanx, susan
---
Tom Piantanida, November 2009:
I set pins at the Mapleways, and I also worked across the street at John A. Golden's DeSoto-Plymouth Agency. I ate at Tiny's Diner and bought gas from Bill Niven's gas station on the corner of Church (I think that was the name when Smith Road turned) and Middletown Road. I bought cars from "Honest' Otis Wilson AKA "Seatcover" Wilson, whose lot was right where the Thruway went through. I never made it to the Nanuet Milk Farm, but I sure would have like to. (It was a nudist colony. )  I stole stuff from Spector's Junk Yard on Demarest Mill Road, and my best friend dated Pam Pulvertaft who lived next to the swamp along Middletown Road almost across from Golden's. I hitchhiked to New City many nights after attending CYO in Nanuet. My dad hung out at the Nanuet Hotel. I went to Nanuet School in the second grade and used to go to the local "general" store, I think it was called Morgan's. I dropped my pancil bok on the tracks by the Nanuet train station, and had to scramble to get all my crayons out of the cracks before the train came. The train was an Erie and it was pulled by a Pacific-type locomotive. I've written three books about activities in and around Nanuet. They are KENNY'S KEMPS, DAVIES LAKE EPISODES, and the just published IN THE SHADOW OF THE BIG APPLE. All are available at Amazon.com.
Charlie's Meat Market was operated by the father of the girl who married my cousin Roger. Her name was Patty Kohl or Cole. I went to high school with Lois Hall who married Frank Colandrea, who owned Martio's. The local cop who used to harass all the teen-age drivers was named Leroy Holmes. He gave me more than one muffler ticket. Every member of my immediate family - including me - worked at Lederle Laboratories. Shopper's Paradise was built in the old Rockland Coach bus garage. My Uncle Max drove Rockland Coaches from Spring Valley to NYC for many years. There was a place in West Nyack called Auction City, where you could get most anything. My recollection is that it burned down one Christmas Eve. The most popular cruising spot was the Frostop on Route 59 just south of Spring Valley. The Valley Theater was run by "Uncle Charlie" who allegedly lived in the theater. The woman who sold sodas and candy always wore a brooch that said "Mother," so we called her "The Mother Lady. " The manager of the Mapleways was named Skippy, and he always wore a sailor cap. More later.
OBTW, the Valedictorian of my class (Clarkstown High, 1957) Ingrid Waldron was on the faculty of the University of Pennsylvania. Perhaps you knew her.
Also,
My Uncle Max built a spec house with Swiss Trudy on Grandview Avenue in Nanuet in about 1947. When we lived on Grandview Avenue (in a different house) our neighbors were the Dloughe's who had the butcher shop in Spring Valley.
And,
Probably not very many people remember that there was a tiny airport on Route 59 close to McDermott's Dairy. It was at a location where the highway regularly sank into the swamp and had to be rebuilt. The other nearby airport was Bill Bolke's Spring Valley Air Park on Smith Road. I dumped several loads of stumps off the end of the runways - with Bill's permission, of course. My scoutmaster, Orville Davenport, Troop 43, Kakiat District, kept his Piper Cub at Bolke's Airport.
---
John Shea, November 2009:
I feel like the real 'old poop' in your collection. We lived in Pearl River from '51 - '54. We moved there from Brooklyn when I was 10. Living in the country - WooHoo. My first bicycle. And Lake Nanuet!  I learned how to swim in that leech infested pool of wonderment. Sad to see what 'progress' has done to Mother Nature's world but my Mom hated the leaches - I didn't care since they didn't hurt. Thanks for this site - well done. John
---
Craig Kmiecik, November 2009:
Dan,
I too, enjoyed my time at Requa Lake. I remember the arcade and snack shack, and the smell of ice cream and french fries, which were especially good from there. Seems as if every other song that played was from "The Doors". Do you remember the picnic benches on the side of the far hill? And the little stream that ran through the concrete conduit on it's way to the bigger stream at the lower end of the lake? The water was always so much colder on the pool versus the lake part.

I wish I had more (any) pictures of our time there, but I do thank you for sharing all the photos on your website. Brings back memories of a much more carefree era. Ahhh...
Regards,
Craig
---
Don Baker, October 2009:
Dan,

What a great website you have – all of it from your personal reminiscences to the info and pictures of Nanuet, all of it is great. My family lived on Villa Dr, just off of Townline Road. We overlapped at NHS by one year (I graduated in '78) and my parents moved to North Carolina in '79. My dad, Dallas Baker was from North Carolina and wanted to retire there where the taxes were lower. My mother, Marjorie Lucille Baker (née Conklin), has deep Rockland roots; our extended family is buried in Germonds and up near Stony Point, and extends back to the beginning of the 19th century. Dad, mom, my mother's whole family worked forever at Lederle's, and after World War II, my dad's brother Virgil came to live in Rockland, settled on Blauvelt Road with his wife Mary, and raised two sons; Robert, and Richard, who was your classmate at NHS. I believe (a very young) Virgil is pictured in the set of photos of Lederle's you have on the site.
I remember many of the places you mentioned on the site; especially Hobbie's (thanks for the proper spelling) Before it was in the Triangle it was downtown Nanuet – I don't know what is there now, but I believe there was a pizza place there for a while; the hobbies bought the Deli from my parents in the mid sixties' - my parents sold it after I caught pneumonia, supposedly from sitting for hours in my play pen in the back.
I remember the original library and the librarian with the crazy fingernails (LOL – I had forgotten her). So many memories, thanks for reviving them, and for making me want to drive around there again. (I currently live in Manhattan – Don't get up there much these days) I am sure I have some ancient pictures of Nanuet – I will look and send them to you to add. Post whatever you want of this email to your site. - It is good to see the virtual community growing.
Don Baker
---
Kevin Logan, September 2009:
Greetings from the Boston area.
Just writing to say I thoroughly enjoyed the Nanuet website.
While I moved away at age 9, I suspect you were in the same class as me at Highview Elementary. I'm not positive about this, but Jamie Overmeyer was a friend. In fact, I have a piece of Yankee Stadium in my beer can museum that Jamie's father handed me at a game that they took me to back in 1973 or 4, before the renovation, when fans were tearing out rows of blue seats!

Anyway, thanks for all the great memories.
Best Regards from Boston,

Kevin Logan (would've been class of '82 at NHS had we stayed in Nanuet). I had Mrs. Montgomery for third grade, Mrs. Adler for fourth.
---
Chris Logan, August 2009:
Hi Dan and thanks so much for hosting and posting! I lived at 21 Judith Street from 1967-74, was close to Lucky Wong whose Dad owned Hong Luck on 59. Got a few tasty freebies there, and enjoyed the juke box at Rex's Pizza. I still recall "The Rapper" by the Jaggerz which they probably had to replace due to my infatuation with the song! I remember walking through the woods beyond our cul-de-sac and bushwhacking to the gravel circle which would become the cul-de-sac for Charles Street. We used it as a track of sorts which fueled our creative play (imaginary Indy 500's or olympic races). You couldn't see that gravel circle from what would ultimately become the road, so it made for a wonderful secluded kidlife refuge! Judith street was full of kids in those days, which made for lots of street sports including hockey, association football, softball and "hit the bat". Before the condominiums went in at the corner of Pascack and Old Nyack Turnpike (which became Old Turnpike Road) we caught frogs in the swamp there and one day we all waded in the river under the thruway overpass to catch crayfish (collectively our neighborhood kids caught 103 of them and kept them in Jimmie Jordan's back yard, which I'm sure his mom loved!). Built a "taxi" from wood scraps and casters with Bobby Ferrante who is now a playwright. I saw a post from Elliot Sherr and wonder if he has a sister Giselle, because if he does he might get a kick out of the fact that in my wonder years I carved her initials into a tree with mine! Oh well, after 35 years I can look back with certainty that it just wasn't meant to be (especially since I've been happily married for the last 20!). I remember some really good academic experiences at Nanuet Middle School, where I had Mr. Minga who was the coolest health teacher ever. I still remember him saying "you reap what you sow" on the first day of class; he was right then and he's still right! Miss Shirley Howell for science was great and lots of people probably recall her wide eyes coupled with "a-whoody?" when she didn't get what you were saying! Coach Ray Stedge made sure we knew he meant business when it came to climbing the gym wall, doing our push-ups and laps, and not forgetting to donate a bar of soap to the class shower! Mister Grewe watched over me as I had a seizure in his classroom (thankfully the only one I ever had!), and although I hadn't been back to visit since my folks had moved away 15 years earlier, he still remembered me when I spotted him on the bus platform. He smiled and said "How could I ever forget you, I almost lost a finger in your mouth!!" One of my great chilhood memories is the rainy day recesses at Highview, because they would throw on Disney cartoons in the gym and show them in reverse when time permitted! Hope some of this is enjoyable for some of my childhood friends whom I still hold dearly in my heart although moving away ended our times together. Chris Logan
---
Steve Scharf, August 2009:
Dan: great job on the Nanuet reminiscence! You might mention "do you remember Walker's dairy farm. " This was opposite the Knolls horse farm later day camp (where I worked a few years). I was in Ruth Walker's class and my brother Jeff, (still lives in Nanuet as do my parents) was in class with Martin. We used to go on class trips to see the cows and how milk was processed. "
Steve Scharf
NHS 1964
---
Jennie Staniloff-Redling, August 2009:
Liked your Nanuet site. You forgot to mention the Nanuet Bakery - when I was in fourth grade at the Highview School in 1955, I'd save my lunch money and spend it after school on an ice cream soda at Elliot's and then a piece of pastry at the bakery as I walked home up Prospect Avenue. Walking north on Main Street (Middletown) it was next door to a little department store with women's clothing and accessories and before the Johnson Brothers newspaper store. Across the street was a pharmacy that sold cosmetics where we'd buy Revlon lipstick and Max Factor mascara. There was another clothing store further up across from the Red Rail called "Lechter's. " that sold apparel and lingerie for younger women.
Jennie
---
Richard (Rick) Franklin, August 2009:
Boy, your website is a trip down memory lane. I grew up in Nanuet from 1956 to 1974 when my family moved to Washington state. Went to St Anthony's school. My older broher Hank ran track and played football for Nanuet HS. We lived up on Poplar Street, not far from the Nowicki's house and i knew Kate Nowicki and Janice Crofoot. I have to say though that I thought Jocar's Pizza was better than Rex's!... ...Remember Bob's taxi across from the Higgins Funeral Home and the Nanuet School Busses all being parked in the center of town? Also on Rte 59 near Middletown Rd and Main St, there was Wild Bill's Rockland chrysler Plymouth and The "Woodpile" unfinished furniture store. I used to work at the Chevron Station on Middletown Rd near Grand Union and at the Shell Station on Rte 304 and Bardonia Rd/ Ludvigh Rd in Bardonia. Thanks for the memories!
---
Jason Schlesinger, July 2009:
Dan -

Awesome Nanuet site. I check back every few months to see if there are any more user updates. I was excited to see Mike Nowiki's February 2009 e-mail regarding the Geshman greenhouses on N. Middletown Rd. I, having grown up in Bardonia and been an active Nanuet Volunteer Firefighter, just bought a house on Foxcroft Dr. adjacent to Tennyson Dr. At the closing, the seller (who grew up in the house in the 1960's) reminisced about before the construction Tennyson park and the attached neighborhood and how he and his friends would play in the fields and greenhouses nearby. I can only deduce that these were the greenhouses he spoke of.
Excellent site, keep up the good work.
---
Rob Weber, July 2009:
Someone posted a photo of the pond by Cara Drive a few months ago. I live not too far from there. The pond is all that remains of the G & S Mill which was in operation in the 1870's. I don't know what the G& S stood for. The Piermont Branch of the Erie Railroad ran through there, so the mill was perfectly located. One can see the site from arial photos on Mapquest, as well as the right of way for the railroad. It ran from near Dominican College to the Nanuet Mall. It's been awhile since I've been through the woods by the pond, but the last time I found an old rail spike from about the 1920s.
---
Kate Nowicki, June 2009:
Hi Dan. Bob Higgins forwarded your site to me. I wanted to share some memories of Nanuet with you.
Janice Crofoot and I had ponies behind my house on Middletown Road. Many, many parties happened at Crofoot's and Nowicki's! My mother told me recently that people will come up to her and say "I swam in your pool", and she never knew it. My brother Michael had a fort in the woods before Geshmann's was developed. It was called the Paradise Hilton. Once Michael and Bruce Crofoot made a home movie where they sold our ponies to Jolly Boy! (not really)
Spent many a wonderful and happy time in the woods by the airport. We actually saw a plane crash right into the woods behind Bahari Kennel on Smith Road. We used to ride our ponies in the Memorial Day Parade on Main St. The parade wrapped up atNanuet High School where there was always a fair.
Bill Zeller owned a photography studio on Middletown Road.
The Red Rail was the best bar ever! So much great music. And a little racy when the Jersey motorcylce crowd would show up.
Thanks for the great site.

---
Kathy Keyrouse-Smithem, June 2009:
Hi Dan, I love your web page about Nanuet. I was born and raised there. My father owned Keyrouse Pharmacy which was across the street on Middletown Road from the Nanuet Restaurant. Both he amd his father were pharmacists. When my Dad graduated from Columbia university he took over the pharmacy and my Grandfather opened a Liquor store on the other side of the building. I think the pharmacy was originally a Tea Room / Pharmacy. My father would get calls in the middle of the night for medication and he would get up go to the store make the medication and then deliver it. Try and get that kind of service now a days. The building still stands and I believe it's a deli on one side and not sure what's on the other. My Grandparents lived above the stores in a what I remember to be a huge apartment. My house was between the store and Flamiks and is still there to this day. It is the only house left there. When I was younger I remember Flamiks being a meat market and they lived above their store. Years later it was a florist shop called Dieters where my Mom worked after my Dad passed away. I also remember this house across the street I believe it was before the Nanuet restaurant that was owned by this couple and the husband was either in shipping or a captain of a boat and I remember he would always have bananas. I would have to ask my older sister for more details. I remember all of the things that others have written to you about. I did go to Kindergarten at Highview but then I went to St. Anthony til 8th grade then I attended Nanuet Senior High School class of 67. Ah those were the years. I was upset when they built those houses behind the school at there was no longer skating. I now live in Orange County and when I do go down to Nanuet to visit or go for Nanuet Pizza I am still amazed at how much that area has grown. A few people that I graduated with from high school do get together every so often and go to the Nanuet Restaurant for the best pizza in the world and I don't believe that it has changed at all. Another good pizza was "Pie Man" in either valley cottage or Congers can't remember which it was.

I saw a message written to you by my cousin Raymond Keyrouse who wrote to you about his Dad Walter Keyrouse owning the Red Rail for a few years and it not being a brothel at least when he owned it. I remember there always being motorcycles outside the rail when I was growing up but I think I might have gone in there once. I did patronize the "Triangle Pub" which was located by Hobbies and The Om. It was where Middletown Road and ????? split off maybe that was Pascack Rd. not sure. Well I could go on and on but most of the people that have written to you have pretty much told the story of Nanuet.

Thank you so much for a great website.
---
David Simko, May 2009:
I was searching for Requa Lake and it's the only info I could find on Requa. Thank you. My family and some others from Yonkers were members for a few years in the 70's. I dont know how long exactly we went to the lake but I loved it. I am 42 and we stopped before I was in high school.
I will show it to my brothers who are older. Many great memories such as parking in the lot above the member picnic sites and walking over a little bridge(over a stream) to the walkway around the lake with the white wall. i would ask my parents to take me to the snack bar\arcade to eat while the big kids swam in the deep end. Obviously as a little kid, I thought the place was huge!
Since you are from the area, can you tell me when it closed and the best street to go to and see the location? Maybe the steep hill you spoke of was the one off the parking area. That was hilly I think. I see that it is now housing but I may be in the area in a week or so in Spring Valley. I would love to see the area once more.
---
Laurie Ryan, May 2009:
I happened upon your website by chance. I was googling the Nanuet bus fire from yesterday.
My mother and father met while she was working at Grant's in 1966.
But the reason for my e-mail is that while I was checking out your postcards, I scrolled down to the one of the Lederle Cafeteria and smack dab in the middle of the postcard is my mother-in-law, Judy Ryan. What a surprise!
She passed of cancer in 1998. Is there any way I can purchase a copy from you? Or, perhaps you know of an existence of another?
Thank you so much for this view into the past!
---
Christopher Unterkofler, April 2009:
I enjoyed the photos on your site.
We lived at 22 1/2 Cara Drive (the sideways house between the Sagulla's and the Marzolla's, and kind of sideways across from the Groves' backyard). We moved there in 1971, I believe. I've been looking for internet 1970's photos of my Nanuet area to place in stories that I write and I came upon your website. Funny how you think you must have so many of your own photos of your own neighborhood where you grew up but really don't.
I'm sending you a photo I took one 1970 something winter day of the pond behind Cara and south of Townline Rd. Also, a winter photo of the Naurashaun Creek behind the pond. We called the pond Silver's Pond. I think there used to be a summer camp or something back there many years before my family moved to Nanuet.
I would appreciate any early to middle 1970's photos of the area that you may have or some contacts for anyone who may have pictures. I'm especially looking for photos of the woods behind Cara Drive, the railroad tracks, the tressle, the creek, the pond, the Greek church's annual food festival on Marycrest, etc.
Christopher Unterkofler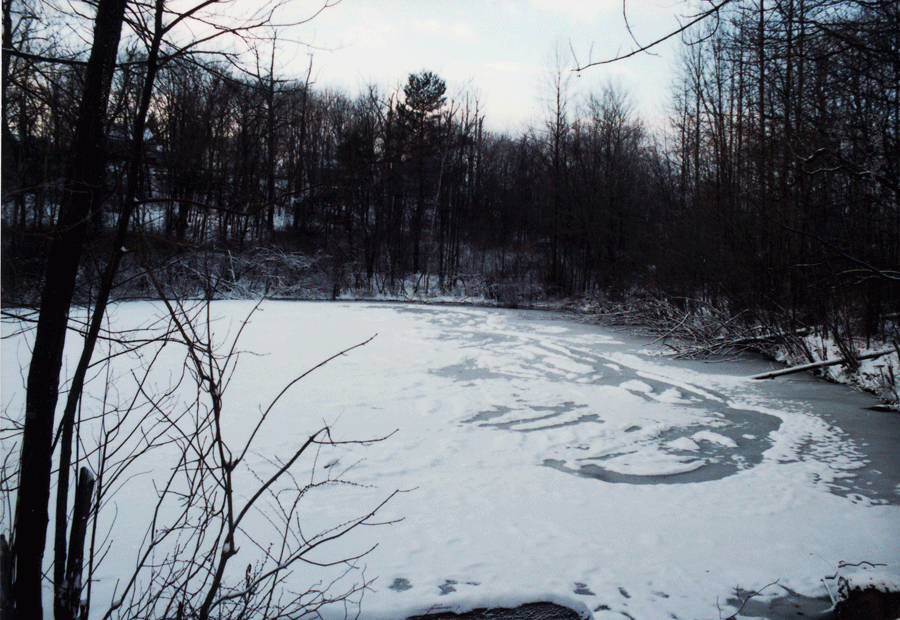 ---
Ken Lemenze, February 2009:
Does anybody remember Jolly Boy Hamburgers. It was a little hamburger joint located next to the swamp which became the Nanuet mall across the street from Grand way and Grants. They always had a pony ride next to it and there was a rumor that the meat was horsemeat. I can still taste them delicious. I also remember my brother and I getting in line at Korvettes to get Leonard Nimoy autograph and also have the cowsills sign the cover or our 45 for the song hair.
---
Mike Nowicki, February 2009:
Dan, I came across your website about Nanuet. We moved to 149 N. Middletown Road - right across from Pigeon Hill Rd. in 1960. The attached photo is an aerial view of our house and the Geshman's greenhouses - feel free to publish it. It's amazing how much Nanuet has changed, rather sad. My Mom taught English in Nanuet HS for over 30 years, my dad was an assemblyman from 1960 -1964.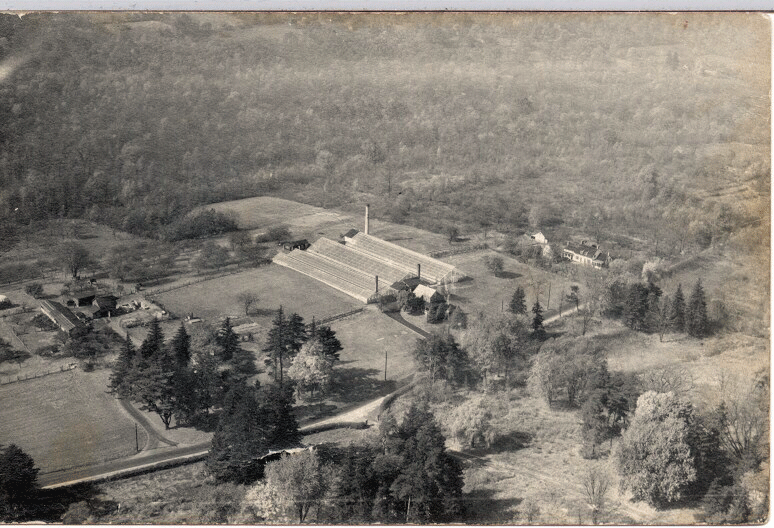 ---
Ed Lennon, February 2009:
I was looking over your postcards and I would like to comment on a few of them. First and for most, The Pines. That looks suspiciously like Old Middletown Rd. as you head south towards Convent Rd. There is a long wall built of large stones there on your left. I do believe that is what is in the photograph. In particular, there is a stone in that wall I remember as the "Radio Stone" as we called it. My Grandmother and I would walk to town to "Charlies Meat Market" and we'd pass along the wall looking for the "Radio Stone"
Another picture, of what appeared as Flight Attendants at Lederle labs where Couriers that would rush the Anti-Botulism drug they produced to where ever it was needed. As the story goes, being proprietary, they wouldn't allow it out on the market and a call was put in to rush it out as needed. I guess they feared someone might try to make it themselves. Like I said, as the story goes.
Ramapo Valley Airport.
There were once two airports in Rockland county. Ramapo Valley and Christies (sp. ) As a child, I would spend many a weekend there as my father owed a Piper Cherokee and we wold often go of to place that seemed a million miles away. Though it was mostly Orange County airport or Johnnycake in Connecticut. And it we weren't flying, we were enjoying a hot dog and Pepsi in the little greasy spoon.
After his passing I would often ride my bike up there on the weekends and beg a plane ride from one of his old friends. I in particular remember Irv. He was a flight instructor there and would put me in the back seat during one of his instruction flights. I even got a ride in a helicopter. Scary as ever because you seemed like someone was picking you straight up in a chair. A million pieces trying to get away from each other at the same time.
As I got older, say 13 or 14, I would go up there and wash a plane or two for a few hours of instruction. Even though I didn't have a student pilots certificate, I was still able to fly with an instructor. It really didn't matter what kind of plane I was flying, mostly a Cessna 172, it was a thrill to take off ans landing from that airport because of the length of the runway and its abrupt end. The airport was situated on the top of a hill. In fact, if you sat at one end, you couldn't see the other because the runway crown. It wasn't until you were almost a third of the way down when you caught sight of the other end. If you didn't touch down before the wind sock, you hit the power and go around for another try.
There was an abrupt drop off at each end. If you were taking off on runway 08, and you had a problem, you'd end up in a ditch or worse, the nursing home along Middle Town Road. If you took off on runway 26, you'd end up on the rail road tracks or the NYS Thruway.It was only 2170 feet long, and often there'd be a crash of some sorts. Often times fatal. In fact, in the early 80's I had came in hot and high and touched down to far down the runway and skidded off into the grass along 08. Not fun. What ever the case, it didn't take too much imagination to think of yourself as a fighter pilot zooming off the end of a carrier.
I sent many an evening hanging around the hangers just yapping with pilots and such two or three times my age. Whether the stories were true or not, it was the thing to do.
Unfortunately I never did my first solo there. I would have loved to have that logged, but alas, it was at Islip MacArthur airport, where you couldn't mess up even if you tried as the runway was over 6000 feet long.
As the years went by, the little greasy spoon turned into a bar. The Mason Jar Pub. I found it ironic that they would serve alcohol at an airport. The last place you'd expect to find a bar, though there were some good times to be had there too as I became of age.
Now, there is nothing discernible left of the place. Its mostly an industrial park or office buildings. Something like that. It will always be a special place of my childhood. Wonderful and exciting, spending a Sunday afternoon, in the warm sun, watching all those little planes take off and land...
For a look, check http://www.airfields-freeman.com/NY/Airfields_NY_E.htm#springvalley
---
Don Liebert (yes, the Don Liebert!), February 2009:
Read your Nanuet history which is so great.
I was born in Nanuet at 44 North Main St. in 1929 and have lived here ever since. I have had 5 residences in Nanuet. Graduated from Highview School in 1943. We had no high school in Nanuet and students had a choice of going to Nyack, Pearl River or Spring Valley. I chose Pearl River because the passing grade was 65. The kids in Nanuet were given bus tickets to travel to high school on public transportation (no school buses. ) No matter where we went we all met at the Highview School library to pick up our monthly card.
Miss Morris was the kindergarten teacher. Miss Swanson taught lst grade. Miss Prentis: 2nd grade - Miss Gray: 3rd grade - Miss MaGarry: 4th grade - Miss MaGarry (sister of 4th grade teacher): 5th grade - Mrs. Van Tassel: 6th grade (Mrs. Van Tassel left and was replaced by Mr. George Stebbins) - Mrs Lang: 7th grade - Mrs. Fahnstock: 8th grade. Principal: Mr. Leo Smith. Our class was the first to receive the new principal, MacArthur Barr.
My father, Walter N. Liebert was the Chief of Police in Clarkstown from 1930 until his death in 1950.
The police headquarters was always located in Nanuet; first on the 4 corners of Rt. 59 and Middletown Road then on East Prospect Street behind the bank. Chief Liebert was the sole officer in Clarkstown in the early 30's. His only transportation was a motorcycle, later a police vehicle, a Ford touring car. Ernest Wiebeckie and Ray Linderman joined the force. Officer Wiebeckie later became the Chief of Police. Officer Linderman became Rockland County sheriff. How the department has grown. There are now over 200 officers in the Clarkstown police.
Before Jake's Meat Market, the shop was owned by the Flamik family. Steve Flamik was also the Justice of the Peace and held court in the rear of the market and at times upstairs.
Louis Forst owned a tailor shop on Main Street with a dead, dried squirrel in the window. The barber shop owned by Dave Schuster was next door to Louis's.
Prior to Tiedmann's Deli, the extensive property (including house, barns and big store) was owned by the Phil Rieber.family. They sold feed and hay for cows, horses and chickens and groceries including meat People called in their orders and all items would be delivered to them. The feed came in railroad cars right there on Main Street.
Another thing that came on the railroad cars was the new automobiles. They were always covered so no one could see them They were delivered to John Golden's Garage on the corner of Middletown Road and Rt. 59.
The Whistle Stop (presently on Main Street near the old tracks) was once owned by Hubby Davis and named The Broken Prop. In some of the material it was mentioned that the Nanuet Bank had been located where the Empire and Tobacco Company was. Actually this spot was once the Grand Union. The bank was located on the corner of East Prospect and Main Street where Auto Pro now exists. The bank burned sometime in the early 70's.
It always amazed me to think about someone returning for their money and finding that the bank is now an auto parts store.
My insurance business was started by my Uncle Frank Zwahlen. in the 30's in the office next to the barber shop. Later we moved north on Main Street next to the post office. Then we moved across the street on the south side of the bank on the corner of East Prospect and Main Street.

Don Liebert, son Scott Liebert and daughter Robin Liebert Fischer all attended Highview School. Granddaughters Kate and Emily Liebert and grandson Henry Fischer all attend Nanuet Schools.
I will send your web site on to several Nanuet people.
Don Liebert
---
Ron Lugo, December 2008:
Daniel,
I first came across your wonderfully insightful website a year or so ago while browsing the net for additional info on the closing of St. Agatha Home for Children, my Home of homes... As I'm sure most Nanuet community natives are aware by now, the tarp has been pulled from the sacred grounds that once housed thousands of adolescent souls of distinct commonalities and circumstance while placating a society systemically hindered by the growing population of orphanhood...
Although SA fleets in lasting retreat, I surmise that her grounds will continue to provide a source of serenity for the youth and leisure promenade that graze her soil for years on end... In retrospect, Every now and then when I care to fondly retrieve the innocence of my formative years, I can still see those dartingly little tadpoles I once caught in a cutoff wax milk container near Brookside and feel blessed to have been a leaf from a "Once Upon A Time"...
Ron is sharing these images of Pascack Brook, northwest of the main SA grounds, January 07: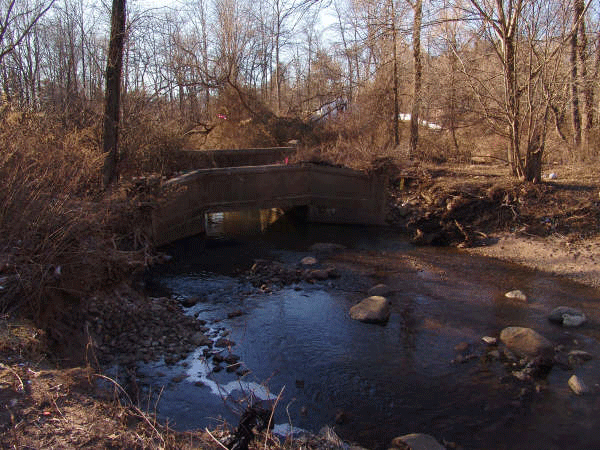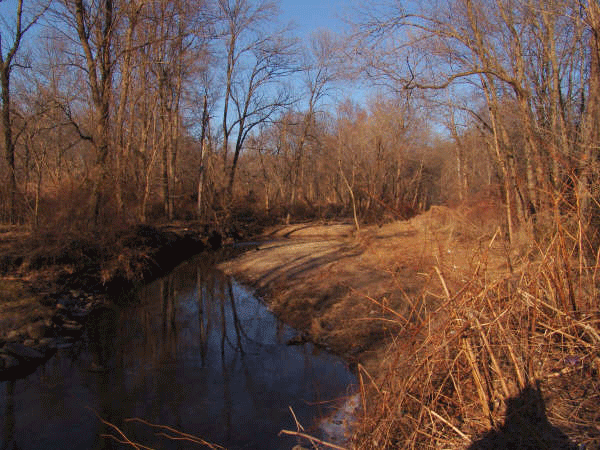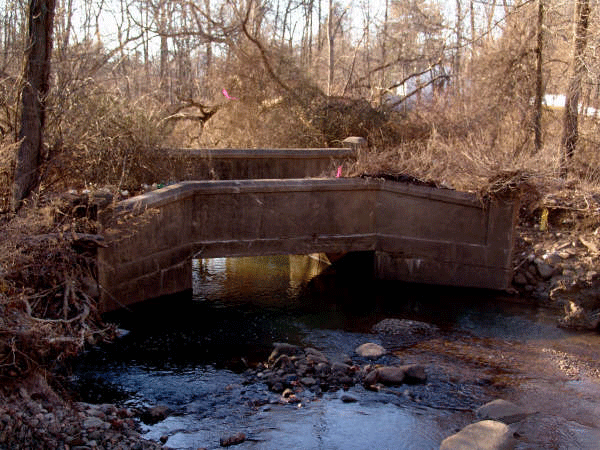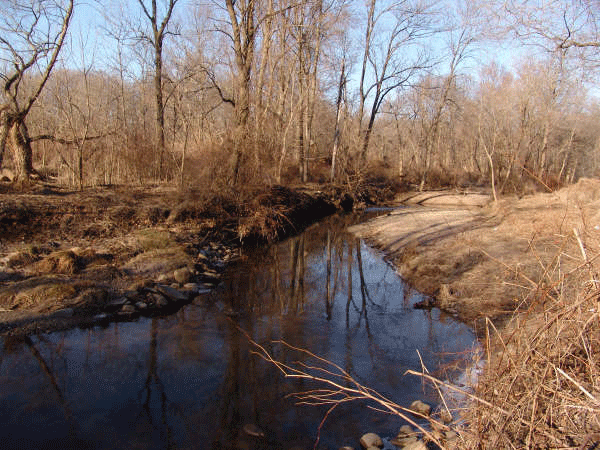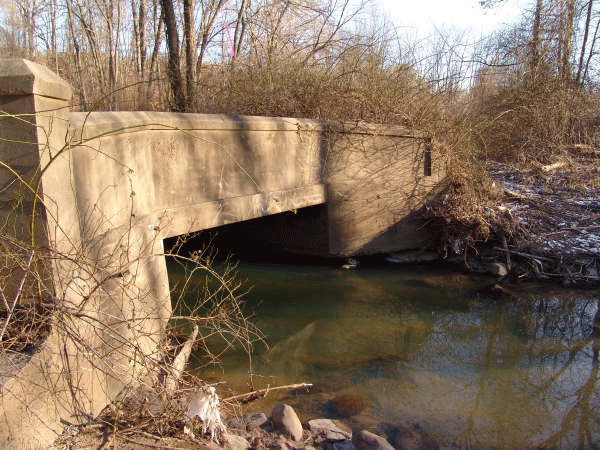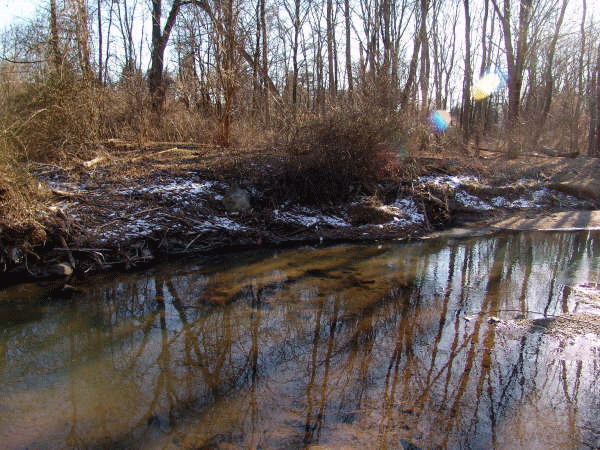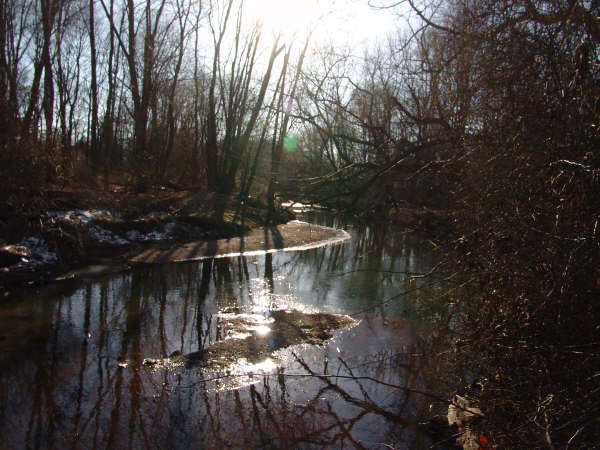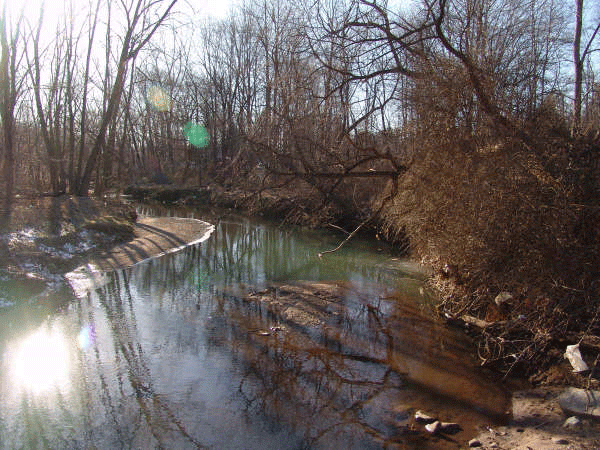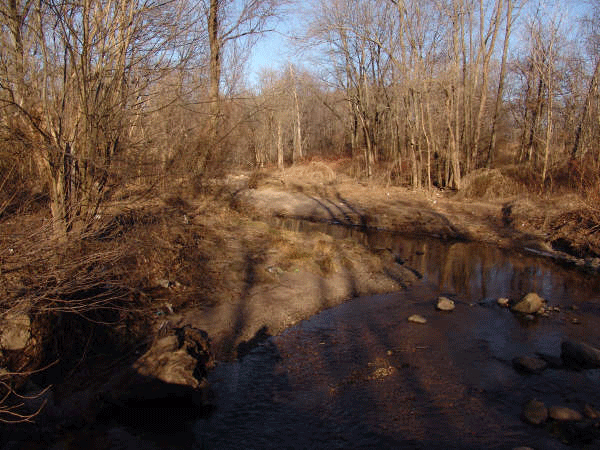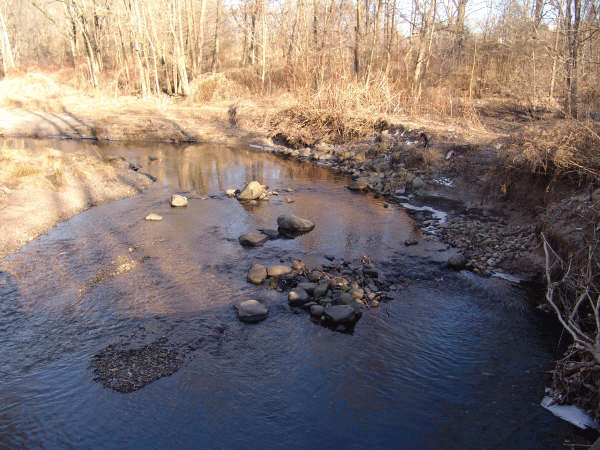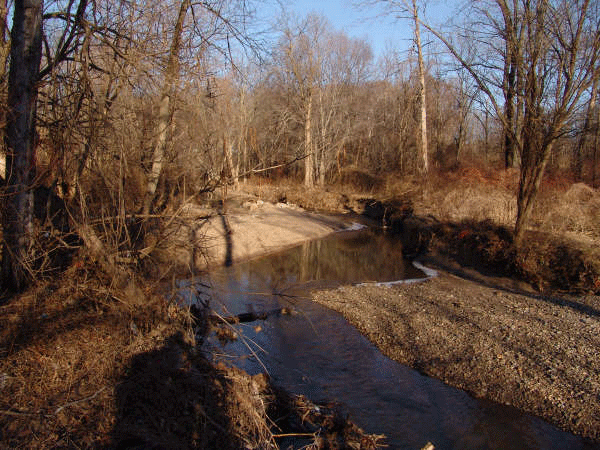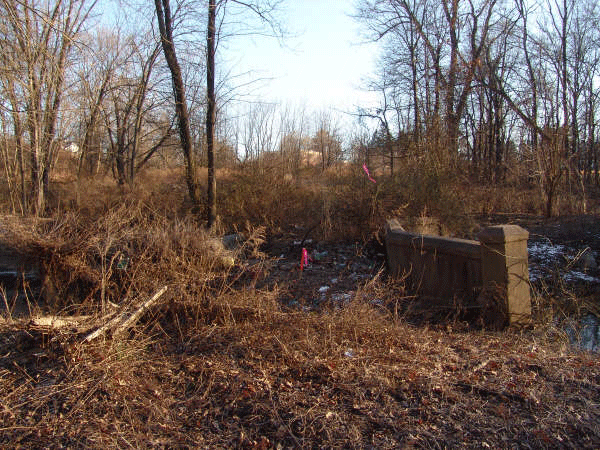 ---
Robert Yatto, December 2008:
Hi Dan,

Had a great time at your Nanuet website section. A couple fill-ins. Rupert Holmes was David Goldstein, son of Leonard who was the music teacher at Nyack High where David went to HS. We had two butcher shops in Nanuet, Charlies and Jake's which was at the corner of Church and Main. We also had Louie Heideman's Sports Shop at the corner of Orchard and Main, not just selling all manner of sports equipment, but also a buyer of pelts from those of us who trapped... $7 for a good muskrat pelt in the late 50's. The Pond Bridge is at the base of the hill on Church Street had a mill pond owned by Albert Geschwindt, now just a ditch. In the winter the fire department would spray water on it to keep the ice smooth, and Albert strung lights for night skating. On the north shore was "Split Rock," a hugh boulder broken into almost equal halves that served as a warming fire site for cold skaters. Between the Tracks was another bar diagonally acrosss from the Red Rail and a few doors down from Nanuet Hotel. Seems like we had thristy folks even back then. Thanks for the fond memories.
Bob Yatto
NHS '65
---
Maria Agosto, December 2008:
Dear Dan,
I had a restless night last week and was browsing the net in the wee hours of the morning. I ran across your SEEDY ROAD website and can't tell you how much I enjoyed it. I'm a former New Yorker from Brooklyn who rode many trains between all five boroughs, so your layout was very nostalgic for me. Very creative how each letter of your name is a train that takes you to another location - how ingenius - love the Metro card!!
I am also a former St. Agatha Home resident - it was home for me from 1959 to 1965, so I, my four brothers and thousands of other orphans who were raised there, are very familiar with Nanuet. It was wonderful seeing a few photos of the Home included in your website, especially now that it has been demolished and most of it no longer exists. I have emailed all the "Homekids" I'm in touch with giving them your website - I know they'll enjoy as much as I have.
One of our very own "Homekids" Nancy Canfield became an author. She did quite a bit of research both on St. Agatha Home and Nanuet, a lot of which could not be included in her book "Homekids: the Story of St. Agatha Home for Children. " I sent her your website and you should be hearing from her shortly.
Dan, I know you must be an extremely busy man, but I would really appreciate hearing from you. It would mean a lot to me if you'd confirm that you did receive my email thanking you for your marvelous creation and that you know how much I've apppreciated it.
Sincerely,
Maria
---
Margaret, November 2008:
Hi Dan,
I just found your site because I was trying to figure out why College Ave is called College Ave. No luck yet.
I'm a New City Girl but both my parents lived in Nanuet in the 1940s and 1950s. Their families were both involved in St. Anthony's and I have to let you in on a little secret.
There were a lot of Italians in Nanuet, but not up from the city. They had come over direct to work in the silk mills that used to be west of Middletown Rd. (sort of where the Mall is now but maybe a little south). When St. Anthony's was started at the instigation of some German families, a lot of the Italians became Protestant rather than go to the German Church! So, if you meet any Protestant Italians there is a good chance that great grandpa came through Nanuet.
My father was the fire chief for a while in the late 40s. That second firehouse was torn down because it burned down. It was supposed to have been a spectacular fire. It seems to me that it stood as a blackened shell for ages before they demolished it but that might just be my memory playing tricks. We passed that way to visit my grandparents every week and I really loved that building so I might be trading impact for duration.
I remember there always being a lot of motorcycles outside the Red Rail on Saturday nights. We never went in there. It seemed a dangerous place.
Boggiano's was the Post Office in the 40s and 50s. Mrs. B. was postmistress. The family lived on Cottage, I think. Ellie Boggiano was my mother's best friend. She just passed away this past March. She was in her late 80s. Still lived in the house she grew up in. A really wonderful woman.
E J Korvettes was the best store ever. I got my new shoes for first grade there, my first glasses. It was the first place to go for everything. I was told that the name meant Eight Jewish Korean Veterans. Ever hear that? Is it true?
Buy-Rite started life as a bowling alley and one end was a stereo store last I remember.
Ok, I gotta stop this. I could keep picking up threads all night but I am going to have get going.
Thanks for the site. Great images.
Margaret
---
Eric Thoromon, October 2008:
Dan,
Found your Nanuet site after searching the net to see if there was anything on the old Lake Nanuet, which I remember from my childhood. I lived in West Nyack from 1960 to 1966 (age 3 to 9) and share many old memories of Nanuet, which was my family's main destination for shopping and recreation.
I learned to swim at the old Lake Nanuet, and I remember the somewhat grouchy couple who ran the place. The water was half lake, half pool, with poured concrete and rock-and-mortar walls in the kid's section and more of a natural lake in the deeper water. There was an anchored wooden raft in the deep water that the bigger kids and adults swam to and dove off of; I also remember a wobbly diving board. My family has home movies taken there; if I can find any stills I'll email them to you.
Buy Rite! Oh, what a mecca in those days! A nondescript warehouse setting, but great buys. When I was about 8 and had an allowance of 40 cents, a matchbox car could be had at Buy Rite for that precise amount (39 cents plus a penny tax -- the first NYS sales tax was 2 percent). That price was discounted from the 49 cent suggested retail. A $2.00 AMT plastic car model kit went for $1.49 at Buy Rite, but for this product one was better off at Korvette's, where the $2.00 models went for $1.39. Korvette's was another destination -- I remember we purchased a collapsable, single-unit stereo phonograph there in about 1964.
My parents did their banking at that little branch near the Catholic church/school that was set back from Route 59. Do you remember how the hedges at that school were carefully carved into elaborate shapes?
Grand Way -- I don't remember going in there much, but it sure dominated the scape. Big orange (red?) letters, as I recall.
Route 59 theatre -- was that a Cinamascope theatre? I remember seeing "How the West was Won" there, and I seem to remember it was on a curved screen. I also saw "Mary Poppins" there when it was new -- it was the only theatre around where it was showing, and the place was a mob scene of people trying to get in.
How about the Nanuet Restaurant? Great pizza -- thin crust made in a deep dish -- very unusal effect. And that place is still there, with its 60s-era neon sign! (I live in Jersey now, but I ventured by there with my family over the summer. I'm not sure if the pizza is exactly the same as it used to be, but it's still awfully good. )
Anyway, thanks to you and your posters for the memories!
Regards,
Eric Thoroman
---
Gary Bletsch, August 2008:
Dear Dan,
Your website on Nanuet entertained me immensely. I am a New City boy, but I spent countless hours at Lake Nanuet. I did not notice Lake Nanuet on your website. Since I learned to swim there, it holds a place in my life, as it must do for many others.
The lake started out as a dammed-up stream. When I first started going there with my mom and siblings in the early 1960's, there were still frogs, fish, and water-striders to be caught. As a little boy, I asked my mother what the black birds with the red wings were. She explained that they were Red-winged Blackbirds!
Lake Nanuet had a snack-bar that we used to call "the stand. " For me, a child of parents who always picknicked and almost never bought stuff from the stand, the hamburgers and sodas offered there still beckon to me as mysterious, forbidden treats.
By the end of that decade, the lake was being chlorinated. I will never forget the slow dwindling of frog populations there. One day I caught one, and even as a kid, I thought, "Hey, this is probably the last time I'll catch a frog here!" It was. I understand that now the lake is just a pool, owned and operated by the town of Clarkstown.
An old German couple owned the place. I am told that they had meetings of the German-American Bundt (sp?) there in the thirties, before (most) Americans wised up to Hitler. I also recall hearing the thick German accent of the owners on the loudspeaker, especially at closing time. One evening the old man came on and announced that, since it was such a lovely evening, he was going to let people stay for ten minutes later than the usual closing time. What a guy! I believe their surname was Thofern or something like that. Amazingly enough, I was visiting my parents years later, and found an obituary of one of the elderly couple in a Florida newspaper. I should have kept it!
I still have a Stratego game that my mom bought at Buy-Rite, or whatever that brick toy store was called.
My folks were friends of the Durlands, who had the boat dealership in Grant's parking lot.
Here's a tidbit about Shoppers' Paradise. They had magnetized shopping carts. Supposedly, it was impossible to take the carts off the property. Strong magnets in the underside of the cart would interact with something iron in the ground along the edge of the parking lot, stopping the cart!
I worked for Nanuet National Bank in the early 1980's, in the Route 59 Office. Mr. Jack Horan was the branch manager. He ran a tight ship. The five dollar bill on your website astounded me. I did not know that that bank--or any small bank--would have actually printed five-dollar bills, or any other denomination! I figured that was more the province of the U.S. mint.
Before my folks moved to Florida, they sold their place in New City and rented a place just east of the Nanuet Mall. It was an old farmhouse. The place had a little stream running between it and the mall; I figure that stream must run north-south at that point. The house was old, with small rooms. There was even a small barn. Somebody made out like a bandit with that place. When I moved out west, I moved my entire fossil collection to the loft of the barn, leaving it there as a surprise for someone someday. There were even some Eurypterids in there...
---
Ray Keyrouse, August 2008:
My parents, Walter and Marjorie Keyrouse OWNED the Red Rail prior to 1947 and I can guarantee dad was not in the "Red Light" business
---
Steve Balbo, January 2008:
Very cool web pages. I accidently found you last night. I was having a flashback of swimming at Requa lake in the early sixties, and called my mom in South Jersey to ask where it was. She says "Monsey". Your post card collage was a riot. Just what I was looking for. Thanks mate!! Sent it to Houston today, and my high school friend stepped out of a meeting, he was blown away. He grew up in Pearl River and you knocked his socks off.
So, there comes some positive feedback from a sleepy, hippy, surf town in Santa Cruz. The rest of your sight is a tease, keep adding stuff!!
---
Sammy Belil, January 2008:
More Nanuet memories: Zippy's at the Nanuet Mall (there were actually 2 of them), Intrigue, The Hungry Lion, and the Nanuet Mall Movie Theatre. Do not forget Buy Rite (coolest toy store ever!!!!!), Kern Piano, "The Sound of Music" (but Korvettes was BY FAR THE BEST for LPs), Nanuet Mall Restaurant by Horn and Hardarts.
---
Art Svensson, December 2007:
The first portion of Nanuet Grade School was built in 1908. The south wing was built in 1929. Both my father (b.1904) and my Aunt Esther (b.1908) attended the 'old school'. My brother claims the north wing was built in 1952. My brother was flirting with all the young teachers, so they gave him detention.
You show an old post card marked as Orchard St. Wrong "Apple breath"!! Wrong, wrong, wrong. It's Demarest looking toward Orchard. The remnant of the stone curb on the right is still there. It was in much better shape in the 1950s.
I asked my Aunt Esther (turned 99 on Nov 9th) if she remembered the Hanover Hotel (Gustave Arwe, Prop. ). She did indeed! One of the Arwe girls (they had 10 children) was a good friend of hers. The hotel was on the NW corner of the 'Four Corners', set back from Nyack Turnpike (59) and within 15' of the Naurashank River (we called it "the brook"). There was an ice cream parlor to the right; a tavern to the left. Over the years the building was remodeled and modernized. On the right was Eberling's deli (later Kemmer's) and on the left, Roloff's Liquor store.
We all agreed that the Hob-Nob Restaurant was Swiss Trudy's in our timeframe. Swiss Trudy died in recent years.
I ran into Paul Demoa after the funeral. He is a longtime fireman and party doll. I asked him about the old fire alarm ring and the pumper wagon. He said the wagon was in a NYC fire museum and the ring had been converted to horseshoes!
The VanCourt house is GONE. We agreed it had held the Partridge law offices in the 1950s. There was a florist, Flowers by Dieter, on the south end. You might remember it.
The Pines. How I pine for the Pines. My aunt doesn't remember the Pines.
But that wall looks familiar. There are 2 candidates on Convent Road. The first when you are nearing the top of the hill. It looks a little high to me. The other is as you pass St. Agatha's home. Just off Convent is a road leading south (I failed to record it's name). There is an older building there replete with Catholic regalia. The building looks like an old 'Summer' boarding house/hotel. Could be the place. Check it out at next years reunion.
Mapleway's alleys were installed by my Uncle Birger.
Carl Fisher had a 'mansion' in Nanuet where Normandy Village is now sited. It had a yellow picket fence along Main St.
The little store at the foot of Church St. at Main St. was a newspaper stand circa 1918. The owner's daughter used to sell papers at the RR depot.
The "permanent wave" was invented by Carl Nestle. Google "nestle permanent wave"; lots of stuff. He also had a 'mansion' in Nanuet located just north of Ludwig Rd on the east side of Noth Middletown Rd. When I was a kid, the 'mansion' was gone. At the top of the hill were the remains of his water tower! It was about 20' high, built of wooden timbers, with a cast-iron spiral staircase. It was in pretty rough shape, but we rebuilt the platform at the top. It was, of course, one of our "forts". On the Bardonia side of the hill were the remains of an orchard. I remember picking pears there one year.
Best regards,
Art
---
Sandy Gargano (Asaro), December 2007:
Hi Dan,
I enjoyed your site regarding Nanuet. I will add a few tidbits for memories.
The "old lady" who maintained the shop at the train station was, I believe, Mrs. Tartanian, whose daughter, Mary, graduated with me from Nanuet in 1969. Mary was quite artistic.
When I entered kindergarten in 1956, George W. Miller was in the process of being built, so many of us attended kindergarten in the Grace Baptist Church, and others either went to Highview or the basement of Jolene Cleaners. Talk about a small town.
Nanuet Middle School wasn't around in my years, so I attended Miller from grades 1-6, then hopped over to the high school for grades 7-12. Everybody knew everybody.
I definitely remember Miss Meyers, the librarian with the crazy nail polish and her hair up in two coils at the top of her head. I remember the squeaky hardwood floors of that library, too. Not too long ago I was told Miss Meyers is still alive.
I grew up on Crescent Lane between Villa and Cara Drives. Our section of Nanuet was called Pearl River Heights.
I used to go to Venturini's on Townline Road and brush the horses and someone had horses off Ehrhardt Road, too.
We all walked the railroad tracks to get places. When I hear the train whistle near the post office crossing I think back to the "olden days. "
One more thing. When it snowed heavily, we listened for the 7:00 AM whistle at the firehouse. If it went off, there was no school. Only years later did we listen to the radio for this news.
My maiden name is Asaro and I still reside in Nanuet, on a road that didn't exist when I was in school. Nor did the Nanuet Mall exist until I graduated. It was always a small and great town; it has grown considerably, but it's still great.
---
David Hoagland, November 2007:
I loved Phil's barber shop. I would go in for my crew cut with my Dad and brother, and Phil with his heavy-framed eyeglasses (I think he wore glasses... ) would always let us choose a lollipop from a glass container. I can just about smell the barbershop scent of shave cream and aftershave thinking about it.
---
Art Svensson, November 2007:
Svensson family memories
Hi Dan!
My niece (Illinois) brought your site to my attention. Nice job.
If you look at the foot of Church St on the 1876 map, you will see "Nanuet Engine No. 1". Firehouse #3 has a 1860 date on the facade. I think we can conclude that 1860 was the founding year of Nanuet's fire company. It's likely the first firehouse postcard shows their original building. It has a Civil War era "look". The second building was built circa 1915. It was designed and built by my paternal grandfather, Carl Peter Svensson. He was the fire chief for many years. It appears the original building was incorporated in the design. The towers were used to dry the canvas hoses.
In the 1920s the upper room was used for dances and movies. The building was seriously damaged by a fire circa 1950. My impression is that it was pretty well gutted. Firehouse #3 was built soon after. In the 1950s the fire company would block off the street a few days and sponsor a carnival.
A very old fire engine (horse-drawn, man-powered pump) was in the bottom of "Overmeyer's barn" which was sited on the west side of Main street across the street from Perrino's (?) deli. Hopefully the old "smoker" was rescued and restored. Just north of Overmeyer's barn was an empty lot (IIR) and then a bakery (great bread), then an empty lot and then Johnson Bros' store. Then Boggiano's variety store and then an A&P (?) at the corner of Prospect. Boggiano later expanded into the corner store with their hardware operation.
That Vancourt postcard reminds me of something. Heading north on Main St from Prospect, there was a gas station on the SW corner (Mobil?) and then the Partridge law offices. After that an empty lot and then a building that was half Post Office and half Liebert's Insurance (Don Liebert was a 2nd cousin, thrice removed...or something like that). After that the tracks.In the 1950's, with Main Street widened, the sidewalk was very narrow at Partridge's building. So I suspect that Vancourt and Partridge buildings are one and the same. Hopefully, it's still there today.
My brother, sister and I had a conversation this past Friday about your site. It's interesting that we each remembered different things about Nanuet. If you decide to add a page of our memories (you have our blessings), I suggest you head it the "Svensson family memories" or somesuch. As I told you, my niece, nee Dawn Richter, alerted me to your site. Her good friend, Karen Scarpantoni alerted her. Both are your former classmates. They both agree you would not remember them.
Back to fire houses: the "four corners" photo is clearly not THE four corners. The original fire alarm ring is proof of that. I recall seeing it but do not recall exactly where. I hope it's still around. The official Nanuet Fire Dept's site is sort of worthless in terms of history.Your photo of Church St near the school playground threw me at first. It's at the foot of Church St. The little shop was then (I think) a repair shop of sorts. The house to the right was occupied by the Roth family. On the East side of Main Street: on the right was a butcher shop (sawdust covered white tile floor) and then Keyrouse's drug store and then Keyrouse's liquor store. A little farther North was Anne's ladies shop. To the left was St. Pauls Luthern Church (hence Church St). I was a member and was confirmed there as were my siblings. No stinking 'playground' in those days! The car is a 1955 Chevy which helps date the photo
BTW the 'black roadhouse' on Pascack was the "White Birches" even in the 70s. It was founded by the father of Allen Gales (sp?). Allen was a friend of mine.
---
Anonymous
, October 2007:
Hey Dan:
My cousin sent me your link about Nanuet. Nice. I grew up there in the 60's. I lived in the little house at 13 Highview Avenue next to the building that was Elliott's luncheonette. We owned the building, which was actually an old barn or garage, that was Elliott's. The photograph in your postcard gallery is not Elliott's. Elliott's was much bigger, if you stood on the playground side of the street, it had a picture window with a red lamp hanging in it, then in the middle the doorway in, then to the right a more regular window. I have photos of it somewhere. Also our house didn't have a porch. My parents bought the property about 1953, and the house that we lived in was bought from the church and moved from the opposite end of the block. The church was expanding and was planning to knock the house down. It had a porch but in my mother's zeal to modernize it, and make it easier to move down the street, the porch was torn off. She often talked about regretting that decision. Anyway, it was interesting to read your perspective of growing up in Nanuet. My father was a volunteer fireman, as were most of his brothers, and he worked in Lederle Labs, as did most of his family, including my grandmother, and my father also worked for Charlie's meatmarket. I remember Charlie and his sons, one of which was young Charlie, and I am pretty sure my father delivered meat for then into the early 70's, I was surprised to read about running numbers???? I think maybe they sold the business, but then was it still called Charlies' Market?
Not sure what the mistaken Eliott's photo is of. But my father grew up in a house at the bottom of the hill on Church Street at Main street that looked like the house. I don't know if there was a little store there though.
My mother took over Elliott's, I think maybe after Overmeyer. Eliott's sold to someone, who really couldn't make a go of the business. My mother liked the extra income, my brother and I were in college at the time, so she took over the store. My mother was a fabulous cook, and she did quite well. It was hard work though, I helped out a little after I graduated from college ('72), I was doing some substitute teaching, and my two younger sisters worked there a lot. She ran it 1970 to probably about 73, if you graduated in 82, you were about 8 in 70, so did you go to Elliott's then? My mother was calling it Highview Luncheonette.
Thanks for your site on Nanuet, it was fun to look at.
---
Ted Eckman, October, 2007:
Hi Dan!!
Enjoyed your web page! Was reminiscing to the wife about my being a kid and the name Requa Lake popped up out of one of the cracks in my brain.So, Google it and here we are. First of all, I live in Michigan which as you know is so far west of the Hudson River in Steinberg's mind that it can't even be seen on the distant horizon.
I grew up in Bergen County. Oradell. One of the greatest joys of my misspent adolesence was when we took a day to go to Requa Lake. I was amazed to see your postcard entry.Sixty years later (I'm 75) the postcard recalls it as I imagined. Especially the high slide!! I can't tell you how many hundred of times I went down the thing. Pure joy! I remember my mom used to tell me that I could swim until my lips turned blue.
Jewish?? Well, not quite. Although in Oradell You couldn't find a Jew without an electron microscope! Except Mr. Julius Smith (??) who ran the local newspaper store on Kinderkamack. (He used to ask us boys "How's your schlonker?) But, I, living in metro New York learned a little about being Jewish. I graduated from Dwight Morrow High in Englewood (Oradell then didn't have a high school) where 1/3 of the kids were Jewish and to this day I keep in contact with many of my friends who were. Horowitz, Grossman, Levy, Marcus, Spack, Snitz and Turteltaub, (Saul, Google him. ).
Route 17, as you know, cut going north from the city to NY state was always interesting. In the '30s and 40's half of New York emptied and came across the bridge and headed north on 17 to get to the Jewish Alps. They had these large black sedans. Often they would remove the trunk lid and attach a wooden box extension out the back where they could cram more stuff in. And running board gates which ran from the front fender to the back fender so stuff could be transported between the gates and the car. Both sides which meant if the gates were in place on both sides, pop had to crawl in through a window to drive the car. And, yes, a dissambeled crib on the roof of the car plus a mattress or two. We used to call them mockie freighters and Bronx bombers. Somehow we were always envious of the kids in those cars since we knew they were having a time we would never know. We were told that Grossinger's (The Concord, Kiamesha Lake etc. ) actually rented unfurnished rooms for the weekend.
Summers I worked for the Hackensack Water Co at Lake Deforest. I actually was hired to watch the kids fish at the fishing gate which was at the west end of the causeway road from New City to Congers. I got paid $2.09.5?hr. For sitting doing nothing.
I appreciate much of your site. The humor is the best of it.
---
Jim Barrett , September 2007:
Enjoyed your site about Nanuet. Grew up there, and although I moved out in 72, my Mom still resides there. I couldn't help but notice you used the obscure term "sliding pond" while talking about the lake. You must be from Brooklyn NY, as I have only found a very small handful of people who can tell me what a sliding pond is. I have searched the web for the origin of that term, only to find it might have come from a small section of NYC.
I used to frequent a small burger joint in front of the Mall called Jolly Boys, I don't know if you recall that. It was located next to a strip of stores that had a TV repair shop in it called Hardans TV Repair, a place that I hung out in because of my passion for electronics. Well thanks for the great site, will spread it around.
---
Elliot Sherr, August 2007:
I used to get my pizza at Jocarr Pizza, but I really always thought it was Joe Carr's Pizza (I was 5, I don't know if I could read) and we never went to Rex's since it was so far from my house.
Of course I remember Elliott's across from Highview, with the sign that said "Hershey's Ice Cream" on it in big letters. I used to go there after school and buy fireballs (1 cent each) and then suck on it all the way home (the advantage of being a walker). I also used to walk with my dad to Boggianno's and we would buy a pack of baseball cards every weekend. I would get 50 cents for allowance, spend 25 cents on cards and save the other quarter for my first car (that was the plan)!!!

There was also a really small toy store on the corner of Main St. and 59 (across the street from the Hebrew Center), this then became a furniture store and then who knows. But, I remember it was an old dusty toy store, way before there was a Lionel Kiddy City near the Korvettes (in the same mall as the Nedick's). I also remember the Nedick's - - that's where the McDonald's is right now.
---